What better way to commute than listening to podcasts. Podcasts are not just a creative time killer. They're inspiration. Whether audio or video podcasts, there are some dedicated professionals and photographers bringing their art and know-how closer to you via regular podcasts.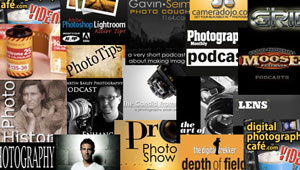 If you're new to podcasts, they're downloadable Internet radio or video shows. They can be watched and listened to using iTunes on your computer or on a smartphone app.
Your favorite shows can be subscribed to so that when a new episode is available you'll automatically know. All you have to do is to subscribe and listen to or watch. Makes photography more fun, and you might even learn a thing or two. And guess what, the shows are all free.
What podcasts are you listening to?
Here are THEME's favorites, in random order:

Chase Jarvis: This is the hub for award-winning photographer Chase Jarvis' behind-the-scenes videos. Hasn't been updated since some time, but always good to tune in to older, not less excellent shows. Welcome to the untold story — the black box! — of commercial photography. Chase Jarvis also has the Audiocast — listen in as the photographer/director explores art, creativity and popular culture through his experiences and collaborations with visionary creatives from around the world. Audio only.

The Grid: The Grid with professional photographers Scott Kelby and Matt Kloskowski is a live talk-show about photography, Photoshop and other industry-related topics. Each week features a different guest and viewers are encouraged to chime in on the liveblog that runs next to the video on KelbyTV.com or via Twitter by adding #TheGridLive to their tweets. You get an hour-long video podcast, the good stuff usually kicks in after the first 15 minutes of casual conversation. They often take on controversial topics in the industry or topics that have been hot on Google+.

Photo Couch: Photography, humor and therapy, all in one podcast. 5 minute musings from Gavin Seim. No frills or jingles. Just photo tips, ideas and sometimes very random observations delivered hot and fresh. Only for people who are ready to kick back and get informal.

Pro Photo Show: The bigger brother of the Photo Couch, Pro Photo Show is a photography podcast for pros, passionate enthusiasts and beginners who want to jump in feet first. Enjoy the informative informal style of the show and it's plethora of guests and content. Each episode is about two hours long — which might wear you down after a while. But it's only updated once a month, so I just listen to it in manageable parts. I really enjoy roundtables like this, because you hear different viewpoints and lively debate on the latest gear and trends.

PhotoTips: PhotoTips has become one of the fastest growing podcast on iTunes and maybe the fastest growing one in Photography. Host James Beltz does photography with humor and in an entertaining way. If you had to choose only one general photography podcast, this may be it.

New York Times' Lens Photojournalism: Hasn't been updated in a while, but quality stuff nevertheless. A video podcast for aspiring photojournalists and current events buffs. A variety of photojournalists narrate the story of their work against photo slideshows from their journeys. There aren't many episodes of this podcast, but the ones that exist are both beautiful and striking.

The Candid Frame: An intimate interview show which features conversations about photography and creativity with some of the world's best established and emerging photographers. Simply put it's the world's best interview show about photography and all things photography…

This Week in Photo: Join Chicago photographer Frederick Van Johnson, friends and great contributors each week as they discuss camera technique, technology and news. The TWIP audio podcast can range from 1 to 2.5 hours. It's a lively discussion of what's new in photography. From taking photos of the family to testing state-of-the-art equipment, you'll hear and see it all through Van Johnson's show in a humorous way. They try new things in a safe and politically correct environment. You're a wedding and portrait photographer? Subscribe, what are you waiting for!

Photofocus: Professional photographers Scott Bourne and Richard Harrington discuss the latest in digital photography and answer your digital photography questions three times each month. Send your photo questions to [email protected] Hosted by Scott Bourne who is a digital media pioneer and has been involved in photography for more than three decades.

History of Photography: Class lectures with Jeff Curto from College of DuPage. Professor Curto started this podcast in 2008 with sparse updates, but lately he's picked up the pace and started updating consistently. His informative lecture coverage goes deep into the influences that make photography what it is today and includes everyone from Daguerre to Cartier-Bresson and Meyerowitz. If you're really interested in going back to college with this podcast you can find the class syllabus and more here.

The Photo Life: Photo Life was created to inspire and educate professional photographers by exploring creativity and business. It's your destination for candid and informative conversations with leading photographers and creative professionals. Tune in, hear their stories and learn how they succeed. One podcast was about how editing your photos is like peeling an onion. Learn practical and philosophical editing insights from Mike Davis, former photo editor for The White House and National Geographic Magazine. During this casual chat, Mike shares some secrets of the editing game that have kept his brilliant eyes in demand with dozens of award-winning photographers for over two decades. Shows unfortunately not updated since a while.

Photography Monthly: The podcast for the insatiable photography addict, hosted by the U.K.'s leading magazine for digital and film photographers. This relaxed podcast features news, gear reviews and insightful interviews from photographers with a variety of styles and subjects.

D-Town TV: Et voilà, a fresh approach to teaching came tips and photographic techniques to today's digital photographers with — again — Scott Kelby and Matt Kloskowski as its hosts. No matter what the skill level or interest, each episode covers a wide variety of topics.

Camera Dojo: Hosted by Orange County photographer Kerry Garrison, it's an interview-style show with interesting people talking about their work. Each podcast is about an hour, and it updates three to four times a month with new content. Camera Dojo also has a lot of information on its site about digital photography, with tutorials and forums in addition to the podcast.

Film Photography: A 90 minute, bi-weekly Internet radio program exploring a wide range of topics relevant to the experienced and aspiring photographer using film as a medium. Hosts Michael Raso and Duane Polcou enthusiastically dissect and debate the pros and cons of film formats, do-it-yourself techniques, digital technologies as well as vintage and contemporary cameras and accessories in a thorough, informative and casual manner. Add the book reviews, interviews and film-related giveaways.

Lightroom Killer Tips: Get your weekly dose of the coolest Adobe Lightroom tutorials, tips, time-saving shortcuts, photographic inspiration and undocumented tricks. You'll always find useful tips and nifty techniques in this podcast. Hosted by Matt Kloskowski. There's a dedicated webpage for Adobe Photoshop Lightroom Killer Tips right here.

Moose Peterson: A podcast that's all about wildlife photography, if not the best wildlife photography podcast out there! Peterson in the field gives you tips for capturing engaging wildlife photos. Moose Peterson's website, BTW, is a treasure trove, be it for wildlife, aviation or landscape.

Depth of Field: This audio podcast brings you interviews about the lives and adventures of working photographers from around the world. Hostec by Malaysia-based humanitarian and world/travel photographer Matt Brandon, you'll find some big names in here, just to mention David duChemin, Zack Arias, Gavin Gough, Jasmine Star and many others.

Trey's Variety Hour: This podcast brings together fund and clever people from all over the world to talk about photography, art, the future and the dynamic nature of the new culture we are all building together. Hosted by travel photographer Trey Ratcliff, the show uses the Google+ Hangout feature and has the feel of sitting-around-the-fire-after-supper-with-good-friends-and-drinking-port-while-discussing-the-European-theatre-of-war. With crazy wildcards thrown into the mix for many welcome and unwelcome surprises. What you'll like about this podcast is that it's not solely about photography.

Digital Photography Café: A newer video podcast by Trevor Current and Joseph Cristina talking about the art and business of photography. Get inspired by these working professionals as they discuss the creative side of photography and the tools you need to succeed in business. Still on: their older audio podcast.

Photography 101: This podcast is for anyone who wants to learn the secrets of taking better pictures, film or digital. Tips on cameras, composition, exposure, darkroom techniques and step-by-step tutorials on manipulating digital images in Adobe Photoshop are among the topics covered. Subscribers can submit questions.

The Art of Photography: Another tutorial podcast dedicated to discussing all things photography related. The show covers tips, equipment, technique, alternate process, shooting, composition and a plethora of other photography topics. More on The Art of Photography on its website.

Martin Bailey Photography: Yet another podcast offering a mix of tips, technique, art-talk, gear-talk, interviews, travelogues, critique and competition, illustrated by Bailey's images and complemented by a thriving online photography community of helpful and friendly photographers of all experience levels.

Thoughts on Photography: Unfortunately not updated since a while, this podcast with Paul Giguere explores what it means to live a photographic life. What does it mean to be an artist who uses the medium of photography to express themselves artistically to the world. What subjects do we choose and why? How are we influenced by other photographers, art and the world in general. You won't hear any tear talk, camera reviews or Photoshop tips her, but rather you'll find an exploration of our relationship to photography as we continue to refine our vision, craft and art.
The Digital Story: For the spec-obsessed gadget lover. This highly technical podcast features a lot or talk about specs but also offers tips, gadget reviews and more. To follow The Digital Story on the Web tune in here. You'll like the podcast's laid-back, info packed style.

TEDTalks: Not a photography-specific podcast, but something for anyone interested in the hows and whats of the world. This inspiring video podcast gives you the chance to sit back every now and then and hear the thoughts of geniuses. By no means is everything from TEDTalks is photography-related, but most of it has everything to do with innovation, thought processes and new frontiers for the world we live in. A few specific talks we love? David Griffin on How Photography Connects Us; James Nachtwey's Searing Photos of War, Frans Lanting's Lyrical Nature Photos, Taryn Simon's Photographs Secret Sites and Edward Burtynsky on Manufactured Landscapes.
And your favorite photography podcasts?