So you don't want to cough up the exorbitant amount of dollars, euros or whatever for your own copy of monopolistic Photoshop (read our piece on the Photoshop money trap). However expensive, Photoshop's my one and main photo editing software. But there are other classics and useful softwares that shouldn't be ignored. Some of them are even free for not only quick and dirty editing. Here's an overview — without going into the serious alternatives such as Aperture, Lightroom, Capture One, etc.: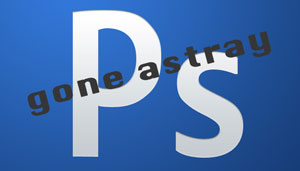 To start with, why not give an online photo editor a try. Say you're on the move and don't have access to your computer, then free Pixlr might be the answer. They offer an Advanced, Efficient and Playful version (and Pixlr Express Mobile for Android and iOS). Pixlr allows you to work with layers and brushes. All your browser needs is to have Flash. Pixlr is built for both non-professionals and professional users with editing needs, including such as editing Web images to be posted on social networks or image sites. Pixlr offers more than 600 effects, overlays and borders to personalize any image. Quickly crop, resize and fix any picture, or remove those red eyes and whiten teeth… For a starter, the FAQ has two nifty how-to's: Intense Portrait and Selective Coloring.
But we're talking Photoshop alternatives on your computer. Here's a selection of the finest. Right, there's not only the most known GIMP, a free Photoshop clone featured further below:
For Mac, give Pixelmator a good look. Only $14.99 in the App Store. Pixelmator offers a layout much like Adobe Photoshop with separate toolbars offering standard selector and paint brush type tools, a color picker, layer manager and a brush picker with large array of options, from "follow direction" to multiple jitter settings.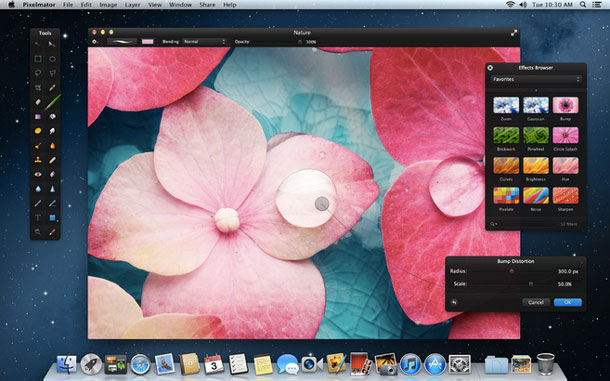 Also like Photoshop, Pixelmator comes with all the image manipulation tools you might need for adjusting color, saturation, brightness and contrast, and many more. Essentially, Pixelmator gives you a lot of the same tools, effects, filters and capabilities that you would find in Photoshop, though you won't find many of Photoshop's more advanced tools. The biggest difference? The price.
Let's move on to Zoner Photo Studio, a new photo editing kid on the block with a free and paid version. The paid professional version — free 30-day trial, then $69.99 — offers full RAW processing and creative tools like HDR, tone mapping, tilt-shift and so forth. Probably you're just fine with the hobby version.
Zoner Photo Studio is user-friendly and has many of the tools and options to satisfy even pros. The interface is stylish, the controls are well-configured and you'll discover many settings and features, such as panoramas, photo-aging, template-based printing, and so forth. CNET calls the software nothing short of "spectacular." Caveat: Windows only.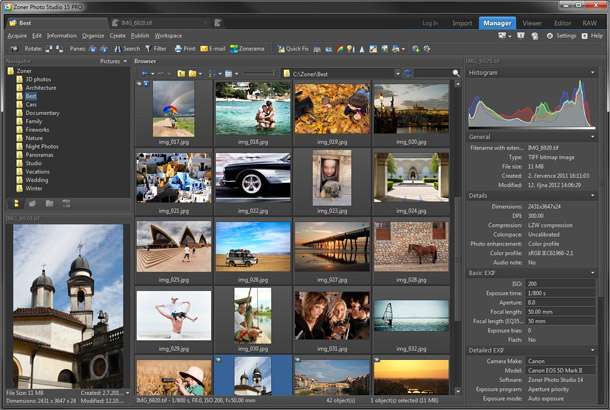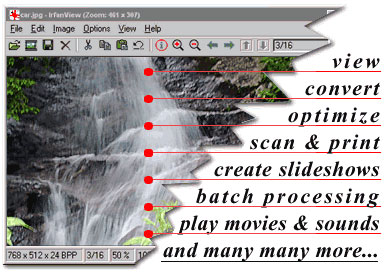 IrfanView is a fast, small, compact, versatile and innovative freeware image viewer that's simple for beginners and powerful even for professionals. IrfanView lets you edit images: cut and crop, apply batch conversions, add, sharpen or blur effects, create panoramas and easily change color modes. IrfanView plugins make sure that you can display all sorts of file formats, such as MP3, QuickTime and RealAudio. Downer: IrfanView runs on PC/Windows machines only.
Or give Photoscape a try, a free, fun and easy photo editing software that enables to fix and enhance photos. You get a color picker, RAW converter and face search besides the usual editing tools. Solid stuff, but Windows only.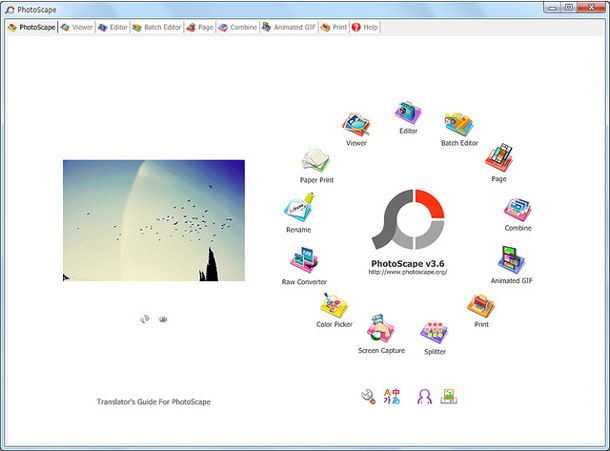 Another Windows only: Ashampoo Photo Commander, anyone? Slide shows, effects, collages, cards and frames are aplenty. There's a more basic Ashampoo Snap 6 version for $19.99, but for what Photo Commander delivers it may be well worth the full version's $49.99 for reasonably solid image processing. You can't go wrong.
Ashampoo's most important functions at a glance:
Display different image formats from various sources
Tagging and improved overview for managing many pictures
Crop or rotate images, adjust horizontal misalignment, resize photos
Image editing: optimize colors, remove scratches, crop objects, remove red eyes, etc.
Artistic photo editing photos by applying effects
Send, print, burn or upload pictures to online networks
Present photos in a slideshow with music
Create and print photo calendar, a photo collage, greeting cards or framed photos
Add texts, notes or graphics to photos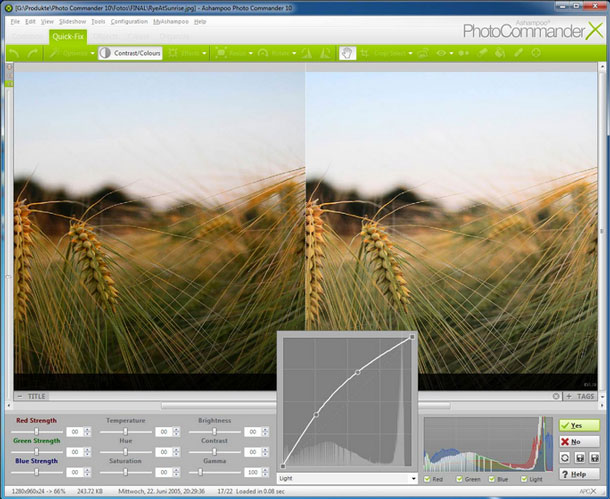 A great find, more of a RAW converter, was provided by reader Pierre: Scarab Darkroom, a digital camera RAW file converter that supports most RAW format capable cameras from Canon, Nikon, Olympus, Panasonic, Pentax, Samsung and Sony. Looks like an easy to use image editor producing nice results, give it a try (Windows only):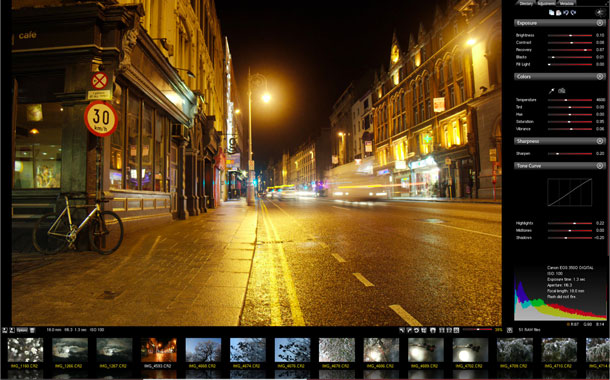 Moving on to Magix Photo Designer, another free alternative to classic image editing programs.
Magix lets you optimize your digital pictures the way you usually do: adjust color and brightness, correct image sharpness and lighten precisely defined areas. With just a few clicks, you can crop, rotate, mirror and edit your photos in detail. You can even turn your photos into paintings or fun caricatures in no time using the included artistic effects.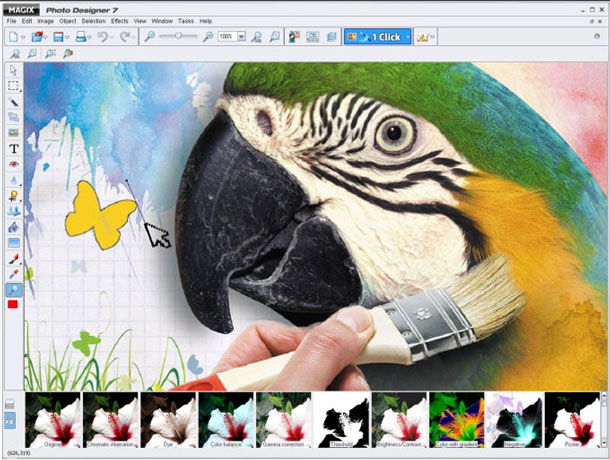 Next in line, Windows only again: PhotoFiltre by Antonio Da Cruz. For PhotoFiltre Studio X you have to purchase a registration key after the 30-day trial period. The Studio X version is the most complete with layers, animated GIF, 8BF, vectorial path, and so forth. PhotoFiltre 7 is free and offers layers, but is more limited than Studio X. PhotoFiltre 6 is the basic version without layers.
Wouldn't I be on a Mac, I guess PhotoFiltre is my pick.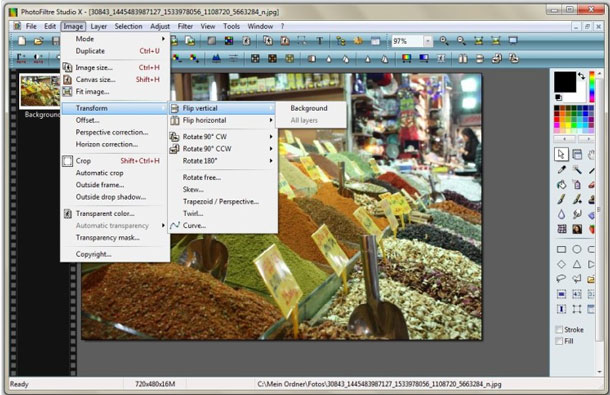 Or ever heard of StudioLine's photo imaging softwares?
They have the Photo Basic 3 freeware and the Photo Classic 3 Plus pro version.
The paid StudioLine version costs $59 and comes with an impressive array of professional editing tools. Runs on Windows only, but supports selected RAW formats.
It's not an overstatement to say that Paint Shop Pro is the great grandaddy and godfather of Web graphics. Not too long ago the full version was $99, now it's a steal at $29.99. You get powerful photo editing tools, instant effects and enhanced HDR technology. New tools include face recognition technology and the ability to map photos to real-world locations. Downer again: Windows only.
Now you all heard of and might already have used GIMP: If you want more than the basics other free image viewing and editing softwares offer, then there is GIMP, probably the most powerful and worthwhile Photoshop alternative. User interface is basically a Photoshop clone, but who cares! Even if you're no expert you'll find your way reasonably well through this mighty platform offering a rich variety of tools, filters and effects.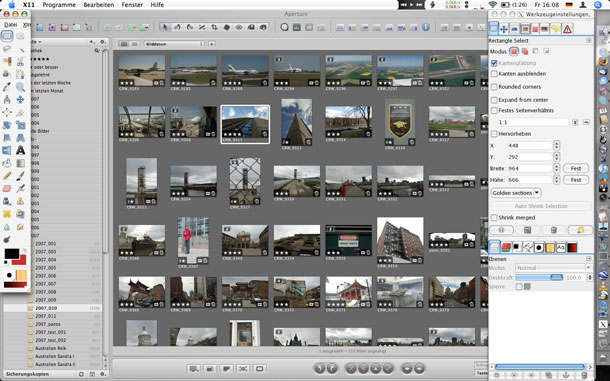 And here's Paint.NET, a proprietary freeware raster graphics editor program for Windows again, developed on the .NET Framework. Paint.NET has evolved from a simple replacement for the Microsoft Paint program into a powerful image editor with support for layers, blending, transparency and plugins.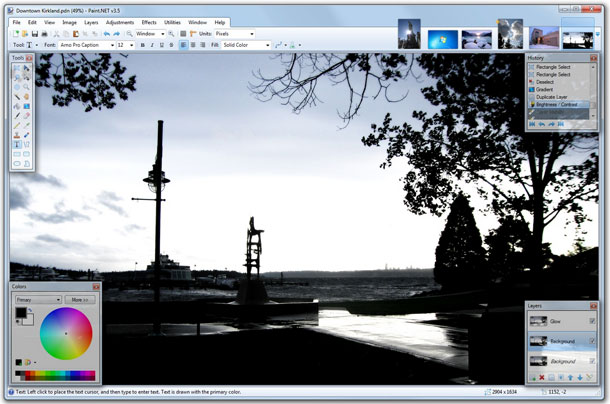 Picasa: Google's image editing software making sharing your images a piece of cake. Picasa allows side-by-side editing and has some fancy, altogether 24 photo effects, such as HDR-ish, Cinemascope, Cross Process and Posterize. Picasa is furthermore a great organizer if you face a flood of images.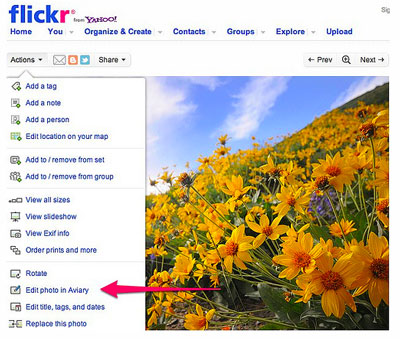 Flickr, on the other hand, relies on the folks of Aviary for photo editing.
Aviary allows you to quickly adjust the basics like brightness, contrast, saturation, crop, etc., apply filters in the Enhance and Effects options, add stickers, text and use the draw tool to create personalized cards and more. You can fix red eyes, blemishes and more.
All but a simple photo editing tool. Nothing more, nothing less.
Last but not least, here's aa more exotic software: DigiFoto by Klaus Döge, offering all the basic image editing functions one might need — and quite a few more. Available with English and German language support, but you have to have Windows…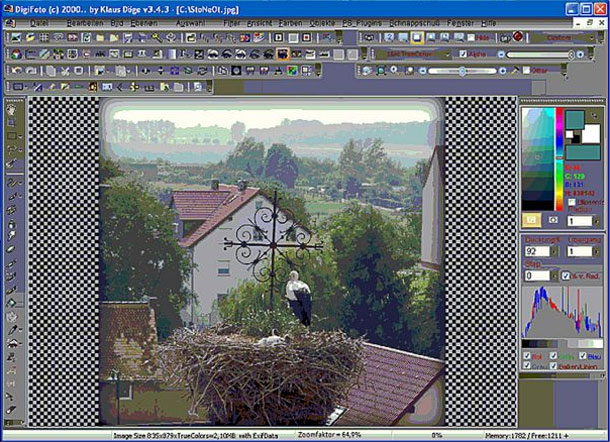 If you absolutely want a Photoshop product from market monopolist Adobe, then there's Adobe Photoshop Elements. At $69 it costs a fraction of the full CS version, offering comprehensive image editing and processing as well as image management functions. Probably world's most sold consumer photo editing software. Can't really go wrong with it. Runs on Mac and Windows.