Well I'm quoting Sergey Brin, co-founder of Google. In 2007 he said that B&H is his favorite camera store. You always find a reason to visit New York City, and you find even more reasons to pay B&H Photo Video a visit, this refreshingly different, innovative camera store with the latest gear, an incredible choice and great service.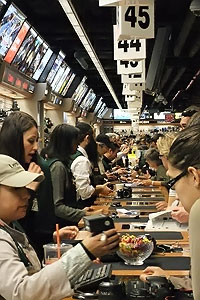 This is no advertorial. This is just how it is. They're fast and accurate, have the right prices and make life easy.
What's the secret? Says Yechiel Orgel of B&H:
Our COO frequently says, "We're here for the long run, not to hit and run."

This encapsulates our entire company attitude which is we want to build relationships and earn customer affection. We're here for the customer by providing the very best service, advice, inventory, prices. We earn, not buy, customer loyalty.
B&H, founded in 1973, has a long history.
When you ask a New Yorker where B&H is they usually reply, "The Jewish camera store?"
That's the one.
Located at 420 Ninth Avenue on the corner of West 34th Street in Manhattan, this largest non-chain photo and video equipment store in the U.S. is a world of its own.
My first thought was, "Cool, that's certainly different."
An anachronism.
High-tech and tradition under one and the same roof.
Even when living in a Brooklyn neighborhood B&H is a unique Jewish microcosm.
Remember, the New York City metropolitan area is home to the largest Jewish community outside Israel. And B&H is a vital part of the community's financial health, with hundreds of Orthodox Jews on staff.
Well, it's not that strictly Orthodox anymore. Women work there. Whereas it goes without saying that the store is closed on Shabbat and Jewish holidays. The website is open, but orders are not taken or shipped between Friday evening and Saturday evening and on Jewish holidays.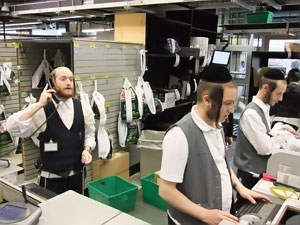 There's a sense of community at B&H that seems hard to beat. And they certainly know how to do business.
The photographer's paradise is on the second floor opened in 2007.
You won't believe what's on that second floor until you've seen it.
62 SLR agent counters.
And most of the time all of them staffed.
What you order finds a new temporary home in a green container box that's delivered via B&H's unique, partly overhead conveyor belt system — a "gear handling system" — directly to the cashier on ground floor.
Many reasons to visit New York. B&H is a major one.
But you can always order online. They ship the same day and have a easy 30-day return policy. Effortless ordering and great delivery options.
And remember, they're not limited to photo and video stuff. Computers, audio, portable and home entertainment, they got it all and also ship internationally.
Even when paying additional customs, it may make sense to order from B&H.
BTW, ever wondered what B&H stands for?
Blima and Herschel, the names of the boss and his wife.