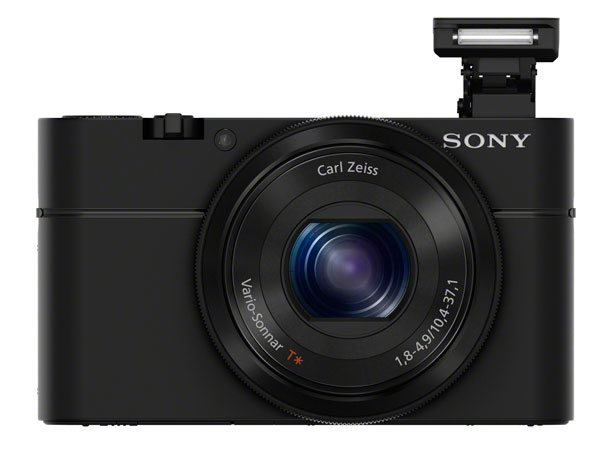 Sony has what may be the new king of premium pocket cameras: the Sony Cyber-shot DSC-RX100, an enthusiast point-and-shoot fixed lens camera with lots of power under the hood and an ultra bright F1.8 Carl Zeiss Vario Sonnar T*. It's a camera that looks like others, but the big difference is it's large sensor. As the smallest camera in its class. Sony's new flagship compact camera is a bit of a beast and may win you over from Canon's S100. You might also be tempted as to drop the Canon G1 X or the the Nikon 1 system for this well-thought-out little powerhouse. The RX100's sensor size is only beaten in the compact arena by the Fujifilm X100 and Canon G1 X. The sensor of the RX100 (specs), says Sony, has an area that's approximately four times larger than the 1/2.3-type sensors in traditional point-and-shoot cameras. The sensor's larger area takes in more light while capturing content, resulting in beautiful, detail-packed images and Full HD movie clips with very low noise. Read our definitive, continuously updated Sony Cyber-shot RX100 Reference File bringing you all the relevant K-30 hands-on reviews and field reports that matter (latest update on top).
+++ Order the Sony RX100 now from Amazon, B&H or Adorama.
TIME includes the mighty little RX100 in it's list of 2012's best inventions:
Digital cameras have been getting smaller and more capable every year, but that trend took a huge leap forward in 2012 with the Sony RX100, which bridges the gap between point-and-shoots and pro-quality digital SLRs. Sony's innovative design and 1-inch (2.5cm) sensor allow the camera to take flawless photos even though it's 20% slimmer than your average digital SLR — small enough to fit in your pocket.
Now even Photography Bay's review is up. More of the same praise:
Given the sensor size and the the solid performance of the RX100, I can't see a better point-and-shoot camera on the market right now. The RX100 is fast and produces extremely solid images for a camera that easily fits in your pocket.

If you can stomach the steep purchase price for a point-and-shoot camera, there's really no way to go wrong with the RX100. I give it a very high recommendation.
Finally, The Phoblographer tests the RX100. Would reviewer Peter Walkowiak buy the little Sony?
Yes I would. It is as good as I say it is, no fluff here. It is a shame that I'm not in the market for a new point and shoot camera. I truly believe the camera is worth the offering price. In a portable shooter I find myself wanting a viewfinder of some kind so for that single reason I am looking at a Sony NEX-6 for Fuji X-E1. The RX100 and NEX-6 are about a $350 dollar price difference but you do get quite a lot for your money. The NEX offers Wi-Fi and a viewfinder on top of a larger more sensitive sensor. I know that this post is about the RX100 but if this camera was $300 we wouldn't be having this conversation. This camera also wouldn't need a review if it were that price so with that said it is the hefty price of the camera that is holding a lot of us back as we ask ourselves "is it worth it?" I feel that if you are comparing this between a camera like the newly announced Canon G15 there is no question, the G15 is listed at $500 and for $150 more this camera is a steal. Unfortunately these aren't the only two cameras on the market and the RX100 is being thrown into the ring with consumer DSLR cameras. This camera is for a niche group of people but I know the people who buy this camera are going to be blown away with all of the power it has under the hood.

Sony did the math for this camera and they decided that most people buy a DSLR camera and never upgrade beyond the kit lens. This was their thinking behind this camera. If you are in the market for a high-end point-and-shoot camera this is for you no doubt. If you dont mind hustling a larger DSLR camera along with you around your neck or in its own bag go and get the Sony A37 or comparable camera for a similar price.
Brandon Li goes clubbing with the RX100:
DxOMark finally has it's RX100 conclusion:
With the exception of the Canon PowerShot G1 X, whose format is not comparable to that of the Sony RX100, the CyberShot is the expert compact with the largest sensor. But Sony's 1″ CMOS sensor distinguishes itself not only by its large size and by providing the best sensitivity among the expert compact cameras (G1 X excepted), it also achieves record-breaking color depth and dynamic range in its category. The Cyber-shot RX100 doesn't just crush its direct competitors in the expert compact market, it also encroaches on the territory of certain compact hybrids such as the Nikon 1 J1, J2 and V1, all more bulky and an entire generation behind this new sensor designed by Sony engineers (who are obviously the most inspired in the entire industry).
Tbreak Technology says Sony turns the table on Micro Four Thirds and entry-level DSLRs:
At the end of the day the Sony Cyber-shot DSC RX100 is a point-and-shoot camera, so when its limitations do show up, I can understand the technical reasons behind it. The simple fact of the matter is that right now there is no other point-and-shoot, let alone a Micro Four Thirds, that gives you this high amount of quality in such an incredibly small package. The best part is that no matter how bad the lighting situation is, you know the JPEGs from the RX100 are print ready, so good is the output.

Forthcoming models such as the Nikon Coolpix P7700 and Panasonic LX7 will undoubtedly present a challenge to Sony, but for a good year, at least, Sony will be dominating the market with the RX100. Right now, if you want the best possible combination of convenience and high-end JPEG outputs, great quality HD videos with full manual controls, all in a package that will easily fits in your pocket, nothing beats the RX100.
Olivier Duong tests the RX100 as a street photography camera. It's more of a comparison to the Ricoh GRD IV. Excerpt:
The RX100 is a very adaptable camera. Well a week or so has passed and I'm still smiling. The RX100 has passed everything I wanted to throw at it. Of course this means that it works for the street. There are two main types of shooters that I deal with. The first is the consumer and I won't address any issues in that area. The second and most important to me is the street shooter. The camera works for this person (…)

I like the flash. There are some shooters complaining about not having a button for the flash. Break my heart. I keep the Right control button to flash. If you cycle through the menu by hitting the flash button, you'll see the options to use the flash. I used Fill. As soon as I hit the 1/2 release, the flash poped up and was ready. It takes around three seconds to cycle the flash. It's very evenly exposed as the meter balances the ambient light with the flash. If you use a finger to pull the flash back gently against the top and hold it there, you get a bounced flash (…)

The RX100 like most Sony cameras does not disappoint. It has a very nice bright contrasty, sharp screen. Yeah, yeah… I know I know… What about in bright light. C'mon, you're a street shooter aren't you? Go to the menu, find screen brightness and then there is a setting called… "Sunny." Oh my… If Moses saw this, there would be another commandment for all cameras. The screen gets so bright that in any light, even backlighting with the sun on the screen, you can frame and even see the settings. Try it, it'll change the way you see…
PhotographyReview uploads some studio samples. Worth a look.
DigitalRev reviews the RX100:
Mighty DP Review has its review up. The overall score of 78% may disappoint:
Much praise has already been heaped on the RX100 and it's well justified — its TARDIS-like design means there's a lot more camera in this tiny box than its rather understated exterior would suggest.

That doesn't mean the RX100 is going to replace your DSLR or large sensor mirrorless camera — it just can't compete with the image quality or flexibility that their sensors and interchangeable lenses bring. Meanwhile the poor dial implementation means it's probably not a camera to fall in love with — there are a few too many obvious improvements that could be made, but it is still a camera that deserves a lot of respect (…)

The RX100 is probably the most capable compact camera on the market today, combining the image quality benefits of a mid-sized sensor with the proportions of a conventional compact. Extensive, though not flawless, manual controls make the RX100 a great second camera for DSLR shooters.
Says CNET:
The Sony Cyber-shot DSC-RX100 is a professional's pocket camera that boasts a very impressive resolution for so neat and compact a device. The brand new larger sensor accommodates this while avoiding common downsides of high resolutions, including noise and clipping. Indeed, noise is close to non-existent as far as ISO 800, and even beyond that, it's very well controlled. Colours are bright and the level of detail in images is impressive, courtesy of the sharp, bright lens.

Its performance is reflected in the price, which at £500 is far beyond what you'd expect to pay for a compact. It exceeds the price of Sony's excellent Alpha A37 by a hefty 25%. But if you can afford it, you won't be disappointed. This is the best compact you can buy right now.
Reviews keep on rolling in, here's Reviewed.com:
In fact, despite how much we love this camera, there's still plenty of room for improvement before the inevitable RX200, or whatever it'll be called. The large control ring surrounding the lens barrel has no tactile feedback, and isn't as useful as the one found on the Canon S100. Indeed the entire menu system is flawed: the Function menu lacks scope and versatility, while the main menu has some annoying interface quirks. We also wished for some improvements to physical handling, given the body's contemporary — but slippery — design. Sony has wisely provided neck strap adapters, and we suggest you use them.

Ultimately none of these small complaints are enough to prevent the RX100 from being one of the best cameras of the year. We like it better than last year's S100 and—bad day for Canon—think it surpasses their expensive, bulky G1 X as well. We still have a few advanced compacts left to test, but as of right now, we can think of no better solution for the discerning photographer on the go, and recommend you go buy one immediately.
The Phoblographer's first impressions:
Shocked? Well you should be. This camera has better high ISO than cameras we were using just a few years ago (or maybe you are still using an old camera and currently giving it the death stare). It's a big deal and I will probably keep repeating myself until its engrained into your brain!
Digital Camera Resource posts its RX100 take. If you were to pry off the lens and take a look inside, says the site, you'd see what makes it stand out from the crowd. That big feature is its 1″ sensor size, which is nearly four times as large as what you'll find in a typical compact camera. Conclusion:
While it's not perfect, the Sony Cyber-shot DSC-RX100 is the closest thing to having an SLR-in-your-pocket that I've seen yet. While Canon tried the big sensor in a fixed lens camera thing with the PowerShot G1 X, that model is ungainly, to say the least. The RX100, on the other hand, is a sleek, all metal camera that fits in your jeans pocket. It's well put together, though there are a few design foibles, in this reviewer's opinion. First and foremost, this slippery camera needs some kind of grip — badly. While I like the customizable ring around the lens, it doesn't protrude very far from the body, making it difficult to get ahold of. The tight controls and bottom-mounted HDMI port also take some points off of the RX100's otherwise high score.
Finally, CNET's full review is in. Says Lori Grunin:
The good: Speed, good looks, and pretty pictures number among the Sony Cyber-shot DSC-RX100's strengths.

The bad: The camera tends to clip bright highlights more than we typically see, and the slippery body lacks a grip. Plus, the lack of a manually triggered macro mode might put off some fans of close-up photography.

The bottom line: The Sony Cyber-shot DSC-RX100's compact, elegant design, generally excellent photo quality, bright, fast lens, and speedy performance make a great package if you don't mind spending a little more money.

While the Cyber-shot DSC-RX100 is pricey and imperfect, it's still darn good. Plus, based on past experience, even if competitors I haven't yet tested can surpass it in design or speed, I don't think they'll be able to match the photo quality. (Canon might be able to if it matched a fast lens to the G1 X's sensor.) Despite its drawbacks, I'd still rank it as one of the best compact cameras I've ever tested, and certainly the best under $700.
Concludes SonyAlphaLab:
After using the Sony RX100 for almost a month now, I can honestly say it is by far the best point-and-shoot style camera I have ever used. The RX100 is a much smaller camera than the Sony Nex, but with virtually the same power and performance. The Lens is made by Carl Zeiss and it's a Pancake Zoom, which is extremely sharp and a solid all around performer in my opinion. Sample pics with 100% crops prove how good the sensor and lens performs is at all different focal lengths and lighting conditions. HD Video with full time AF is pretty good and has smooth silent transition and exposure shifts in full auto mode, yet full manual controls as well for the professionals out there. The illustration mode feature is amazing to me and I can totally see photographers and artists buying the RX100 for just this feature alone.

The Sony Rx100 is the perfect camera for the photographer who can only carry a camera that fits in the pocket, but demand the best quality possible!!

Overall I highly recommend the RX100 for its un-beatable power, quality and size for the money!!
Sony has a new RX100 microsite with the sections Performance, Design and Usability. Worth a visit!
THEME's very own take on the RX100:
This is one of the cameras you don't have to wait for an RX200. Sure, there will be refinements, such as a more polished white balance, a less cluttered Picture Effect menu and better autofocus performance.

Hey, we're talking point-and-shoots! Still, autofocus is the bane of the RX100; it's the main reason to not praise the RX100 unconditionally. The Sony DSC-RX100 is a thoroughgoingly smooth operator, a kind-of-rangefinder experience that forces you to slow down. But on the assignment I've chosen for these tests — the Zurich Street Parade 2012 — I missed quite a few shots that wouldn't have been a problem with a standard DSLR.

Make no mistake: the RX100 doesn't replace larger, more powerful gear, despite all of its highly praised capabilities and power inside. The Sony is a great companion to produce high quality output in most situations, be it in difficult light, when trying to achieve shallow DOF or even in a studio setup.

The little stunner produces most satisfying output while not replacing larger gear that has the processing power. We're talking strictly autofocus here. But then again, who buys the RX100 for action tracking.

Still, the little powerhouse captures a respectable 10 fps in burst mode. In a controlled environment the camera's speed shooting won't let you down. Just don't think you can throw away the bigger gear when accepting a sports assignment.

Bottom line? The RX100 offers among the best of many worlds. Size, weight, build and image quality, processing power and optics belong to a class of its own. Best of it, the RX100 is a pioneer with its large sensor in a tiny body. The competition is alerted, rest assured that within a year or so Canon and Nikon will have a similarly compact competitor on the market. But there's no reason to wait. The RX100 offers already more than many a photographer can handle.

One of the best cameras I've ever shot with, and certainly, by far, world's best compact.

In the end, when looking at the results, you might scratch your head wondering: what, from this tiny little camera? It's a super-compact DSLR really, except for that action-tracking autofocus that I'd only use in a few cases anyway. So who cares. The RX100 is simply too much quality and fun to ignore.

Wisely used it can even replace your bigger gear, and you're back where you once were before you started buying all that heavy, cumbersome gear:

So light, so good, so powerful, the Sony RX100 makes photography fun again.
The Sydney Morning Herald calls the RX100 a game changer, just as the Panasonic LX3 (the LX7 is coming soon) was, forcing other makers to follow suit or be left out:
Now the Panasonic and its imitators have met their match. Image quality from this little camera is almost (not quite) indistinguishable from the Olympus OM-D E-M5 and the Sony comes in a more convenient and portable form. For years serious photographers have been asking why compact sensors have to be so small, with their inherent problems of noise and limited dynamic range. Here's the answer — it isn't necessary at all. Now let's watch for the others to catch up.
Read more: http://www.smh.com.au/digital-life/cameras/review-sony-dsc-rx100-compact-camera-20120815-247at.html#ixzz23ilYfHuD
Verdict of ePHOTOzine's mostly technical review (with handy samples of the camera's many digital filters):
Image quality on the RX100 is excellent, with excellent all-round performance, images have good detail, low noise and excellent exposure. The camera has a wide range of features to improve results with a number of dynamic range enhancing modes as well as a built in multi-shot HDR mode.

The rotating front dial doesn't click, so it can feel like guess work as to where the setting will end up when turning it, and the on-screen display of the setting often feels disconnected. The price is also another factor to consider, as it is higher than most other serious compacts, as well as a number of mirrorless cameras, the majority with larger sensors (excluding the Nikon 1 series). Battery life is quite short, and a front grip would be nice, but if you put image quality and compact size above price then the Sony Cyber-shot RX100 is an excellent choice.
Ming Thein — known for his excellent reviews and photography — got his hands on an RX100. Read and see for yourself. In summary:
I didn't think I'd have quite so much to say about quite so small a camera; the overwhelming feeling is that we're very nearly at the point where there aren't that many good reasons left for a larger sensor or even interchangeable lenses for most users – but perhaps that's another generation out. What I do notice is that the improvement in smaller sensors has also had an effect on the way I compose – rather than seeking shallower depth of field, I'm looking for just enough to give the right amount of separation of subject from background; sometimes, a fast wide on a smaller 1″ sensor is enough; other times, you have no choice but to use 300mm on medium format because of the required perspective. One final point worth noting: this isn't a cheap camera. In fact, it's a good 50% over a Pen Mini kit, and comparable to a GX1 kit. It seems that you're paying double taxes for minaturization and Zeiss optics; but the very few compromises mean that if you already have a large, fully-featured CSC or DSLR, then this is the ideal pocket companion for the times when you just don't want all that weight. The RX100 isn't a mature replacement for a larger camera, but the number of reasons to have one around definitely just got smaller. The limitations now rest squarely on the photographer; for most people, this is all the camera they'll ever need. This is the king of the hill when it comes to compacts – I've not yet shot with anything else this size that has such great base ISO image quality and can handle ISO 3,200 with impunity and minimal consequences to image quality, whilst not holding you up with either focusing or continuous shooting speed. Highly recommended.
Pop Photo's hands-on bottom line:
Sony's Cyber-shot RX100 is a worthy entry in the field of high-end compacts. Even though we feel that the camera's performance might have been better served keeping the pixel count down, we ended up with some great images.

Moreover, the experience of shooting with this camera is a pleasant one. The control ring on the lens serves its purpose well, and, if you would rather use a ring for manual focusing, you can change its function to suit your needs.

While we often shrug off a lot of the scene modes and digital filters found in compacts, we appreciate some of Sony's innovative modes, notably Handheld Twilight and Sweep Panorama. And if you're still learning about photography, you'll appreciate the RX100's camera-guide function, which explains various menu items and invites further exploration. If you're an advanced shooter, you can customize the RX100 extensively.

In the end, though, the Sony RX100 makes the most sense for reasonably knowledgeable, casual shooters looking for a nice, pocketable camera.
Sony's RX100 is setting the point-and-shoot world on fire, says Geek:
Of course, all is not perfect with the RX100. At $650, with no discounts in sight, the camera is expensive, it lacks GPS support, it doesn't have a hot shoe or accessory port like the Olympus XZ-1 (which means no viewfinder), and it features Sony's hate-it-or-don't-mind-it menu system. Also, the battery can only be charged in-camera, the zoom is a bit sluggish, and the LCD does not articulate.

While there are some legitimate concerns here, the RX100 will win people over with its size, its huge sensor, and then some very smart decisions, like the ability to charge using micro USB, and the built-in lens cap, which almost all of the competition was unable to pull off.

Sony really stepped up their game here, and people are responding accordingly. The company has been able to make bold decisions and upset the complacency apple cart that camera manufacturers (and camera buyers) know so well. Despite their excellent NEX series (which is worth protecting) and considerable brand loyalty for the Canon and Panasonic offerings, Sony went ahead and released a dominant fixed lens camera. It's not something that will kill the DSLR or mirrorless market, but it'll take a bite out of both and make it clear that competitors will need to step up their games if they want to take on this pocketable powerhouse.
Gizmodo's excited, saying this camera singlehandedly makes point-and-shoots relevant again. Should you buy this?
On performance alone, absolutely. This is a camera that 90% of the population can pull out of a pocket on a whim to fire off a few beautiful shots without much trouble. Still, this is not a camera for everyone.

Let's say you're thinking of buying a DSLR or mirrorless camera, slapping a 50mm lens on it, and shooting whatever you come across during the weekend. Buy the RX100 instead. It's smaller, and for your purposes, will yield photos that are just as beautiful with less tinkering.

Or, let's say you're a serious photographer who doesn't want the burden of always carrying around a DSLR. The RX100 is right for you as well. No, you absolutely won't get all the same shots you can pull off with your bigger camera. But you will get some of them (especially in good light). And you won't have five extra pounds strapped on at all times. Plus, this is way better than your smartphone camera (even the good ones). Sure $650 is expensive, but considering all the money you blow on photo gear already, you likely won't consider this a huge extravagance.

Now, this is not quite right if you prefer to keep a camera set to all auto everything to occasionally take a few pics of a kid, a dog, or a summer vacation to Niagara Falls. Using the RX100 is easy enough, and you can get some beautiful shots out of it. But, at $650, you may be spending extra cash on a camera with benefits you won't fully appreciate. Look into the $420 Canon S100 instead.

The other class of folks that might avoid the RX100 is the group looking to get into photography as an actual hobby or profession. You should instead spend that money on an entry-level DSLR—like the Canon Rebel T3i. There's only so much you can gain from a fixed lens attached to a sensor—and this sensor may be big by compact standards, but it's still small on an absolute scale.

This is a great camera to buy. Just make sure you're buying it for the right reasons.
Gizmodo also has another interesting tidbit on How Sony Could Rule the Tech World Again:
The gorgeous, awesome RX100.

When we know a company is capable of products like this, we—and most of the world world—expect greatness from that company all the time. If Sony could make every product as wonderful as its new camera, the company could once again be a gadget king.

Sony's problem is inconsistency. For every time the company makes our eyes drool with an amazing new prototype TV for the future, it releases an overpriced Bravia for uninspiring use today. For every brilliant Tablet S, we get a terrible Tablet P. And then, just weeks after the horror-tragedy of the SmartWatch, here comes the RX100 — a spectacular camera, and probably one of the most important gadgets in years. Why? Unparalleled design sure doesn't hurt.

When you put the RX100 next to another, already fantastic gadget, you see how brilliant Sony can be. The Canon S100 is a terrific camera in its own right, but the RX100 absolutely smokes it across every single facet. Forget image quality. Look at each minuscule detail. The layouts of the cameras, from dials to buttons to grips and power buttons—are virtually identical. It's almost a standardized scheme. But each of those buttons, knobs, and rounded lines is unquestionably superior in Sony's iteration. The smoothness of the lens wheel. The sturdiness of the mode dial. The industrial handsomeness of its face, harkening back to an expensive stereo in miniature.
Photography Bay has a short hands-on report:
The other thing you notice when using the RX100 is just how fast everything is. Shot-to-shot times are crazy fast. Just keep snapping and the RX100 keeps on capturing those images. I've haven't performed any formal tests on the buffer speed; however, I have yet to witness the camera slow down from clearing the buffer in the normal course of casual shooting. (Note that I'm using a 32GB SanDisk Extreme SD card with it.) Focus speed is also very snappy. Sony really did a great job in making the RX100 sing.

The lens is quite nice. While it's not got the zoom range of what we have become accustomed to on a point-and-shoot camera, the bright F1.8 aperture makes up for it as far as I'm concerned. When shooting in program and aperture priority modes, I've continually gotten faster shutter speeds and lower ISO settings from the camera's auto settings than I expected in a given scene. Even at full tele, F4.9 is not quite so bad when you consider the size of this thing. At short to mid-range focal lengths, it's nice to get F2.(something) when you don't have much light to work with in the first place. Big kudos to Sony on the F1.8 Zeiss lens.

The controls are intuitive and where you would typically expect them to be on a point-and-shoot camera. There's also a direct record button on the rear next to thumb rest for instantly starting video capture without the need to be in video mode.

That said, for those who want the best image and video quality from a package that is truly pocketable, the RX100 looks like the point-and-shoot camera to beat for the next year or so.
PC World talks of a small camera that can put some digital SLRs to shame:
All up, this camera is wonderful. It's small enough to be carried everywhere, yet it's versatile enough to be useful for just about any type of photography. We like its clean design, the layout of the controls, the manual features, the fast performance and focusing, but above all, its picture quality. It can take very clear images that compare favourably to the best digital SLRs on the market, also offering vibrant colors and excellent high ISO results.
TechRadar asks if the Panasonic LX7 with the beautiful fast Vario-Summilux can give the Sony RX100 a run for its money::
Picking a "winner" from these two compact cameras is pretty tricky, because both offer an almost equal list of pros and cons.

Though many will immediately latch on to the sensor size as an indication of quality, it's important to consider other factors, such as the lens quality, when making a decision.

In the end, it may come down to budgetary constraints or which camera you prefer the look and feel of. It's also worth considering that the Sony RX100 contains no options for adding accessories, such as an EVF or external flash, whereas the Panasonic LX7 does.
Digital Photography School Recalls the big claim: "The best pocket camera ever made"… or so The New York Times declares. No doubt there will be some rumblings from a well-known German company about such a contention. And Nikon will be banging at the gate too!
They even like the RX100's manual focus, one of the best they've come across: easy to access and giving the clearest indication of sharp or unsharp focus. Final verdict:
Quality: the pictures I shot with the RX100 simply jumped off the screen with excellent definition and accurate colour. A top performer, no doubt thanks to Herr Zeiss's precision.
Why you'd buy the Sony Cyber-shot RX100: a pocket performer.
Why you wouldn't: a vari-angle screen would have made the camera near-perfect.

An elegant and practical camera it could be used by virtually anyone with any skills level. However, it could seriously sing and dance in polished hands!
Steve Huff has his final RX100 review up. In a nutshell: best pocket digital compact of the year, or actually ever:
Pros

Small size, HIGH quality
Superb and shockingly good high ISO performance
JPEG or RAW or BOTH
HD 1080 Video in 60i or 60p
Zeiss Zoom lens is fantastic. Rich, smooth, great color and pop
Camera is fast to AF, and locks on quickly and accurately
Control dial can be customized to your preferences
Much better menu system than the NEX series
WhiteMagic technology LCD allows use in bright light. LCD is 3″ and very good quality.
The image quality is the best I have seen of any pocket compact made to date, ever (not counting Leica X2, which isn't a "pocket camera")
Blows away cameras like S100, G12, and even the D-Lux and Lumix compacts
Made in Japan and quality is high – build and feel is very nice
All of the filters and gimmicks of the NEX and Alpha series is here
Fits in my shirt or pants pocket and beats phone images, even the Nokia 808
Great for any photo situation
All in one piece of camera dynamite!

Cons

It may be TOO small for many
No swivel LCD
No EVF or VF at all!
1/2000th second top shutter speed
Lens slows down as soon as you start to zoom so 1.8 is only good at 28mm, the widest setting
Can scratch easily
No real super shallow DOF but it is possible with 1.8 aperture at wide setting up close
Doesn't come with a proper battery charger which seems to be the new thing with Sony. You get an AC wall wart with a USB cable and must charge the battery while it is in the camera.

Bottom line:

As you can tell, I really fell for the RX100. I did not think I would as I saw it as just another average quality Sony compact. The RX100 is a different breed of Sony compact though and it's quite remarkable in its capabilities for its size and sensor size. If a 1″ sensor can do this good imagine what is to come with APS-C or full frame sensors in the near future. The RX100 must have other manufacturers freaking out a bit. Here we have a small point-and-shoot size compact, Zeiss lens, superb ISO performance, fast AF, 1080 HD video, quiet leaf shutter, discreet and beautiful design, made in Japan quality and IQ that sets it apart from any other compact to date.

I will keep this simple. The Sony RX100 is the best compact camera to ever be released in the digital world. Ever. Period. End of story. Will to be the best for long? Who knows but I do know it is not a camera that will hold you back from taking any kind of photos you want. If you have the passion, the creativity and drive you can make amazing photos with the RX100. I highly recommend it.
The Camera Store only regret is to not yet being able to test the RAW files the RX100, but neither Aperture or Lightroom recognize the files. Even without looking at the RAW files though, its easy to see that the RX100 delivers incredible images in a really small package:
Photo Review offers this summary:
Buy this camera if:

You're looking for a pocketable, large-sensor digicam with PASM shooting modes.
You want raw file capture and Full HD video recording.
You don't mind having to dive into menus to adjust camera settings.
You want good-looking photos at high ISO settings.
You'd like a built-in flash.

Don't buy this camera if:

You want an optical viewfinder.
You want interchangeable lenses.
You require quick access to key camera settings.
You don't like in-camera battery charging.
Trusted Reviews' verdict:
The Sony Cyber-shot RX100 is an excellent advanced compact that offers a near perfect blend of size, performance and image quality. At over £500 though the RX100 doesn't come cheap, putting it into the same kind of price bracket as many CSCs and even some entry-level DSLRs. Clearly the RX100 is a different kind of camera altogether that is designed to appeal to a different kind of user with a different set of needs, however if portability isn't your number one priority then this is certainly something to think about. If not and you're looking for a premium advanced compact, then the RX100 certainly fits the bill.
Picking a "winner" from these two compact cameras is pretty tricky, because both offer an almost equal list of pros and cons.

Though many will immediately latch on to the sensor size as an indication of quality, it's important to consider other factors, such as the lens quality, when making a decision.

In the end, it may come down to budgetary constraints or which camera you prefer the look and feel of. It's also worth considering that the Sony RX100 contains no options for adding accessories, such as an EVF or external flash, whereas the Panasonic LX7 does.
Photoclubalpha asks laconically, "Does the RX100 work?"
Yes! The RX100 is actually a great little companion camera, and after getting it, I stopped using my NEX-5n kit for casual everyday snaps. The RX100 lives in my wallet beltpack or a carefully emptied and cleaned-out pocket, wrapped in a microfibre cloth. I may shoot a few pix or a video clip, and every day, I just connect the camera to my iMac and use iMovie to archive the entire media contents. This copies all movies and also all stills. I then format the card before the next use, and the camera is always fully charged when I pick it up off the desk.

My best pictures are every bit as a good as a typical NEX-5n with 18-55mm shot, my worst results are better than most consumer pocket cameras and no worse than the worst NEX shots. You can take bad pictures with any camera! My videos are as good as any of the NEX or Alpha models so far, and streets ahead of Canon, even including Canon DSLRs used by professionals. I would give the Nikon D800 videos the edge over RX100, and NEX-7 or Alpha 77 videos equal status. All are far more detailed and crisp than Canon's HD1080, yet that is now a bit of an industry standard. I predict that the RX100 will gain a bit of a cult following for video making. Its movie setting on the mode dial allows user-set aperture and shutter speed, full control once you add manual focus.
Photography Blog's ecstatic RX100 verdict is in:
As the RX100 is a Sony camera, it boasts a long list of other stand-out features, particularly excelling in the speed department. Autofocusing is very quick and reliable, shutter lag only notable by its apparent absence, and image processing times thankfully non-intrusive, even for the large Raw files that the RX100 produces. This camera really does deliver DSLR-like performance and image quality in a pocketable format, music to the ears of most enthusiasts.

Flies in the ointment are few and far between. In attempting to appeal to beginners, pros and everyone in between, the RX100's wealth of options is initially intimidating and at worse downright confusing, although we suspect that once you've turned off or ignored the features that don't suit you, it will prove more pliant. We don't like the in-camera battery charging as it essentially forces you to buy a second battery, while the pop-up flash though clever in design takes ages to recharge and is underpowered when finally ready. Still, these are fairly minor gripes for what is otherwise an undeniably excellent camera.

Sony have not only blurred the lines between compact and compact system in terms of the RX100's features, performance and image quality, but somewhat inevitably perhaps also in terms of its price. $650/£550 is more than many mirrorless cameras and even some DSLRs too, but on the other hand this is no humble compact. The Sony Cyber-shot DSC-RX100 is the first truly pocketable camera to offer a DSLR experience, and in that regard it could almost be seen as something of a bargain – it's certainly deserving of our highest accolade.
Hard to believe, but a site called Disney Tourist Blog offers a not too shabby RX100 review. With the exception of the battery issues other complaints are fairly insignificant, we learn. Verdict:
This is a truly revolutionary camera. That I'm comparing its performance to my DSLRs in areas of this review should speak volumes, given that it's a pocket-sized, point-and-shoot camera. To be sure, quality is not DSLR quality in most regards, but it can be very close. Close enough that I'm betting the Sony RX100 would be a suitable replacement for a DSLR for a lot of you reading this. A point-and-shoot that is a suitable replacement for a DSLR for many people and is pocket sized?! I honestly never thought I would see the day. $650 may seem like a lot of money, but given what this camera can do, it's really not. In fact, it's a downright bargain. The Sony Cyber-shot DSC-RX100 will have other manufacturers playing catch-up for years, and once the reviews start flowing in this camera will be hard to find due to its quality and because it's being manufactured in smaller batches in Japan. It's my new #1 overall point-and-shoot camera and one that you should not hesitate to order!
From Steve Huff's real world preview of this "ultra sexy pocket rocket":
In my hand the camera feels small but solid with a nice build. If it did have an EVF it would be flat-out my dream pocket cam. Then again, and EVF would have made it larger and that would have made it appeal to a different group of camera enthusiast, and not fit in my pocket! Me, I see this camera being taken with me anywhere and everywhere. Something that many other cameras can easily achieve with a bag, but now I have that quality in my pocket it seems.
EOSHD's verdict:
I can highly recommend the RX100 for your compact and point-and-shoot. I'll be shooting a lot of stills with this.

Compared to a consumer camcorder for video, it has a much bigger sensor than the typical handycam and better dynamic range, plus it takes great stills. Compared to a professional small chip camcorder, resolution is not quite as clean as a very high-end one like the Canon XF305 of course – nor is the lens as long, or AF as fast or reliable but it is much cheaper and smaller so you can buy multiple cameras to cover more angles at a live event. 1080/60p is a bonus as is the larger sensor.

For pro filmmakers and video pros I can recommend it for certain assignments and as a handheld B-roll camera, crash camera, POV camera or helmet cam. The small size has interesting implications for rigging and it is certainly easier to grab a shot with the RX100 than it is with a heavier digital cinema camera.

If you haven't yet entered the DSLR video world, the RX100 is capable of similar results in video mode and even a similar standard of stills. This is amazing and I cannot believe we're talking about a pocket camera.

For consumers who already have a DSLR, certainly if you haven't bought any fast primes for your NEX or EOS yet, the RX100 is definitely a viable replacement for a DSLR with kit zoom. At $650 (£550 or €650) it has zero competition which isn't bulkier and more hassle.
Here some slow motion test footage:
Luminous Landscape thinks what an amazing camera. A latter-day Rollei 35S:
For many photographers of a certain age the Rollei 35 was the ultimate pocket camera. From 1966 till the early 1980's this camera in its variations was the carry-anywhere camera for serious photographers. Since the beginning of the digital revolution we (or at least I) have been looking for a digital Rollei 35 equivalent, and with the Sony RX100 I think I've found it. It's pocketable, full-featured, yet with relative simplicity of use. It has a fast(ish) high quality lens and excellent image quality. Add to this raw, image stabilization, very decent video capability and a high resolution sensor of sufficient size to allow for a quality 13X19″ prints, and though the RX100 and the Rollei are actually as similar as chalk and cheese, they turn out to be soul brothers under the skin.

The summary judgement for me is that the new Sony RX100 is hands-down the most appealing pocket-sized digital camera yet. Capable of producing DSLR grade images, it's hard to find much to fault with this small pocket wonder. While it is too pricy for many, given that it will almost certainly be a second or even third camera, for demanding quality-conscious photographers looking to own an always-along camera able to produce pro-quality results, the RX100 is not just hard, but for the moment almost impossible to beat.
DigitalVersus lists the RX100's pros and cons — and gives the camera all the stars they can:
The Sony Cyber-shot RX100 takes pictures that are often comparable in quality to an SLR or a mirrorless camera. In fact, depending oh what lens you use, the RX100 can even prove superior. Although there's scope for nit-picking, as far as expert compacts go, only the much bulkier Canon G1 X isn't completely crushed by this new arrival. Sony has raised the stakes for its competitors: from now on, this is the kind of quality we'll expect from expert compacts!
In another telling note DigitalVersus says:
As a product market evolves, we sometimes have to update our review criteria. Sometimes this is due to natural evolution, with gradual technological progress over the months or years. But other times, it's caused be the arrival of one single product that immediately raises the stakes (…)

Note, then, that our review criteria for design and handling, responsiveness and video haven't changed. Our picture quality standards have changed, though, as the RX100 is now the only compact camera to get five stars in this particular field. The final score of several compact cameras has therefore been impacted, with some models dropping from five to four stars.
SonyAlphaRumors has some interesting bits on the RX100's sensor size – is it a "1 inch" sensor or is it pure marketing baloney, as Ken Rockwell says ("If the RX100 has a one-inch sensor, then I'm 18 feet tall.")?
1) First, the sensor of the RX100 has the same size of that of the Nikon 1 and I found it weird that he didn't attack Nikon before. Nikon itself also says it's a 1 inch sensor and on Ken's Nikon 1 preview he didn't deserve Nikon the same… shit.

2) Wikipedia reports that "Sensor formats of digital cameras are mostly expressed in the non-standardized "inch" system as approximately 1.5 times the length of the diagonal of the sensor." And David Pogue of the New York Times states that "the actual sensor size is much smaller than what the camera companies publish — about one-third smaller."

In short… EVERYONE is cheating.
As he previously teased, David Pogue of the New York Times has reviewed the "tiny camera to rival the pros":
No photos this good have ever come from a camera this small (…)

This is an ideal second camera for professionals. And it's a great primary camera for any amateur who wants to take professional-looking photos without having to carry a camera bag.

Of course, $650 is crazy expensive. You can buy a full-blown S.L.R. for that much.

But every time you transfer a batch of its pictures to your computer, you'll understand why you spent that money. You'll click through them, astonished at how often it's successful in stopping time, capturing the emotion of a scene, enshrining a memory or an expression you never want to forget. You'll appreciate that the RX100 has single-handedly smashed the rule that said, "You need a big camera for pro-quality photos."

And if you care at all about your photography, you'll thank Sony for giving the camera industry a good hard shove into the future.
Pocket-lint calls it the possible "king of compacts":
There's a whole lot of good to say about the RX100. Bags of customisation, a silky smooth lens focus/custom ring, great performance, that high quality, wide-aperture lens and decent image quality – even at that high resolution – make the camera stand out.

The rear WRGB LCD screen is superior to a standard compact, but it won't eliminate light reflection issues and the lack of a viewfinder or any possible accessory may put off some high-end snappers.

Oh, and then there's the price. £550 sounds like a lot — and it is — but it's shrewdly positioned about £150 below the Canon G1 X's £700 price point.

Is it worth it? Absolutely. The RX100 will be exactly what many demanding photographers have been waiting for: a truly pocketable high-end, large-sensor compact. It's not quite perfect, and some may query its price point against the NEX-series, but otherwise it's a roaringly good first attempt. Tasty stuff.
Well even the New York Times' tech blogger David Pogue is intrigued by this little star. He was talking about the not yet released RX100:
I bought the amazing Canon S100, a tiny pocket camera with the biggest sensor on the market. I wrote about my reasons here. But in two weeks, I'll be switching my allegiance. You cannot believe what's about to come down the photographic pike. Trust me: If you're in the market for a small camera with astonishing photographic results, hold off for a few weeks.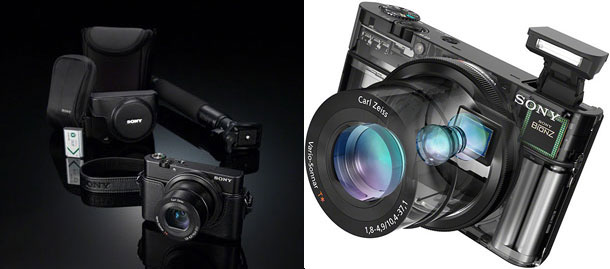 PC Advisor's straightforward verdict:
It will cost you a pretty penny, but the Sony Cyber-shot DSC-RX100's feature set is unsurpassed in the compact camera space.
PopPhoto posts some samples, and they like what they see:
We found its prospects of being a strong competitor in the pocketable "street machine" category quite promising.

The one-inch 20.2MP sensor is obviously this little camera's biggest selling point, but one shouldn't gloss over the full-time manual controls, which we found to be both intuitive and snappy to click through, especially on the fly.
From DxOMark's preview (they like the camera's "embedded intelligence"):
Sony now offers a well-rounded range of compact hybrids equipped with APS-C sensors. For its expert compact with integrated zoom, Sony is not about to encroach on the NEX family's territory, particularly since that would affect the Cyber-shot's compactness. Sony has made a judicious compromise between array size and image quality for an optimal compactness-to-photo quality ratio.

Even though it's essentially the same size as the Canon PowerShot S100, the Sony Cyber-shot DSC-RX100 integrates a much larger sensor than that of its competitor: 1″ in diagonal — that is, 13.2 x 8.8mm, or in other words the size of the CMOS sensors used in the Nikon 1, J1, and V1 compact hybrids. With 20.2MP high resolution, it has a native aspect ratio of 3:2 — which will certainly not displease SLR users — and offers "multi-aspect": it can capture photos in 3:2, 4:2, 16:9, and 1:1 concomitantly. Its sensitivity goes from 125 to 25,600 ISO, and that's a lot for such an array. Further, the Sony Cyber-shot DSC-RX100 uses Superimposing and By Pixel technologies to achieve better-quality images.

Sony has achieved a real feat here and has thus consolidated its lead among CMOS sensors. The manufacturer continues to use its low-light shot system that complies different views via burst shooting in order to reduce noise — a system that seems to work rather well.
Camera Labs have a detailed preview. Yes, they have a crush:
Of all the options, I'm most excited by the new RX100 as it really seems to tick two boxes which so far have been mutually exclusive: a truly small camera with a big sensor. Canon's G1 X may deliver great quality images with its 1.5in sensor, but it's just too big for me, not to mention marred by a number of handling issues. Panasonic's LX and Olympus' XZ series are very nice, but I personally feel they're too big given their small sensors — they're just too close to the greater quality and flexibility of a small mirror-less CSC like the Panasonic GF5 equipped with a pancake zoom. Indeed of all the enthusiast compacts to date, Canon's S-series have been closest to my ideal with their genuinely pocketable bodies, but again they're compromised by small sensors.

Sony could have gone down the route of creating a feature-packed Canon G-series clone complete with hot shoe, viewfinder and articulated screen, but instead they've opted for the approach of the Canon S-series. As such it skips what are arguably unnecessary features for a compact in order to achieve a much smaller form factor. To me this was absolutely the right choice — I'd sooner lose some features I already have on a bigger camera in order to produce a much more portable device I can squeeze into a pocket and happily take anywhere.
TechRadar loves the great LCD screen and more:
With the RX100, Sony has produced a very interesting and very impressive camera. The sensor is large enough to produce high quality images and deliver good low light performance while also being small enough to mean the overall body size of the camera remains exceptionally sleek.

If we were assessing the camera based solely on what it is capable of outputting, it would be easy to say that this camera is near-on perfect for the target market.

It produces excellent images with just the right level of vibrancy, performs well in a number of conditions and perhaps most importantly can fit in a jeans pocket.

Unfortunately, there are a few niggles to be had with the handling that keep this from being the perfect offering. The number of functions that cannot operate in raw format shooting for instance, are a bit of let-down.

We liked

The stylish and small exterior houses a powerhouse of a camera that produces fantastic images for a compact. The fantastic screen quality is also something worth highlighting.

We disliked

It would be great for options such as Clear Zoom and Picture Effects to be available when shooting in raw format – or at least for there to be a quick way to switch to JPEG only.
Verdict

For those looking for a back-up camera for when the DSLR is too bulky or inconvenient, Sony has produced a truly great camera that should also appeal to anybody wanting to trade up from a mobile phone or budget compact camera.
Digital Camera World likes that a stylish and small exterior houses a powerhouse of a camera that produces fantastic images for a compact. The screen quality is also something worth highlighting:
PCWorld lauds the RX100 as the "possibly best pocket camera of all time":
Until now, anyone looking for the best pocket camera available would be hard-pressed to find anything better than the Canon PowerShot S100. The Sony Cyber-shot DSC-RX100, announced today, looks set to surpass the S100 and become the new king of the premium compact camera world–possibly by a wide margin (…)

Sony is billing the RX100 as "the professional's compact camera," and all of that high-end hardware will come at a premium price. You can get an entry-level DSLR or a compact interchangeable-lens camera with a kit lens for that price. When it comes to pocketable fixed-lens power, however, this camera looks like it will be the cream of the crop.
Gizmodo says the RX100 is how you cram a 1-inch sensor and a wide aperture lens into a point-and-shoot body — and they love the design:
The all-aluminum body isn't much bigger than the Canon S100, and comes equipped not only with fully-programmable manual controls on the back, but also around the lens. The all-black camera is nothing short of beautiful, with stripped down, no-nonsense design that invokes the lines of a Leica camera.

Because Sony packed such a large sensor, and went with a fixed lens, it was able to open up the aperture to let in plenty of light. This not only means sharp images, but also powerful defocusing effects (a.k.a. those nice background blurs). The 1-inch sensor is bigger than those found in both the Canon S100 and G12, not to mention the Fuji X10 and Panasonic LX5. And despite the technical wizardry, the battery is rated for 330 shots-per-charge on average.
Imaging Resource has the RX100 reviewed and they're impressed:
Sony finally did what so many of us have wanted: They've built a pocketable camera with a large sensor and a bright lens. It's the Sony Cyber-shot RX100, and it'll send other camera makers back to their drawing boards for next season. The Sony RX100 sets a 20.2-megapixel, 1-inch sensor behind a bright 3.8x, F1.8 lens, and wraps it in a small body not much bigger than a Canon S100.

Indeed, the special magic of the Sony RX100 is how closely they stuck to the stronger points of the S100, one of Canon's more successful premium pocket cameras. For many of us who own a camera in this particular pocket category, the Sony RX100 embodies what we wanted when we laid down our cash for the S100, LX5 or XZ-1: a larger sensor, a bright lens and a small body.
Also check Imaging Resource's impressive image samples.
CNET says Sony has finally gotten around to developing a pocketable large-sensor camera with a presumably high-quality Zeiss T* lens:
For what it's worth, Sony claims that this camera will deliver the highest-quality photos ever for the Cyber-shot line. But while the the sensor is largish, it's also crammed with a lot more pixels than all of its competitors. So, for example, while has 55% less area than the G1 X it also has about 56% more pixels. It's the same sensor size as Nikon's interchangeable-lens CX mount, which some people consider too small for its class despite a lower resolution, and the Nikon 1 J1 costs the same as the RX100. While Sony does have a good track record with its high-resolution sensors, I'm taking a wait-and-see attitude about this.

As for the lens, it certainly looks like one of Sony's higher quality lenses; my experience with the Zeiss T*-coated lenses from the company's higher-end camcorders is that they're significantly better than the cheaper ones. But while the maximum aperture starts at F1.8, it reaches F4.9 by the time you reach the not-terribly-long maximum focal length of 100mm. (It may also matter to some people that its minimum aperture only goes to F11, though that's not uncommon.) Sony claims that it doesn't stop down immediately with the first zoom step — one of the biggest problems with the G1 X — but that's still pretty narrow and starts to make you wonder: which is more important, sensor size or lens quality, and at what point do you reach the trade-off?
DP Review's hands-on preview has these first impressions:
We've only been using the RX100 for a few days, but our initial impressions are mostly positive. We haven't been able to look at its Raw output yet, but JPEG image quality is certainly a step above what we'd expect from Sony's high-end small-sensor Cyber-shot compacts. The RX100 is very responsive, both in terms of autofocus speed and general picture-taking, and this combination of a genuinely compact form factor and enthusiast-level performance and customization is very attractive in everyday use.

Despite being a Cyber-shot, the RX100 takes many of its menus from the Alpha series. This means they're somewhat dense, multi-tabbed menu system, but there are plenty of options, including the ability to adjust the upper and lower limits used by Auto ISO (a feature previously reserved for the range-topping A77 and NEX-7). With this in mind, we're disappointed by the incongruously laggy zoom operation in playback mode (a frustration that many Sony users will be only too familiar with) and as we get used to effective touchscreen interfaces in other models we find ourselves wishing we could control AF point selection by touch. These, however, are minor niggles in the grand scheme of things.

Of slightly more concern in use is the slim, free-rotating Control Dial around the RX100's lens barrel. This control takes quite some getting used to. Although it works wonderfully for adjusting focus and lens zoom, the lack of detents means that changing functions like ISO or exposure compensation – which are set in discrete steps – feels distinctly odd at first, especially if you turn the artificial 'click' sound effect off. Accidental operation is a danger too, when working with any control which offers little or no haptic feedback. More than once during our shooting, with the control ring set to control exposure compensation, we've ended up with over or under-exposed images as a result of inadvertent ring rotation.

Overall though it's hard not to be impressed by the Tardis-like RX100. A list price of $650 will raise a few eyebrows (since we suspect that a lot of consumers will miss the significance of the large sensor and simply see a small, expensive camera) but this is inevitable. Ultimately, Sony has managed to pack a 1-inch sensor and a 28-100mm equiv. zoom lens into a body that fits comfortably into a shirt pocket without sacrificing usability or manual control, and that's no small feat.
What Digital Camera's first look:
With minimal exterior controls to keep the camera as compact as possible, the RX100 relies on some clever touches to make it quick and enjoyable to use.

Round the lens barrel is a finely balanced command dial that can control a range of settings – it can adjust the aperture in Aperture priority for example, while it can be used to adjust a host of other shooting controls in tandem with the function button. This can have up to 17 settings assigned to, while the controls at the rear of the camera can also have their settings altered in the menu should you prefer an alternative quick access setting rather than pre-programmed flash settings or drive mode.

As you'd expect for a camera of this calibre, RAW shooting is included, while there's also Peaking MF assist — something we first saw on Sony's NEX-series Compact System Cameras.
Photographic Central's initial thoughts:
The RX100 has some of the features enthusiasts want, but it falls short on many other fronts. First of all there is no grip on the front of the camera, no optical or electronic viewfinder built in (nor is there an option for an evf possible either), no filter threads on the lens, no flash shoe, and 20MP might be a bit much for the camera and the user to chew on.

There are however a few nice shiny spots. The ring around the lens is programmable for a few different functions, an idea that Olympus first came out with years ago. Canon has used it since then, and now Sony. It's a great idea and being customizable is nice.
Focus Numérique tests various RAW and JPEG ISO settings. Their "premier avis" for our French speaking friends:
L'arrivée du RX100 et de son capteur 1 pouce devrait bousculer le secteur des compacts experts encore trop étriqué entre les petits capteurs 1/1,7″ et les capteurs APS-C (Canon G1X, Fujifilm X100, Sigma DP…). Le capteur de 13,2 x 8,8 mm semble un bon compromis taille / encombrement et avec une définition de 20 Mpx, le RX100 devrait satisfaire les besoins de nombreux photographes exigeants. La qualité d'image semble au rendez-vous avec une bonne gestion du bruit électronique et une optique de qualité. L'autofocus est nerveux et seule la mise sous tension est un peu lente. Compact et silencieux, le RX100 est un appareil photo léger et discret.

Si le RX100 est très séduisant, il n'est pas pour autant exempt de défaut et on pourra toujours regretter l'absence d'écran tactile (et pourquoi pas inclinable) pour faciliter la mise au point. D'un point de vue technique, nous aurions apprécié la présence d'une connexion USB 3, la possibilité de brancher un micro ou possibilité de connecter un viseur optique/électronique sur une griffe porte accessoire. Le regret le plus important reste sans doute l'optique qui certes offre une ouverture lumineuse F1,8 au grand-angle, mais qui devient trop ordinaire à 100 mm avec F4. De nombreux photographes seraient sans doute prêts à investir (le RX100 est déjà assez cher…) dans une ouverture constante à F2,8. Si la mise sous tension un est une lente (plus de 2 secondes), le déclenchement est presque instantané (latence de 0,03 seconde environ).
From the official Sony press release:
Cyber-shot™ RX100 from Sony with world's first 1.0-type 20.2 effective megapixel sensor and bright F1.8 lens

Capture crisp detail with 1.0-type (13.2 x 8.8mm) approximately 20.2 effective megapixel Exmor™ CMOS sensor and F1.8 Carl Zeiss Vario-Sonnar T* 3.6x optical zoom lens
Get low-noise handheld shots in low light with high sensitivity up to ISO 256002
Intuitive operation with Control Ring for creative photo shooting
Powerful features packaged into sleek, compact styling in aluminium body, thanks to newly developed AA (Advanced Aspherical) lens
Shoot Full HD movies with extremely low noise and full creative control
Auto Portrait Framing, Creative Style and Picture Effect modes

Travelling light doesn't mean compromising on picture quality with the new Cyber-shot™ DSC-RX100 camera.

Sleekly crafted in aluminium for strength, lightness and luxurious looks, the RX100 inherits many advanced imaging features from Sony's α range of A-mount and E-mount camera families. It's an accomplished partner for travel, portraits or street photography, with impressive picture quality and intuitive, comfortable control options that make the RX100 ideal as a step-up from point-and-shoot cameras. It's also ideal as a pocket-sized second camera for enthusiasts who want to capture pristine stills and Full HD video while they're on the move.

At the heart of the Cyber-shot™ RX100 is the world's first 1.0-type Exmor CMOS sensor with a resolution of 20.2 effective megapixels. Specially developed by Sony, the sensor has an area that's around four times larger than the 1/2.3-type imager in regular point-and-shoot cameras. Capturing far more light than small-sensor cameras, it's the key to beautiful, detail packed images and Full HD movie clips with very low noise.

The larger sensor is partnered with an ultra-bright Carl Zeiss Vario-Sonnar T* lens with 3.6x optical zoom range. In contrast with standard point-and-shoot cameras, the wide F1.8 maximum aperture lets in more light to complement the resolving power of the large 1.0-type Exmor CMOS sensor.

In common with high-performance DSLR optics, the lens features seven- bladed circular aperture. This makes it easy to produce pro-style 'bokeh' effects, with subjects in sharp focus against a smoothly-blurred background. The lens also features an Advanced Aspherical (AA) glass element that contributes to the camera's extremely compact dimensions without sacrificing optical performance or resolution.

Complementing the 1.0-type sensor and lens, the optimised BIONZ image processor maximises shooting responses while assuring exceptionally clean, natural images. It also extends sensitivity right up to ISO 256002 (using Multi Frame Noise Reduction), allowing exceptionally clear handheld images in dim light. Speedy burst shooting at up to 10 frames per second (full-resolution) lets you grab split-second photo opportunities, while high-speed autofocus locks onto your target in as little as 0.13 seconds3.

Even if you're shooting outdoors, it's easy to see subtle details and tones on the bright, high contrast 7.5cm (3″) Xtra Fine LCD. With an extremely high 1229k dot resolution, the screen debuts new WhiteMagic™ technology that uses white pixels in addition to RGB to boost screen brightness.

It's easy to fine-tune your image with a wide range of manual adjustments, whether you're shooting stills or Full HD video.

Experienced photo enthusiasts will appreciate the unique Control Ring that surrounds the lens body. Allowing smooth, fingertip adjustment of exposure, zoom, Picture Effect and other functions, it makes versatile DSLR-style creative control over your image easily accessible.

Frequently-used functions can be assigned to a handy Fn (function) button for instant access. Memory Recall stores up to three groups of settings for instant recall – a big time-saver when you don't want to keep adjusting parameters for favourite scenes.

Just like a DSLR camera, there's a choice of auto and manual focus modes for even greater control over your image. If you're focusing manually, MF Assist magnifies your image to simplify fine adjustments. There's also a convenient Peaking function that highlights sharply-focused areas of the image on screen.

There's a generous choice of artistic options to expand shooting possibilities for enthusiasts and novice photographers alike. It's easy to fine-tune the look of your image with a choice of six Creative Styles to suit the scene or your personal preference. Picture Effect offers an inspiring choice of 'in camera' effects that can be previewed on the LCD screen, including Toy Camera, Partial Colour, Pop Colour, HDR Painting, Miniature, Illustration, Watercolour and other (Note: real-time preview not available with all Picture Effect settings).

Shared with the latest α range of A-mount and E-mount cameras, Auto Portrait Framing makes it simple to capture personality-packed photos of family and friends. Cyber-shot™ does all the hard work, automatically detecting faces and cropping the scene to create tighter, pro-style compositions without sacrificing pixel count.

Newly created for the DSC-RX100, the NP-BX1 Type X rechargeable battery features a slim, energy-efficient design to allow up to 330 still shots or 80 mins AVCHD video shooting per charge. Exclusively designed to match the camera, the LCJ-RXA is a stylish 'jacket style' carry case with an attractive leather-look textured finish and supplied shoulder strap. Attaching securely to the camera, the case opens to allow easy shooting while you're on the move.

The new Cyber-shot™ RX100 digital compact camera from Sony is available in Europe from mid July 2012.
+++ Order the Sony RX100 now from Amazon, B&H or Adorama.