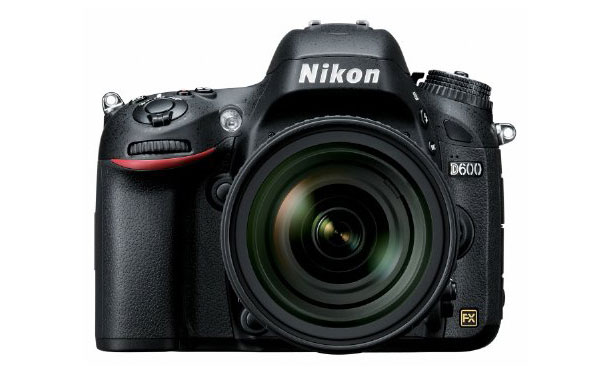 It's literally raining great cameras these days. The latest arrival is Nikon taking the wraps off one of its worst kept secrets — the entry-level, full-frame D600, Nikon's most compact full-frame HD-SLR. It's basically a mildly tuned down D800, not as cheap as everyone thought, but hey, at just $2,099 this camera will broaden the full-frame appeal. Expect the D600 to fly off the shelves for some months to come. Even better: the camera will be available worldwide from September 18. The D600 (specs/brochure) gives you most likely the same 24.3MP sensor or a derivation of the one inside the new Sony A99. You get a not too lame 5.5 fps and expanded ISO up to 25,600. You'll have to live with a maximum shutter speed of 1/4000s instead of the higher models' 1/8000s, but that's a small sacrifice. Here's full-frame prowess at a price unimaginable just a year ago. Welcome to the bright new era of full-frame going mainstream. But then again, the D800 is not that much more…
What do others think of this "lightweight" full-frame DSLR? Read our definitive, continuously updated Nikon D600 Reference File bringing you all the relevant D600 hands-on reviews and field reports that matter (latest update on top).
+++ You can order the Nikon D600 body-only from Amazon, B&H or Adorama. Or go for the kit with the 24-85mm F3.5-4.5G ED VR lens (Amazon, B&H, Adorama).
Filmmaker Moritz Janisch asks if the D600 is a good choice for filmmakers. Honest verdict:
I have to be honest and can't recommend the camera for taking videos. First because of the aperture-lock in video mode but much worse are the aliasing issues which sometimes occur not at all and sometimes are everywhere. In terms of noise performance the camera is like most 600 dollar cameras — not bad and not very good. What I like is the frame rate menu where you can easily change the frame rate without having to switch between NTSC and PAL to shoot with 30p or 25p. This camera would have been a great choice two years ago but definitely not anymore in 2013.
DigitalCameraReview tests the D600. Bottom line:
The Nikon D600's release (along with that of the Canon 6D) has made full-frame shooting available to a broader market than ever before. This is particularly important for Nikon users since photographers with DX cameras don't have to buy new lenses when stepping up to the D600.

Additionally, the D600 offers a 24 megapixel sensor, a full complement of features that almost rival those of the more expensive D800 and performance that will meet the needs of most photographers. Sports shooters and others who need super-fast continuous shooting will, of course, favor the D4 or the Canon 1DX but even so, the D600 has all the markings of a capable but more compact back-up camera.

If you're interested in full-frame shooting and don't have the budget — or the need — for the D800 or the D4, the D600 is an excellent alternative. This camera delivers on all counts: image quality, feature set and performance.

Pros:

Excellent image quality
Full feature set
Dual SD card slots
Good performance, especially given its 24MP sensor
Trickle down features from the D800, e.g., advanced video options

Cons:

Slow AF in live view
Smaller AF coverage (compared to D800)
Dual SD card slots vs. CF/SD
Wi-Fi and GPS require optional accessories (vs. the Canon 6D)
Gizmag's verdict:
Many photographers who've spent the last few years shooting with crop frame DSLRs are beginning to feel the pull of full-frame. Prices are coming down as manufacturers target the consumer and enthusiast market. But if you're in the market for a full-frame DSLR, should you consider the Nikon D600?

Well, unless you already know you need something considerably more powerful like the Nikon D4, the answer is a resounding yes. The D600 is a fantastic quality camera capable of amazing images, all at a price-point which could prove a game changer.

The Nikon D600 offers much of the functionality of higher end full-frame DSLRs at a much cheaper price. It also comes in a form factor which could be more appealing to users who want to carry their camera around with them.

But the D600 needn't just be a great choice for enthusiasts who don't need or can't justify a more pricey camera. Professionals who want a backup body would be equally advised to have a good look at one.

Capable of producing images as good as any other camera in most conditions, if you want full frame photographic bang for buck, the Nikon D600 really is a great choice.
DP Review's D600 review is up, giving it a Gold Award with an overall score of not too shabby 87%! Conclusion's excerpt:
There are two ways of looking at the D600 as it sits within Nikon's current lineup — as a beefed-up D7000, or as a slimmed-down D800. Depending on your perspective, both could be equally valid. The D600 offers a highly compelling entry into full-frame for DX format veterans but it also incorporates an awful lot of DNA from the D800 at a considerably lower price, making it attractive to people who were holding out for a D800 price drop or just want a cheaper FX format second body alongside a D800 or D4 (…)

There's a lot to like in the Nikon D600. In fact, really, there are very few areas in which it can be legitimately criticized given its market position and price point. Being a mid-range DSLR (albeit towards the top end) it lacks the customization options of the D800 (and D300S) and borrows its operational ergonomics primarily from the D7000. This will cause some photographers some frustrations (the D600's aperture behavior in live view mode is particularly annoying in a $2200 camera for example) but the bottom line is that the D600 offers similar pixel-level image quality to the more expensive D800, in a similarly tough body which also offers many of the same headline still and video features.

The differences between the D600 and D800 are partly the result of Nikon's attempt to differentiate its DSLR lineup and partly, we suspect, a consequence of design decisions that were necessary to maintain the D600's lower price point.

The D600 is the first full-frame DSLR from Nikon that has not sported a variant of the 51-point AF system first seen in the D3 back in 2007. Instead it uses a tweaked version of the 39-point AF system introduced in the D7000. This system is perfectly capable but makes the D600 noticeably less versatile when focusing in poor light or in challenging conditions like sports, where its smaller, DX-format AF coverage could cause problems. That's the trade-off. If you need the ultimate in AF performance, save up for the more costly camera. Likewise resolution — if you need to make billboard-sized prints, the D800 is a better option. But if you want excellent image quality and solid day-to-day performance from a full-frame body the D600 is a very compelling option, and seems likely to remain so for some time.
FroKnowsPhoto tests the D600's video quality (click here for the stills review):
I was very happy with the results of the video quality from this camera. Sure there is the one current downside where you can not change the f-stop during video recording but to me that is minor.

The video is clean, colorful and sharp. I now have no reason to grab my d7000 to shoot video since this D600 is full frame and allows me to get wider coverage for my videos. I hate grabbing the D7000 and having to put a fisheye on it to get a wide enough shot.

The video quality of this camera sealed my final all around thoughts about this camera. It offeres you not only great stills in low light and any other situation but very very good video quality to boot.
In case you want to know what's going on inside the D600, read and see the detailed iFixit teardown report.
Nikon D600 for sports photography? Says Photography Life's Mikhail Bezruchko:
Overall, I think D600′s autofocus did pretty darn well. True, AF-C missed several shots, but the total number of focused frames was very high. Not all of the sharp and focused images were keepers, of course. I went back and rechecked the photos several times, and I'm still amazed at how well many of them turned out.

While this review is about AF, I didn't want to neglect praising D600′s low light/high ISO capability. In my humble opinion, the quality of the night game images is amazing. I could have easily gone higher than 4,000, but I was afraid to get so much noise that it would prevent me from being able to tell if AF was working well. I just didn't expect that level of clarity.

Do keep in mind that autofocus by itself will not hand you Sports Illustrated shots on a silver platter; sports photography is very difficult and involves much more than focus precision or ISO noise or $10,000 dollar lenses.
The Phoblographer on the D600:
When it comes to the Nikon D600 it's all about perspective really. First of all you're looking at this camera because you are thinking about a full frame. You may have been put off by the D800 hoping for something more along the lines of the D700. This is the closest you're going to get to it if you can look past the feature set. Will I buy this camera? Being that I have not had the D700 that long, and it does everything I need at the moment. No. In the future there is a strong chance though. Like the D800 there are endless things you can do with this camera.

What amazes, after all my doubts this camera, was quite simply, a good piece of gear.
From DigitalVersus' review:
It's rare to see a full-frame DSLR at this price (only Sony had done it previously, in fact). Image quality is clearly excellent, and the Nikon D600 is sure to be a must-have for users looking for this kind of camera. But like any advanced, expert-level SLR, it will take time and practice for beginners to get the hang of using.
SLR Lounge asks, "Best All-Around DSLR ever?":
At first glance, the D600 may not seem very exciting to the über-geeky strobist, hardcore action photographer or the average "armchair reviewer." The Sony A99 is definitely a very groundbreaking camera if you have no system investment yet. But for photographers who just want to get out there and create images, the D600 might be perfect for you. It leans more towards slower paced shooting conditions such as landscapes, but it is no slouch in any environment except insane peak action conditions.
Don't underestimate DisneyTouristBlog's D600 review! Final words:
The most difficult decision is going to be for current owners of the Nikon D7000 or Nikon D700. Is this camera worth the upgrade or lateral move from those cameras? That's tough and probably depends upon your budget. For me, personally, it was (the D600 will ultimately replace my Nikon D700, which I'll sell), but I don't think that's clear-cut for everyone given that some of the improvements of the D600 over the other two cameras are only incremental. If funds are limited and you lack good glass, I'd recommend allocating money towards upgrading that first. If you have an excellent lens lineup, give serious consideration to the D600. For me, the upgrades of the Nikon D600 are substantial-enough to justify the purchase (and I already have every lens I want). At $2,100, the Nikon D600 is still a pricey camera, but you certainly get a lot of camera for that price, making it a good value in my book.
Even high-flyer Moose Peterson recommends the D600 over the D800:
A lot of folks have been asking me what I think of the D600. In a nutshell, I really, really, really like it! Had the opportunity to do an air to air with my friends at the Texas Flying Legends Museum. I used the opportunity to shoot with the D600 and it did a great job! The weird thing I've yet to figure out is, I have no problem handholding this small body like I do with the D800. While I'm not going to be writing a field report or anything like that, I will simply say, the D600 would be the body I would recommend to folks over the D800. Simple reason, besides the gorgeous files, it has the same e4* flash custom setting like the D4.
(* If you dial in -2 in the camera body to underexpose the ambient light by two stops, you've also have dialed in -2 into the flash. With the D4 using custom setting e4 engaged, you dial in -2 into the body, the flash exposure hasn't changed. This custom setting basically gives our flash three more stops of light.)
Pocket-lint has the low-light showdown between the D4, D800 and D600:
To our eyes the D600 has the most colour noise, while the D4 and D800 are, quite magnificently, very similar indeed, though the D4 seems to pip it in terms of visible sharpness as the JPEG image processing will be less severe on account of the lower resolution.

It's no scientific or extensive test, granted, but, if anything, it goes to show how impressive all the cameras are, the D800 in particular.

Oh, how we do love full-frame DSLR cameras.
Head on Head: If you're still unsure whether you should get the D600 or the D800, here's TechRadar:
Choosing between these two cameras can be a little tricky, especially since the now established Nikon D800 has been around for a while and the price difference isn't too marked. However, as the Nikon D600 settles into the market and the price drops, it will be a much more significant difference.

In some respects, probably due to the lower resolution, the D600 performs better in our lab tests, so it may come down to what you wish to shoot with your camera. It's also worth bearing in mind that you need to tighten up your shooting technique — use a tripod and mirror lock-up for example — to get the benefit from the D800's extra resolution.

If you're looking for a general camera for shooting a wide variety of subjects, and are looking to save a little money, the D600 is probably the more sensible choice.

However, if you're looking to step into the professional arena, have a particular hankering for that high resolution or need a slightly more rugged camera, the D800 wins out.
LetsGoDigital uploads a D600 image series, saying:
We can be brief about the image quality of the Nikon D600. The new SLR camera delivers brilliant photos, with a very good signal-to-noise ratio.
CheesyCam, a great gear review site, compares the D600's high ISO to the Canon 5D Mark III's. Not a fair fight, you'll say. Indeed. This is hardly surprising, as the Mark III is one of the better DSLRs in terms of noise performance — not to mention that it is substantially more expensive and has less megapixels than the D600. If you're into video, there are other factors that may make you think twice about this being a cheaper D800: the aperture cannot be changed in live view (so you must set it before entering or use manual aperture lenses), and the HDMI does not fill the entire frame.
THEME's very own review is up. Bottom line: the D600 can do! It's more camera than you might ever need:
I'm not much of a videographer, so this little review is about stills only. I trust you can rely on the Nikon D600's video capabilities. Long a stronghold of Canon, the video specs of the D600 and 6D are identical. So my conclusion about the D600 as an old-fashioned picture taking machine?

Spent a pleasantly stress-free time with this full-frame camera. Shooting was what photography is supposed to be: fun. I love the handling and output of the camera. Nikon was so kind to top the camera with fast prime lenses to get the best out of that body. What else can one want.

I doubt that the D800 can give you significantly better dynamic and tonal range. Yes, they are different cameras for different users. Some actual feature differences are less important to some, but critical to others.

I belong to the "some." Even the D600's noise is a no-brainer. This camera poses no limiting factor whatsoever. It does what you want it to do. It works. Worried about noise and detail? There's no reason to worry in real world shooting situations.

The D600 produces gorgeous results. But frankly, if you're still asking yourself whether you should go for the real thing, you might find yourself disappointed soon. The D800 only costs a few hundred dollars more and certainly "feels" more like the real thing. But that's about it.

The D800 won't give you dramatically better pictures. On the contrary, there's not just the added size and weight. The huge files require a different workflow and you might have to upgrade your computer. You might even be forced to shoot with a tripod because the D800's resolution shows the photographers' and lenses' slightest weaknesses.

True, according to specs the D800 is the better, more mature full-framer with not only the better metering system. On paper this should show up in shooting. The D800 is marketed as a whole different league. The marketing of the cameras, however, marks the one major difference between the two cameras. Neither shoots much better or much worse images. Full stop.

D600 or D800, this question is in a way like the difference between the D800 and D800E. Even experienced photographers pore over the two cameras' files trying to discover discrepancies. Most don't. In real-world usage the D800E's missing anti-aliasing filter offers no clear benefit. Only in very specialized photography you might find a hint of an advantage. The difference is mostly, again, a marketing thing.

The same applies to the D600. It's not a compromised D800. The D600 is on the contrary a bold, mature camera that for many is even easier to hold due to its size and weight, and easier to control due to fewer menu buttons and a less extensive user interface.

Would I instead go for the D800? Again, I reckon the differences between the D600 and D800 are more of a marketing nature. Sure the D800 gives you more detail, more everything. But how essential are those better technical specs in real-world photography?

Just ask yourself what you really need. And trust the D600 can do. High ISO? The D600 is perfect for available light. Didn't use the on-board or any flash a single time.

If your budget is tight and if you can do without the extras, you won't lose one minute of sleep over the D600. The D600 is intended to work and operate a bit more amateur than the bigger sibling. Nevertheless, a great violin player is able to make any violin shine. The D600 offers all you need. Great hardware, the essential controls, fantastic sensor. If still in doubt, go test it, shoot it and look at the files. You won't look back. What more can you ask for from an affordable full-frame camera. But in broad daylight, with an F1.4 wide open, I could have used that 1/8000th of a second more than once…
BTW, interesting as well what Ken Rockwell has to say in "What's New in September 2012." This might be music in your ears if you're considering the D600:
D600, D800 and D4: All the Same Guts!

Holy cow, I just realized Nikon's big deception: the D600, D800, D800E and D4 are all the same cameras designed and produced in parallel at the same time and all have the same insides, producing the same images with the same processing power, same LCDs, same green-shift problems and identical AF controls. They differ only in exterior packaging and when Nikon chose to announce them to make them appear different. It's just like 1980 again!

Back when Nikon ruled the pro 35mm world, all their 35mm cameras took the same pictures. The only differences were how tough and how fast they were. Consumer cameras like the EM were plasticy and worked OK, while the F3 was tough and fast, with the FE in the middle. All took the same film and same lenses, had the same meters, the same automatic modes, all focused the same, and all took exactly the same pictures.

You paid more for speed and durability, and Nikon advertised to everyone implying that if you wanted to be cool or to be a great photographer, you needed the most expensive camera — even if you were shooting portraits or landscapes, none of which require speed. Nikon showed Galen and other sports and action pros, somehow implying that even if you didn't need speed or durability, that you still needed to buy the top pro camera if you could afford it. Nikon never let on that the EM took the same pictures, cost less, and did the same thing with a lot less weight.

Unless you weren't shooting sports with a motor drive, it just didn't matter.

Today, Nikon's 2012 FX trio of D600, D800 and D4 obviously were all designed and manufactured at the same time with the same innards, and merely announced in descending cost order at different times to try to hide the simple fact that they're the same camera inside.
Told ya so in our review.
Digital Camera World has this decent general overview:
Says the Australian Financial Review that finally noise is a thing of the past:
Noise is an issue on most digital cameras because, frankly, it's unattractive. Digital noise typically doesn't just add a pleasant, film-like grain to an image: it also adds random speckles, swirls, even bands of colour (known as "chroma" noise) in a most unnatural and unpleasant way. When it comes to digital camera noise, chroma is almost all of the problem. It's what puts the "ugl" in ugly.

But the noise on the D600 (to the extent there is any) has almost no chroma. It's more like good, old-fashioned film grain than digital camera noise. Except, you have to crank the ISO setting up before you see it.

Where an ISO 400 film photograph might have a lovely grain to it, ISO 400 on the D600 is as clean as a whistle. At ISO 800 it's just appearing in our studio shots. At ISO 6400, the highest ISO setting on the D600 before you go into its overdrive modes, the noise is fairly visible, and very film-like in its appeal. It's so good we jacked up the ISO setting on the camera even when light conditions didn't necessitate it, just to make our images look like they were shot on film.
Images this spectacular have never been this cheap, says Gizmodo:
This camera's so good, we'd even say that a lot of people who would otherwise shell out for the D800 or 5D Mark III might consider the D600 instead. It's really more than just a scaled-down professional camera for amateurs. This is a different tool altogether. It's a leaner, more efficient DSLR. And that's exactly what most people need.

The crazy DSLRs that war and wedding photographers have dragged into their respective fields of battle have been both a physical and financial encumbrance. Take, for example, the D800. Yes, its sensor has unbelievable resolution, but it comes with two problems. First, processing files that large is very time-consuming—we know many D800 shooters who end up dialing down their sharpness to make life easier. Second, really truly taking advantage of that kind of resolution requires an arsenal of extremely high quality lenses.

In a lot of ways, the D600 gives you the power basically everyone wants, but without going overboard. If you're a serious photographer considering it because the price sounds right, it's almost definitely the one you should buy.
Ming Thein in his D600 review asks, "Full-Frame for the Masses?":
The D600 didn't receive anywhere near the same fanfare or hype as the D800/ D800E at introduction; perhaps it was the long rumour train, or perhaps it was the fairly conservative spec sheet. However, I think this is going to be one of those cameras that enjoys a long burn in much the same way as the D70 and D700 did — it brought a decent feature set with a sizeable leap in image quality at a new low price point. The D600 body retails at US$2,100 or thereabouts. In that respect, I feel in the long term it will do for full frame what the D70 did for DSLRs in general: it made it accessible. It's more than enough camera for the average user, yet not so much that getting the most out of it becomes a challenge, like the D800/ D800E. The D600 is full frame for the masses; if you're not a pro but you're itching for an upgrade from your D700 or D7000, this is probably what you've been waiting for.

You'll notice I haven't said much about its nearest immediate competition, the Canon 6D – that's because I haven't handled one. But I'd be surprised if there was any dramatic difference in image quality; photographers will pick one or the other based on the lenses they already own. Both of these cameras would make excellent travel outfits. Personally, I'm currently trying to decide if I'll stick with the OM-D or go with a D600 and a couple of pancake primes. Both are capable of delivering excellent image quality in the right hands, have a few tradeoffs, but neither would be taxing to carry and shoot for an extended period of time in the same way a D800 and suitable lenses would. It's the first big camera I've bought that didn't feel like it was a dramatic upgrade in some way to what I had previously (think D200 to D3, or D700 to D800E) ; but a solid, incremental upgrade in all directions.
In conclusion: the Nikon D600 may not be the D700 replacement or make waves like the D3 did, but for most users it's going to be like goldilocks: just right.
DxOMark says the Nikon sets a high bar for image sensor quality:
Nikon's D600 will certainly help camera enthusiasts and avid photography hobbyists reach for what they once thought was unobtainable — an intuitive and more affordable high quality full-frame DSLR. As an added bonus, the camera provides users extreme value, as noted through its DxOMark sensor score of 94, which puts it in an elite category currently occupied by two additional Nikon cameras.

However, it will be interesting to note if Canon and its recently launched EOS 6D — a full-frame, lightweight and affordable DSLR that directly competes with the D600 — can close the sensor and image quality gap between the two friendly rivals.
PetaPixel has some more D600 DxOMark analysis:
Nikon's new entry-level full-frame DSLR, the Nikon D600, is supposed to be a lightweight camera with heavyweight image quality. DxOMark confirms it to be true. The camera equipment measurement company has announced its sensor quality results for the D600, and the score is sure to put a big smile on the faces of Nikonians around the world. Rated at an overall score of "94," the camera received the third highest score ever, and falls in third place behind the D800 and D800E — cameras that cost roughly $1,000 more.
Nature photography with the D600? Watch this "Chasing the Light" HD video by Florian Schulz:
Interesting short D600 vs. D800 comparison by Ken Rockwell — yes, he prefers the D600:
I've owned the D800 and D800E for over five months, and the D300 and D3 with the same foolish "Menu Banks" system since 2007, and they make the cameras a mess to set and reconfigure for each kind of subject.

I greatly prefer the U1 and U2 modes of the D600 and D7000. With them, everything I need for one kind of shot or another I can preprogram, and I'm always ready to shoot.

36MP is worse than 24MP. No pro I know shoots above 10MP; above 10MP, all it does is slow your workflow so you can't get anything done. For most of my own work, I shoot at 6MP.

24MP is the optimum resolution for FX, considering noise, ISO, resolution and real-world lens sharpness. Above 24MP in FX (or above 12 MPin DX), the noise reduction has to work so hard even at ISO 100 that it leaves visible artifacts to the very careful eye. In other words, anything above about 24MP in FX or 12MP in DX is starting to become a cross between a hoax and just a sales feature for the innocent, and regardless, the files start occupying a lot of memory, so unless you're a computer engineer for a living as opposed to a photographer, I prefer the 24MP resolution of the D600.

Flash sync is a tiny bit slower in the D600, but it's only a third of a stop slower than any other current DSLR and the same as the Canon 5D Mark III, so no complaints from me. Give me 1/500 sync and I'd want it, but 1/250 is the same thing as 1/200 in actual use.
David Mansurov compares the D600 to the D800:
Despite many similarities in camera features, there are some big differences between the two cameras. First of all, the sensors are completely different. It is hard to say how the Nikon D600 will perform at this point (since I have not had a chance to test it yet), but given the fact that the D600 has a larger pixel size, it might look cleaner at 100% view compared to the Nikon D800. At the same time, the Nikon D800 is probably going to look better when down-sampled to 24.3 MP, especially at high ISOs. While the Nikon D600 is faster with its 5.5 fps rate compared to 4 fps on the D800, its max shutter speed is limited to 1/4000 and its shutter durability is rated at 150,000 versus 200,000 on the D800. In addition, the Nikon D600 has an inferior autofocus system with 39 AF points and an older generation metering sensor. Lastly, the Nikon D800 has buttons like AF-ON on the back, providing overall better ergonomic experience.

Looks like the Nikon D600 would be a great backup camera for the Nikon D800, since both share the same battery type and charger. For a primary camera though, I still think the Nikon D800 will be a better choice, especially with the better and more advanced AF system it has.
The Phoblographer calls the D600 "basically a full-frame sensor in a D7000 body":
To be honest, this is what every consumer has wanted. And in a way, that's what I'm afraid of. While I fully believe that it is the photographer that creates the images and that creative vision in the end will win the day; everyone, their mother, and Uncle Bob all think that they're already a photographer. This camera can potentially add even more saturation to an already super saturated market.

Granted, those who go for the high-end wedding photographers (just as an example) will still go for the high end, but this will make it even tougher for those that still want to get into the market. In a way, I feel that full-frame isn't just for professionals anymore and because of this, I predict that in maybe two to three years we're going to start to see another shift in the photo industry.

We may indeed start to see things go backwards a bit: meaning that with full-frame coming down to the masses, we may start to see medium format do the same. Wedding, portrait and event photographers used to shoot with medium format all the time until digital came around and ate it up. I personally have stopped shooting 35mm film because of just how good my 5D Mk II is. I shoot 120 film and 3×4 instant as well. And while the price may still be high for some, I still believe that we're going to start to see another shift in the market. We already started to see it with premium mirrorless cameras and large sensor compacts (like wedding photographers and photojournalists picking up the X100 and X-Pro1 as second bodies).

It's going to be interesting to see how this plays out. But to be honest, it's starting to feel a little cramped in here with all the people just shooting in auto mode.
From Engadget's hands-on with the "lightweight":
Although on paper the D600 has the same ISO rating (100 to 6400) as the D800, Nikon told us that the D600's images are "almost" as clean — suggesting there's some mild disadvantage in this respect, despite the fact that the D600 has far fewer pixels crammed onto its sensor.
Asks DP Review, "A Full-Frame for the Rest of Us?":
We haven't had long with the D600 but it's hard not to be impressed. There are two ways of looking at the new model as it sits within Nikon's current lineup — as a beefed-up D7000, or as a slimmed-down D800. Both are equally valid. The D600 offers a highly compelling entry into full-frame for D7000 owners (not to mention D300/S owners…) but it also offers an awful lot of DNA from the D800 at a considerably lower price, making it attractive to people who were holding out for a D800 price-drop or just want a cheaper FX-format second body alongside a D800 or D4.

Nikon should be commended for not skimping on features in order to keep the D600's costs down or protect sales of more expensive models. We've seen all of this spec before, but the cameras we've seen it in have been impressive products. The D600 might have 12 fewer AF points than the D800, but it offers the same AF system as the D7000, which we know performs really well. Its sensor has 12 million fewer pixels than the D800, but it still beats or rivals anything else out there in terms of pixel count, and we have no reason to expect image quality to be a weak point.

As far as handling is concerned, the D600 is extremely similar to the D7000, with the addition of a redesigned live view switch. As such, anyone used to shooting with that model (or a D800, and to a lesser extent the D4) will find everything pretty easy to find. The D600 is a bigger camera than the D7000, but not by much. Compared to the D800, the D600 is noticeably lighter, which will make a difference during a long day's shooting. In theory, the D600 will stand up to the same sort of abuse from wind and weather as the D800, too.

Overall, we're pretty taken by Nikon's newest DSLR, as you can probably tell.
An official Nikon trailer praising the smallest and lightest DSLR:
+++ You can order the Nikon D600 body-only from Amazon, B&H or Adorama. Or go for the kit with the 24-85mm F3.5-4.5G ED VR lens (Amazon, B&H, Adorama).