By STEVE WELDON
You ask yourself what's the business of a laptop review here on photography site THEME. And that sure is a mouthful of a title. Now take this Lenovo W530. Add an Adata 256GB X300 mSATA SATA III / 6Gbps SSD. Then keep in mind these are two items, two pieces of hardware which I feel go very well together. Like bread and butter, tea and biscuits, or in this case Lenovo's premier workstation equipped with Adata's fastest mSATA SSD. A lot like a Bugatti Veybron topped off with racing fuel. I'm sure you've got the picture by now, but let's finish this product review anyway.
Again, a laptop review here? It's simple. There's no digital photography without a computer. Chances are that a good computer even improves your photography.
I'm a full-time professional photographer. Out of all the computers made I choose to review approximately one every six months. Or in other words, computers that specifically meet the requirements a photographer demands. Such as one portable Lenovo specifically designed for photographers (W530), or perhaps one I build myself with a certain type of photographer in mind.
There are differences and they matter to certain types of photographers. I have a side business building these and people don't pay my premium for general knowledge. Further, in today's world of digital photography computers are just as vital as the camera itself when coupled with software and post-processing skills… which I find woefully inadequate with most photographers. A picture never lies and it always reveals a photographers post-processing skills and mistakes.
This year, the best photography laptop you'll find is the W530. For a photographer, this mobile workstation can make a difference. I'll mention photography wherever it made a difference including specifics that benefit, for instance, Lightroom and address each performance parameter affecting Lightroom in accordance with Adobe's recent release of how Lightroom benefits from specific computer traits.
I will talk about the difference in screens, graphics card choices, and the built in colorimeter option is discussed as appropriate for photography and then video. While this is a general purpose review with a heavy bent towards photography, we should remember that this is Lenovo's photography laptop. The machine Lenovo built to benefit photographers the most. Most serious photographers will ping on the W series like a pig on truffles. And I can't think of a single question related to photography not addressed in here. The most common/meaningful benchmarks are included as well.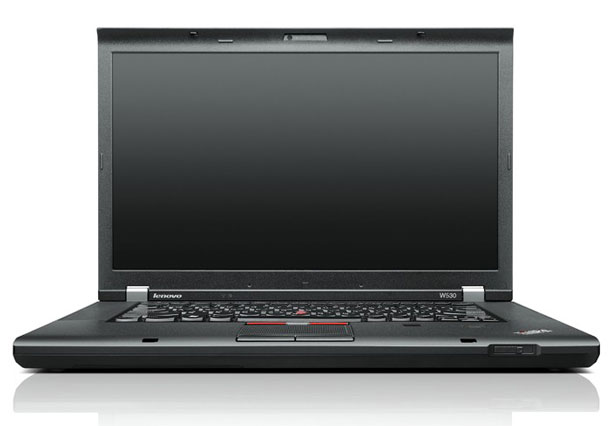 Configuring the Thinkpad W530 Series in a Custom Build
For years now Lenovo has made their W series Thinkpads the workstation workhorses of their wide ranging fleet. This new W530 comes with the latest Intel Ivy Bridge quad core CPU that leaves even Apple's MacBook Pro in the dust. I'm sure they'll upgrade from Sandy Bridge soon enough, but until they do this is the top dawg and who knows if the MacBook Pro will exceed the W530 even then.
Equipping a laptop to master music isn't "that" much different than for mastering images, but I sat down and carefully went over the main programs requirements where it came to CPU capability, RAM needs, storage requirements, and of course display specifications.
Any quality workstation earns it's "workstation" certification through its ISV (Independent Software Vendor) certification which tells us this machine is highly compatible with Windows and a select subset of top graphics software.
The W530 is a 15.6" 5.95 pound FHD display system that comes with your choice of quad core i7s through Intel's Extreme Series. You can achieve 20 hours of battery life with a single "slice" battery.
As we went through the list of available equipment we didn't feel the top-end monitor would be significantly useful for mastering music in a studio. It would however be much more helpful with an imaging workstation laptop. But the minimum standards i7 quad core starting off at $1,389 was certainly the way to go. Keep in mind Lenovo is constantly offering price breaks on equipment, shipping and end of week/month specials, they've got a deal for just about any reason.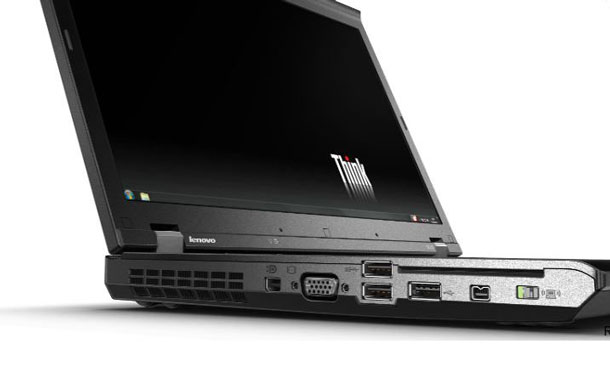 We felt the stock 3.6GHz i7 was adequate, Windows 7 Professional, 15.6" FHD 1600×900 LED backlit matte screen with backlit Chiclet-style keyboard. For those of you who don't know Lenovo recently switched their entire laptop line from the highly regarded industry-best Thinkpad keyboard to their new Chiclet-stype keyboard. Why? I don't know. What a huge risk!
The previous Thinkpad style keyboard was the best the industry has ever seen. Now, we're told give these new Chiclet-style keyboards a try and soon we'll like them just as much. After a few weeks with the new style the most I'm willing to comment is "maybe." Or a heartfelt "we'll see." But I'm not ruling it out…
Lenovo also gives us the choice of their 2GB DDR3 GPU Nvidia Quadro K1000M at the low end or the K2000m at the high end. For all but rendering video I didn't see that much difference so we ordered the K1000M and saved $329. If I was going to render a lot of video I'd get the more powerful K2000M GPU card.

The W530 comes with four memory slots, unusual for a laptop as most only come with two memory slots. After studying the available RAM options, comparing prices with third party venders, etc., we decided to go with the four slot 16GB upgrade from the stock 8GB for $260. There's also the option of a built-in color sensor for calibrating the monitor. Neat!
Where the W530 really shines is in the selection of hard drives, RAIDs and SSDs. Because they didn't offer a 256GB SSD nor did they list its controller or transfer speeds (two very essential pieces of information when choosing an SSD). I opted for ordering the Adata 256GB SX300 mSATA SATA III / 6Gbps through a third party and opting for the default 500GB 7200RPM mechanical HDD.

Currently the Adata 256gb mSATA SATA III SSD has the largest capacity and best performance available in this diminutive mSATA format of any other mSATA SSD I know of. Yet, when we run the AS SSD benchmark it returns only a 449 with reads barely exceeding 250Mbps and writes not yet at 200Mbps.
Why would we choose this drive instead of putting a new Vertex 4 in the 2.5" slot which can easily exceed 500Mbps reads and writes with an overall score in excess of 1,000+?
System efficiency. If we don't use the mSATA slot we lose it. On a laptop every port has value, especially drive ports. And there is the point of marginal returns where drive speed is concerned. Once a drive gets so fast with given size files, you won't notice nearly as much further increases in speed.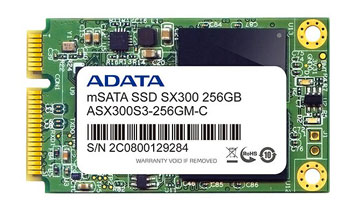 Yes, there is a "noticeable" difference between an SSD performing at 449 and one performing at 1,000+. But not enough of a difference to give up that crucial drive port. How do I know? Experience. I handle enough of these different drives that operate at different speeds in different types of systems where I feel comfortable making this decision. I'd bet nine out of ten users couldn't detect any different at all if you didn't say anything.
So, that's one SSD in the mSATA slot, one 2.5″ SSD/HDD in the main storage slot, and another 2.5″ SSD/HDD by replacing the optical bay with a 2.5″ drive bay. This allows the mSATA to be used as a system/program disk and any mix of (2) 2.5″ SATA III / 6Gbps devices stand alone or a RAID0 (or RAID1) configuration. That's a lot of choice in a 15.6" 5.95 pound laptop!
We opted for the ADATA SX300 from a third party in the mSATA slot, and the default 500GB 7200RPM HDD in the regular storage slot while retaining our optical DVD drive.
7.jpg
The W530 comes stock with Bluetooth 4.0. and you can add WiMAX or your choice of your carriers broadband. So we're at $1,630 as equipped and a 3-year next business day warranty with an accidental damage policy bringing the final tab to $1,819 from Lenvo, and $249 for the ADATA 256GB mSATA SSD. Face it, with well-equipped Ultrabooks going for $1,200, this full-featured ISV certified workstation is looking better all the time.
Orders are placed as the Christmas tree awaits.
FedEx knocked on the door the day after Christmas and fresh from the Lenovo factory in China was the box containing our new W530 workstation. You don't get much. A battery, a laptop, a power supply. That's it. You don't even get a driver disk. The ExpressCard Firewire adapter and the Adata SSD are third-party orders.
There are no other extras, no manuals, no paperwork, no adapters, and nothing else you'll want to stuff in a drawer and forget about. That's okay with me.
mSATA SSD Installation
The bottom of the W530 has a small door revealing two of the four memory strips which is of no interest to us. There is another door revealing the 2.5″ 500GB 7200RPM HDD which is of interest. Remove the door and then remove the drive.
Now, look along the back of the W530 for any screw next to a keyboard symbol and remove those screws. These are the screws that hold the keyboard in place. Make sure to use an antistatic wrist strap to the metal ground of the W530 and then to your wrist. Then carefully flip the W530 over so the keyboard is face up.
Using an apricot tree pry stick, lift up the front of the keyboard and then let it slide forward a bit. Using the same pry stick slowly pull the keyboard down revealing the inside of the laptop. Don't go too far or you'll accidently remove the keyboard ribbon cable. Just slide the keyboard down and set it on top of the palm rests. See the black cardboard covering something rectangular? Remove that and you'll see the slot where the mSATA SSD goes.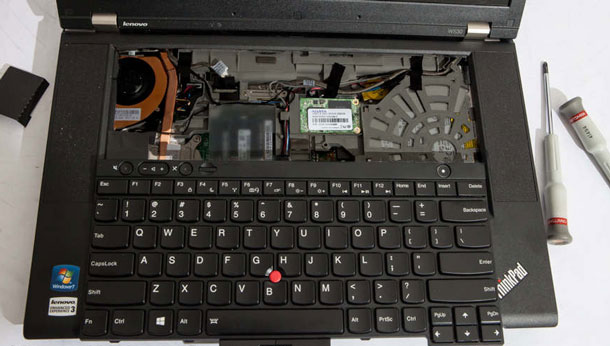 Carefully move the two antenna wires (light blue and black), bend them back towards the compartment carrying the yellow round battery and tuck them in there.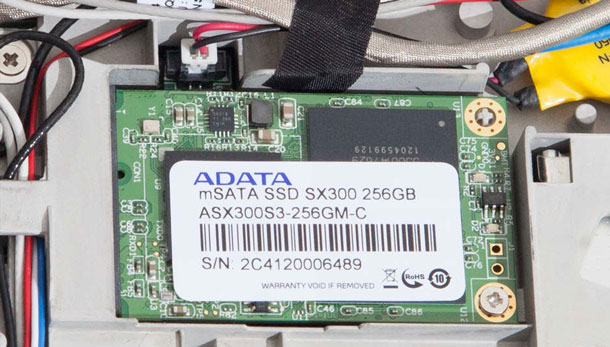 Look closely and you'll see a small screw (tamper proof torx screws) in the screw hole closest to the front, and a plastic guide nub right above it. Slide the ADATA SSD into the slot until it firmly seats. Then press it down against the spring pressure until it fits over the plastic nub and the screw can hold it in place.
Tighten the screw and replace the black cardboard protective cover. You're done and ready to reassemble. Reassemble your keyboard and everything but the 2.5″ HDD. Leave that out for now.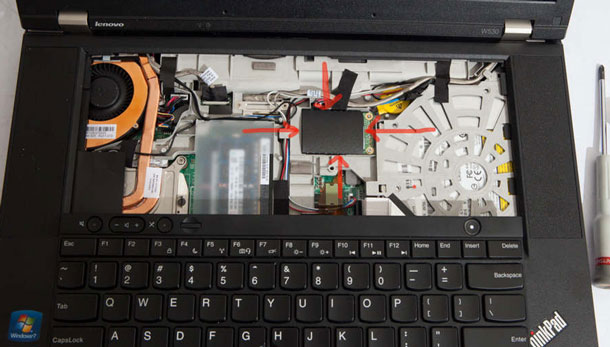 Go ahead and install a fresh copy of Windows 7 or follow the procedures on Lenovo's website for copying the copy they provided to your new SSD. A few minutes later, when Windows is installed, you can put your 500GB drive (or any other drive you have) back in the slot and by entering your drive manager delete the partition from the 500GB drive and partition and format as desired.
That's it. Not even 20 minutes out of the box your new Lenovo W530 is now set up with its new SSD and you're ready start connecting peripherals and software.
Ideal Lenovo W530 Drive Configuration for a Photography Workstation
Understanding your personal imaging workflow is vital to achieving optimum performance and this is when you're best served to sit down with a knowledgeable custom builder and go through your workflow step by step. Today we'll pretend we use my workflow which is very common among imaging professionals. I use Lightroom as my DAM (digital asset manager) where I manage, catalog, keyword, rate and otherwise as my starting point for my imaging workflow. I also use its excellent RAW conversion engine.
From Lightroom I might or might not choose to export an image into CS6 Photoshop (most often), Photomatix, Silver Efex Pro or one of my many other imaging programs.
It would obviously support my workflow best if I supported Lightroom first and the other programs secondary. Lightroom hasn't yet evolved to the level of CS6 Photoshop, so it's hardware requirements will be different. Lightroom benefits most from a fast powerful CPU and a good amount of RAM. There is some controversy about how much RAM, so let's agree 16GB is a suitable performance as well as economic choice.
Lightroom doesn't yet utilize the extra power a fast GPU usually holds in reserve while Photoshop and several other programs do, so a fast GPU will only benefit performance by the speed in which is renders screens, a fraction of its normal tasking.
Conversely, fast drives do benefit Lightroom but only for those portions of your workflow where you are accessing the drives. So depending on your personal workflow you might benefit greatly from a fast SSD or even multiple fast SSDs.
If for instance you spend a lot of time moving about your catalog from image to image, searching keywords, arranging by exif data or even using Lightroom's internal rating system, then you'd notice significant performance increases by using a SSD on which to place your catalog.
Also, any caches would benefit greatly from an isolated area on a fast SSD. If you purely process one image and then the other image and then another image one after another, you're not likely to benefit much at all from using an SSD compared to a conventional HDD.
So, for MY workflow I'd buy the fastest mSATA SSD available to place my catalogs and because it being a notebook it will never be that large of a catalog, I'll probably put my designated caches on there as well. I'll choose the fastest 240 to 256GB SSD available, say a OCZ Vertex 4 as my system drive where it will hold my system software and programs. I'd convert the optical drive which I never use after setup, so an external optical drive works fine for setup purposes. In it's place I'd put the fastest and largest storage drive I could afford. This could be a 2TB conventional drive for about $145 or a 750GB Seagate Hybrid XT for $130, or go all the way for 1TB SSD for over $2,000. As I've mentioned, workflows are personal and the exact drives and arrangement of your drives will require some work and thought. And money.
Performance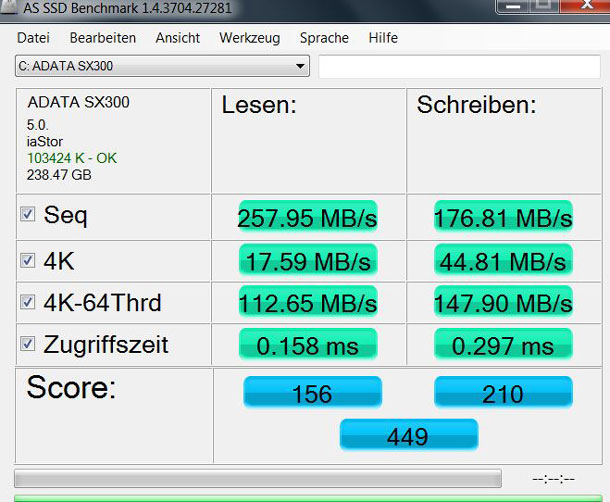 Like I said before, not a stunningly fast drive but plenty fast for must uses.
Windows Experience Index scores are very good overall with the SSD having the lowest score of all. Think about it. A fast SSD has the lowest performance score of your entire system.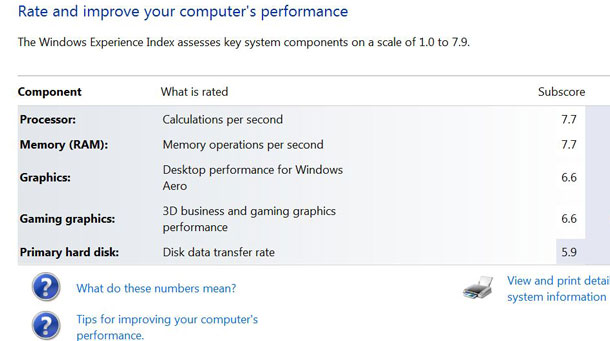 Geekbench 2.3.4 Pro: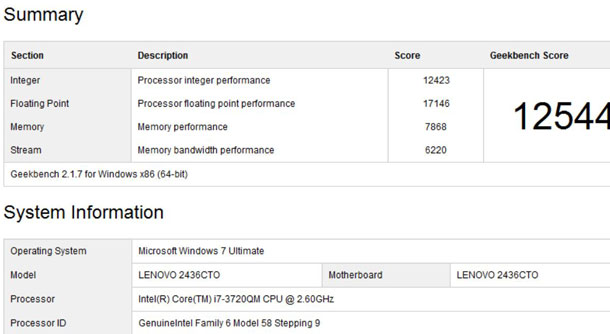 Wow, a score of 12,544! Let's put this score in perspective:
An new award winning Asus Ultralight with SSD scores 2,322.
Lenovo x201s Thinkpad with SSD 4,666.
My personal tower workstation I've been using for about four years, an Intel 950 quad core CPU with 12GB of RAM, tons of storage and much more: 9,544:
Lenovo W530 Thinkpad Workstation: 12,446.
This is currently one of the fastest single CPU computers we can build without overclocking. We "could" overclock, we just won't. 14,882.
I'm confident our new Lenovo W530 workstation has more performance than we'll ever need. At least in the immediate future.
Summary
Lenovo is like any other computer manufacturer, they have economy lineups, multimedia lineups, professional lineups, and with the W series a workstation lineup.
Workstations are generally serious work-orientated machines with the best components designed to get a lot of work done in a short amount of time. I've owned workstation class machines from Lenovo, Dell, HP and others and have generally encountered the best of all classes.
This Lenovo W530 is no different. It's black, it's blocky, and at 5.95 pounds it approaches heavy. But when you open the lid and the bright beautiful colors entertain your eyes for the first time, it becomes the most beautiful computer you've ever seen. As it moved with apparently no effort and superior speed from task to task, often running multiple resource-heavy tasks as the same time, you can't help but be impressed by this fine example of engineering.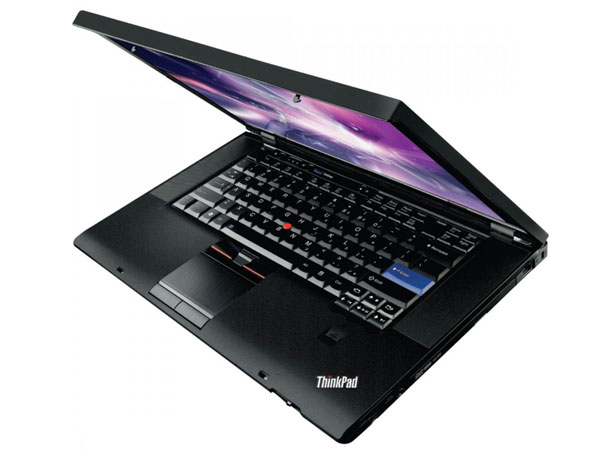 What about their new Chiclet-style backlit keyboard? I'm still on the fence and I'll probably stay there until I get a year or two on it and it becomes my new favorite. The touchpad is superb, the webcam works well, the 9-cell battery it comes with provides 10+ hours of use. Tthe SD 4-1 card reader is fast, the ExpressCard slot functions as it should, both USB 3.0 ports are very fast while the single USB 2.0 port is as you'd expect. What justification is there these days to continue equipping a workstation class computer with a USB 2.0 port? Zero.
The quad core processor coupled with 16GB of RAM and the NVidia Quadro K1000m video card provides more horsepower than all but the newest Ivy Bridge desktops and even then, more than all but the top spec'd Ivy Bridge desktops. You won't be lacking for power with the W530.
Lenovo made intelligent use of the small mSATA port. Coupled with the optical bay replacement 2.5″ drive adapter, the W530 now has three SATA III / 6Gbps ports which can be configured in any conceivable way.
Nothing but an exceptional price could possibly make this W530 stand out from its competition more than it already does, and guess what? The price is at least 15% better than its closest competitor. I suspect this W530 workstation will be making beautiful photography for many years to come.
+++ You can order the Lenovo W530 Laptop Workstation and Adata 256GB X300 mSATA SATA III / 6Gbps SSD from Amazon.
Steve Weldon is the publisher of the photography website Bangkok Images. He lived in Asia in excess of a quarter century, more than ten of those years Thailand. Retired from the military and currently residing near Chicago, he has made photography his second career. Steve does custom build computers and ships them all over the world. Find more information here.