You might know Don Springer of Streetshooter and Olivier Duong of Olivier Duong. Both great street photographers I highly respect. They have a project, Street Presets, and it certainly deserves your attention if you're into street photography. It may even change your photography altogether.
Street Presets, that's two custom-tailored presets to make your photographs come to life: Streetshooter SE1 presets for Nik Silver Efex 2, and Streetshooter LR1 presets for Lightroom 4.
It's certainly easy to rave about these presets. No more wasting hours in front of your screen to get that "street look" you're after. Results remind me of shooting grainy black-and-white Ilford pushed a few stops. Hearty vignetting, deep oily blacks, crisp contrast, you got it. It's the closest thing to the old darkroom.
Disclaimer! The presets are nothing for you if you're after squeaky-clean, completely noise-free images. They are right down your alley, however, if you're after this documentary look that for some reason makes photographs more authentic, more real.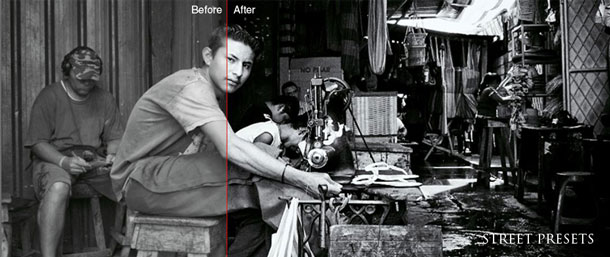 You can download all sorts of presets for free from the Internet. But not all are made equal. Most simply alter the look of an image. Not the Street Presets. "We are after breathing life into photographs with our presets," says Don. "The presets are not mechanical knobs to us, but they are a labor of love for we are not engineers or developers, but passionate photographers. We understand what street photographers want."
Don and Olivier "feel the street," giving your photographs this organic, gritty, documentary "street look" that is hard to reproduce. Their presets were created to handle many kinds of situation including under- and overexposure. You'll be amazed what Lightroom can do.
SE1 includes five Nik Silver Efex 2 presets designed specifically for street photography. The LR1 package includes 12 Lightroom 4 presets designed to add punch to your photographs and make them pop.
Again, they're a labor of love. It took these two fine photographers a lot of time to carefully fine-tune the settings after countless experiments on their on street images.
You can now get both SE1 and LR1 presets for only $26.99. The Lightroom version is $19.99, the Silver Efex $9.99. Downloads here.