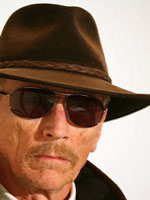 By BENGT NYMAN
Hasselblad becomes a fashion accessory. Is this a sign of all out madness or a strike of genius? I learned as a young, aspiring entrepreneur that if you have an idea or a new product, think not that you can make a company out of ONE product, but rather be prepared to offer a line of synergistic products under the same company name.
Since Hasselblad apparently is taking a break from designing and building cameras, what is next? Jewelry? Of course: handbags; Gucci handbags, relabeled Hasselblad.
Brillant, just do it Hasselblad!
Hasselblad press release, October 10, 2012:
Headed by Luca Alessandrini, the company's New Business Development Director, the centre, with its base close to Venice and the Italian fashion industry, will implement Hasselblad's new strategy to gain market share in new consumer segments with products that boast exceptional design and engineering.

Hasselblad Chairman and CEO Dr. Larry Hansen said: "The region we have chosen for this new centre of design excellence is home to many high-tech manufacturers, including those working in the watch, high-end automobile and aerospace industries."

"We plan to capitalise on having the best of both worlds with this new Italian centre and our traditional Swedish camera manufacturing expertise."

The first Hasselblad product designed in Italy is Lunar, the company's luxury mirrorless, interchangeable lens camera, launched at Photokina. For the first time ever Hasselblad is incorporating carbon fiber, titanium, wood, leather and precious metals in this state-of-the-art camera, which is set for launch early next year.

The company has announced it is also planning to build a new DSLR, a new compact camera, and its own line of accessories, bags and tripods.
Addendum by THEME: A sign of despair? The whole Lunar debacle is now even clear to those who saw it coming but thought they'll pull of a miracle. Hasselblad and stakeholders Ventizz/Vorndran Mannheims Capital are still reeling. What just happened? How to recover from it? There comes the day once loyal customers will understand that the imaging process itself is just a small part of this new Swedish-Italian approach. Go leather wear, and you'll understand. Or you're too old to understand.