Not too much to disclose yet, but expect two major Fujifilm announcements for Photokina 2012. Models in question? It's highly likely that two new X series models will be launched. One low-end, one high-end.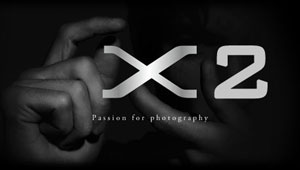 It's not that difficult to guess which one(s). My money's first on the X100. Stocks run low and we had the special edition (black) and discounts that usually presages the dawn of a successor.
The other one? Maybe a new X model. X1?
+++ Update: Here she is, the new Fujifilm X-E1!
A well-placed source tells THEME that compactness of a body and autofocus speed compare to the Olympus OM-D E-M5, smilingly assuring the new Fujifilm's AF "blows away" the Olympus.
Blazing Fujifilm X autofocus? Many wish so. AF is the X system's Achilles' heel, despite firmware upgrades.
It's not unlikely though that the X-Pro1 might get an overhaul. With the X series announced at Photokina 2010, the poor man's Leica (read our Ronn Aldaman's review) is the newest kid on the block. Time already to overcome those widely reported teething issues that bother more than a few users who expected, well, an even more polished "pro" model (as the flagship's name suggests)?
Some early adopters will for sure be upset.
X-Pro2? X200, X20 or X1/2? Well, we'll soon know more. Worst case scenario? One new X and another advanced series model.
The hardware should be in stores worldwide by October, says our source.
There are currently four models in the X series: the rangefinder-styled X-Pro1 and the fixed lens X100, X10 and often overlooked X-S1.
BTW, don't forget to follow us on Twitter, Facebook or via RSS for the latest.
+++ Update: A few hours after our post Fuji Rumors publishes this one: Fujifilm X-Pro2 to Be Announced Soon?
For a complete roundup of the relevant Fujifilm X-Pro1 hands-on reviews and field reports read our continuously updated The Fujifilm X-Pro1 File.