First you think, wow someone hijacking a good old name of the camera industry! Yashica. Some of you younger readers never heard of the name. Yashica was a Japanese manufacturer of cameras, founded in 1949. In December 1965, Yashica introduced the world's first commercially successful electronically controlled 35mm camera, the Electro 35, a popular rangefinder model that in various model subvariants eventually sold eight million units. Now the company that later got eradicated by the Kyocera-Contax-Konica-Minolta mess attempts a revival: Yashica tries to build on the success of the little mighty Electra 35, by introducing the unprecedented retro rangefinder Yashica Y35 digiFilm.
That's right, it's a Kickstarter project. A once renowned company rises from the ashes and chooses contemporary means to finance a truly ingenious idea. You must know, in 2008 Kyocera sold the trademark rights of Yashica to Hong Kong-based investment firm MF Jebsen Group, and it's a Hong Kong-consortium that kept on churning out electronic consumer products under the Yashica brand name. Now the name goes back to its roots — with a courageous step into unknown territory.
Unknown territory, because no camera is like the Yashica Y35 digiFilm:
This digital camera makes you wind it and insert fake film. Instead of using film, it uses "digiFilm," which are essentially physical plugins that add different photo filters to the camera.
After a decade of silence, the classic camera company has returned with a new product that resembles its iconic analog heritage.
Available film options to start with are: ISO 200 Ultra Fine (color), ISO 1,600 High Speed (color), ISO 400 (black and white), 120 Format (aka square 6×6, Instagram compatible…).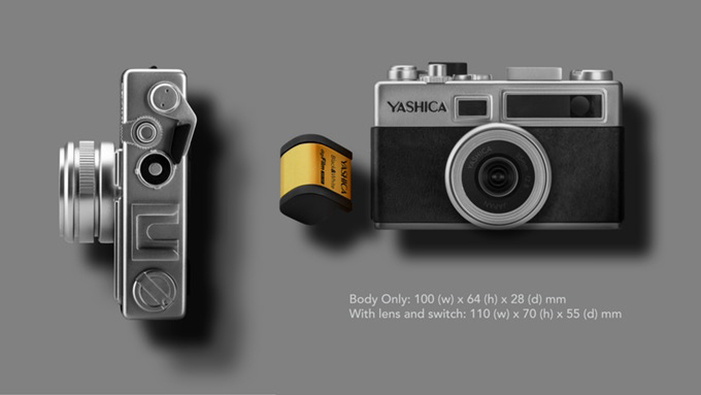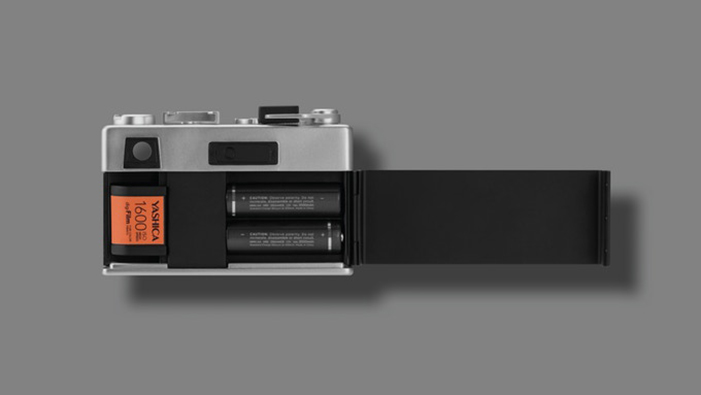 Maybe a bit of a toy. Or even fashion accessory. Won't really matter. A nice camera is as much about design, functionality and materials used as it is about the creative process. Not saying this camera is not going to be a hard sell, but I love the idea behind it.
It's a fixed-lens 35mm camera with an aperture that opens up to F2.8, albeit all aperture settings are chosen automatically. ISO choice, like on a film camera, is locked into the digiFilm cartridge that you insert in the back.
Says Yashica about its Y35:
In both appearance and sensation, Yashica Y35 recaptures the joy and meaning of analog photography (…) A brief pause is required to wind on the film before shooting.
The joy of analog photography is all about slowing down. Deceleration.
On the other hand — and let's mention the obligatory fly in the ointment — the Y35 might be nothing more than a marketing stunt in a massively overcrowded market. Brands are no longer what they once were. Kodak, Polaroid, Nokia, the list goes on. Today's Yashica isn't at all related to the Yashica that made cameras decades ago. The company was sold several times. The Yashica name is licensed to whatever company that promises a bit of profit.
Make no mistake, this camera is for a different generation of photographers. Still, kudos to the Y35 creators. You don't get anywhere without daring and trying.
For more on the Yashica Y35 digiFilm visit the camera's Kickstarter campaign.