Am observing the widely overlooked Samsung NX lineup since quite some time. Somehow NX is just the best kept secret of mirrorless photography. Samsung cameras are underdogs. You don't hear much about serious photographers shooting Samsung, but this latest NX offspring deserves a good look. Not only does Samsung know how to build great compact lenses, their offerings are good to extraordinary — something that can't be said of the native Sony NEX lenses –, the APS-C sensor size is reasonably large for a compact mirrorless, and don't forget that Samsung is a pioneer of the "hybrid" system that offers the performance and image quality of a DSLR and the portability and convenience of a point-and-shoot. With the NX300 the Koreans clearly did more than just their homework.
Thing with Samsung is, they really live in their own world. Try to tell them about the power of photography blogs and free marketing on the Internet. It's typical Samsung fashion to make it difficult for reviewers to make gear available. You give up after trying a dozen times. They're just not interested. They think their hardware sells just like that — what may explain that not too long ago Samsung confidently proclaimed to soon become the world's top camera maker. No such statements have been made recently. Strictly quality speaking, however, there's no reason for the Koreans to not sell many more of the NX series.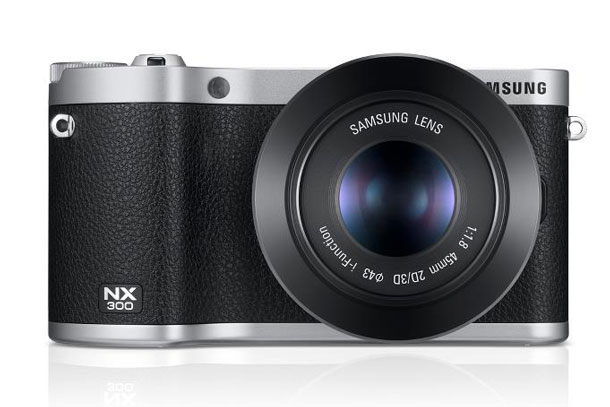 Take its new flagship mirrorless NX300 that fuses retro styling with state-of-the-art technology, and once you see your images on the gorgeous, tilting, touch-sensitive 3.3″ AMOLED rear screen you might not even want to transfer files to the computer. Seriously, if you're looking for a camera that not only produces beautiful colors and tones straight out-of-camera, but also offers leading integration, then you might not want to look any further.
Samsung is leading the pack with wireless camera technology. They promise that the camera's Wi-Fi will be easy to pair with external devices. The NX300 (specs) is the first camera to offer dual channel Wi-Fi, a feature starting to appear on laptops and smartphones allowing faster downloads. A new single app incorporates all the connectivity features. As a new add-on you get the AutoShare mode in which the camera will automatically connect to your smartphone and copy every shot you take across.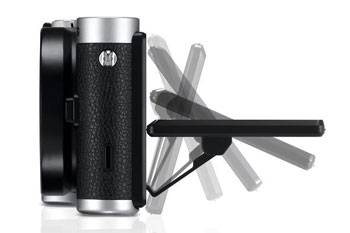 But we're talking photography. The new 20.3MP APS-C CMOS sensor offers the currently standard ISO sensitivity of 100 to 25,600, allowing shooting in — and I quote Samsung — "darkest conditions." Add 9 fps, a maximum 1/6,000th of a second shutter speed and faster new hybrid phase and contrast detection AF.
Somewhere I read that Samsung claims the NX300 is the fastest focusing camera on the market. Hard to believe. True or not, the NX300 is certainly many steps in the right direction. And if they've solved the buffer and not-so-stellar noise performance, well then this might be a very descent little camera.
No EVF? Well that's a dogmatic, nearly religious issue, I'm not going into this debate her. Fact is that individual preferences might invoke a certain blinding effect, if you know what I mean.
Another nifty new feature is i-Depth, an easy way to adjust the depth of an image using the NX i-Function system which enables users to modify camera parameters using the lens itself, adjusting the image without ever having to move off target.
i-Function is something uniquely Samsung. The i-Function lens system allows to adjust camera settings that traditionally are handled only by the camera body. By placing an iFn button on the lens, the focus ring has a dual purpose, becoming a kind of an "i-Dial" (I should copyright this one!) that is traditionally used to change things like aperture and shutter speed.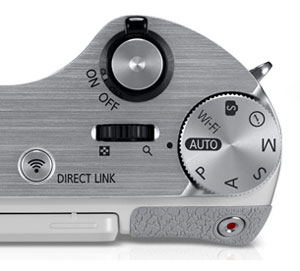 Video supports full 1080p HD video capture in both 2D and 3D. That's right, but to open up the gimmick world of 3D you need the new 45mm 2D/3D lens. You'll then have the only compact system camera supporting both 3D still and 3D movie! Nothing for me, but certainly deserves a mention.
The basic structure of the lens is similar to the existing 2D version, but features two retractable liquid crystal displays that swing into the optical path when the lens is switched to 3D mode. These LCDs alternately black out incoming light on one or the other side of the lens, allowing the camera to record the stereo pair from which to create a 3D image using two subsequent exposures.
3D is all well and good, but what catches my superficial attention is the NX300's design. A stylish yet simple retro feel that available in either black or white with a contrast silver band. Looks like seriously authentic gear.
And again, have a look at Samsung's NX glass. The lenses are not on par with Fujifilm's, but somewhere between Zeiss and Sony. The NX lenses sure distinguish the system from Sony's NEX — and the sensor from the Micro Four Thirds and Nikon 1 crowd. Especially Samsung's 20mm and 30mm pancakes are not only very small and cheap, they also get throughout solid reviews. Well worth the temptation.
If you want to enter the mirrorless world and are still undecided, give this NX300 a good look. The NX lineup is mature and innovative enough to warrant an entry.
To conclude, some impressive impressions from DP Review's hands-on preview — they like the overall speed, not only the 9 fps:
Our first impressions are very good. Even in the relatively low light, focus with the 85mm F1.4 was fast and positive, with almost no "jitter" — certainly a clear improvement on the solely contrast-detection system in earlier NX bodies and many competitive mirrorless interchangeable lens cameras (…) As far as handling is concerned, the NX300 is in some respects very familiar, but in others it is refreshingly different.
+++ You can order the Samsung NX300 from Amazon, B&H or Adorama.