Must confess, am probably the biggest fan of Inspired Eye, a mind-blowing, mind-altering and mind-opening feast for the discerning photographer. It's been called "The Leica of Magazines," and as its curators, photographers Don Springer and Olivier Duong, say themselves, "For the price of a latte, you get a magazine that helps you develop your photography."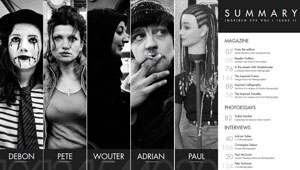 Issue #2 is out. For $4.95 only you get a wealth of photographic quality chosenness with outstanding imagery, not to mention the reader gallery and top-notch layout of this PDF magazine. There's hardly any other photography magazine out there offering the dedication and insights Inspired Eye does, period. Within no time this magazine is an established, authoritative voice on photography matters. Add the magazine's interactive philosophy: PDF reader supports embedded media, and Inspired Eye makes full use of it.
You'll discover names you never heard of and wonder why you never heard of these photographers' work. Read that Christoph Debon interview on page 106, issue #2, and enjoy his photography. What an eye! Says Debon about Debon:
I don't claim the status of a photographer, I just take the pictures. When a subject catches my attention there's no time for analysis or composition. My work is instinctual. An image, a retinal memory, I wish to reveal the strange land that surrounds us and let myself be overwhelmed. To reveal by a dreamlike vision, moods of the ordinary lonely people. To observe the extravagant and grotesque, to navigate between reality and imagination, dream and banality, souvenir and present.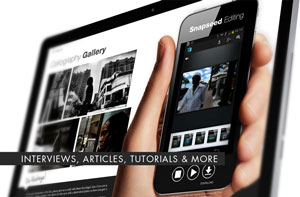 Debon's words give you some clues about Inspired Eye's approach to photography. Photography is less about gear than developing the photographer's eye, heart and mind.
In Inspired Eye's own words:
When Olivier and I felt the response from the publishing of issue #1, we knew at that very moment that The Inspired Eye Magazine would continue. We also knew that our readers had a desire to read more and more of what this is about. Photography.

There are many other venues to look at for articles, reviews etc. about cameras, software and the like. There are many other venues to look at for questions and answers about technical matters.

What we are doing, is bringing to our readers, images and interviews and articles about photography and also the shooters that are our readers.

You probably won't find stories or interviews about the masters, but you may just read about a person that in the future will be a master.

Don & Olivier
What are you waiting for. Subscribe to and support Inspired Eye right here.