A few years ago, when the Sony Alpha lineup was still more concept than reality, a good photographer friend of mine who was the sole importer and distributor of Olympus E-System gear gave up on Olympus and switched over to Sony's nascent DSLRs.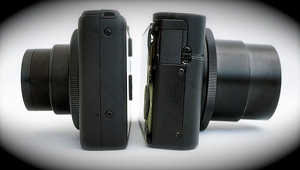 Not that he didn't like Olympus. The potential and future he saw in Sony.
From the very beginning Sony offered nice color and advantages such as Intelligent Preview to see and adjust dynamic range and color temperature before shooting. Sony's dynamic range, my friend said, was as good as the Super Steady Shot feature.
That was not it.
My friend was drawn over to Sony because they were interested in what photographers wanted and because Sony supported them. The DSLR newcomer equipped professionals with all the gear they wanted, sent them traveling around the globe to get real world feedback — and Sony listened to what photographers wanted.
That was a few years back. Today Sony's bold strategy seems to pay off handsomely. Other Sony divisions might lag behind. Sony imaging though narrows the gap to Canon with each new year.
The gorgeous RX100 — and why not check out our little review — is just another example of how Sony listens to what photographers demand.
It wasn't always like that. Today the RX100 smokes the former point-and-shoot market leader, the Canon S100, across every single facet.
On the one side you have the proven Canon, with functional buttons, knobs and minimalist lines. On the other side you have the Sony with better buttons, better knobs and a superior design.
Photography is not just about image quality. Here you have the Canon's buttons and knobs and dials working the way they're supposed to. There you have the Sony's buttons and knobs and dials with more satisfying clicks and spins.
The two cameras not only share half of their name. They're almost identical, aimed at the same market, but boy is the Sony superior — just to mention the RX100's fast, intuitive and useful user interface.
Add the smoothness of the lens wheel, the sturdiness of the mode dial and overall build quality.
The Sony RX100 stands for what the former gadget king is capable of today while Canon, world's undisputed market leader, is more about repackaging, copying and cosmetic updates these days.
Sony's innovative, aggressive imaging business has become what Canon's supposed to be: a visionary innovator.
Don't be surprised if Sony's the market leader within a decade.
Canon these days is more about predictability. The giant has become lethargic, not able to think outside of the box.
Take the Canon EOS M: a safe bet. No surprises, nothing out of the ordinary. All we're getting is a plain, solid photography tool with a nice, large sensor. The Nikon 1's design looks stellar in comparison, but that's not what counts.
The Canon EOS M is a clear statement underlying Canon's overall philosophy: no experiments please, no risk whatsoever.
Add the 5D Mark III, a beast is more camera than anyone might ever need.
Really interesting though the 5D3 gets when you think ahead of the times, such as a mirrorless full-frame 5D3 — totally possible — or an SLT 5D3 — but SLT is Sony's technology. Couldn't come from Canon, could it.
Truth is, the 5D3 and all the other bulky DSLRs are things of the past due to legacy lenses, tradition and die-hard practices.
Of all camera makers, isn't it Canon's duty to think ahead and give the world what the world needs: a full-frame mirrorless?
They seem to be afraid to destroy their own established bread-and-butter market.
Canon has got the means, they got the R&D and reputation at stake. But be it corporate inertia, Canon has become a follower, not a leader.
There's a growing danger that Canon's complacency will backfire over the long run.
The EOS M will likely be bought by loyal Canon users and held out in solidarity. Other mirrorless photographers already invested in a brand are unlikely to switch horses. The EOS M's main selling points are the large sensor and compatibility. True innovation is offered by other brands.
While Olympus introduced the world to the concept of the power of smaller sensors and while Sony shook up photography with a rather prophetic NEX-7, Canon kept on doing what they always did: traditional DSLRs and point-and-shoots.
While Fujifilm gave the world the truly classic X lineup and while camera makers are trying to reinvent photography by merging power and size giving without compromising image quality, leader Canon has become an imitator whose old dominance is mainly secured by simple brand recognition and the fact that photographers are invested in gear.
But new generations arise, old ways die off.
Olympus, Sony and the rest have proven that the market is willing to pay for innovation.
Canon's approach? Take the S90, S95 and S100 point-and-shoots or the more mature G lineup. They're offering the same packages since many years with minor upgrades. Despite the G1 X, I wouldn't be surprised if we see a G13…
Canon won't disappear, but don't expect any positive surprises from the predictable, lethargic giant.
If innovation is dear to you, embrace a competitor (albeit Nikon is about to fall into the same trap as Canon…).
Take Olympus' and Panasonic's Four Thirds and then Micro Four Thirds. Take Pentax's bold designs and Sony's ambitions. If the NEX full-frame rumors become true, Sony's the new king of compacts. Even Samsung's empty promises to soon dominate the camera market are better not ignored. The Koreans have the cash flow.
Canon still wins by numbers, but not by vision, design and innovation.
Take the Canon S100 vs. Sony RX100 metaphor. The Sony is what the Canon always wanted to be: a rock solid premium device with a glorious Carl Zeiss lens on top. More than most photographers ever need in a smaller package they could ever dream of.
By the time Canon has it's answer ready the market will be way ahead.
In other words: Canon, does the fate of Kodak ring a bell?