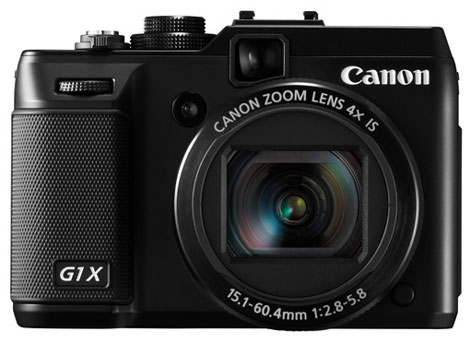 Giant Canon has a lot of catching up to do. They release DSLRs and compacts but ignore the mirrorless a.k.a. compact system camera market. We all know they got something in the pipeline. To not lose too much ground Canon introduced a compromise, the hybrid G1 X (specs). Or do they want dedicated photographers to keep buying DSLRs? Time to buy new gear? Read our definitive, continuously updated Canon PowerShot G1 X Reference File bringing you all the relevant hands-on reviews and field reports that matter (latest update on top).
+++ Order the G1 X now from Amazon, B&H or Adorama. +++
Steve's Digicams joins in. Bottom line:
The Canon PowerShot G1 X, Canon's new flagship compact digicam, has been built to impress all around. They have given it a newly designed 1.5-inch CMOS imaging sensor, DIGIC 5 image processor and a 4x, F2.8 optical zoom lens. With a very similar design to its predecessor the PowerShot G12, it has a familiar feel for anyone who has owned a G-series model before. The G1X's image quality is excellent; possibly the best you will find from a non-interchangeable lens compact camera in our opinion. But, the camera does have a few performance issues that can get annoying. Focus hunting and the lack of a good macro mode may deter some of you. With a MSRP of $799.99 USD, this outstanding camera has a lot to offer, like dSLR-like quality in a compact package, However, at this price point you are entering the entry-level DSLR and EVIL / ILC territories, so be sure to determine which features mean the most to you.
Great post by Engadget, asking, "How would you change Canon's PowerShot G1 X?"
Canon's brutally designed PowerShot G1 X eschews flowing lines for angular, boxy lines that may only appeal to fans of Le Corbusier and The Smithsons. However, that harsh body covers a camera aiming to bring DSLR performance in the body of a compact. There are sacrifices, however — the optical viewfinder is useless, low-light performance isn't good enough and it's got a high price tag. Despite its failings, it managed to win over the heart of our reviewer when shooting pictures in good light. If you own one of these, how do you find it? Could you use it instead of a DSLR, or was the project misguided from the start?
That's right, read the post's comments.
Neocamera's take:
Where the Canon G1 X falters is in terms of speed. The shot-to-shot speed should concern anyone who must follow a moving subject. The same can be said about autofocus in less than ideal conditions. Still, in good light, the Canon G1 X focuses and responds well enough for general use.

The simplicity of the interface and the short-but-versatile optical zoom makes the Canon Powershot G1 X a fun camera to use. Most important controls quickly accessible and — while we noted some imperfections above in this review — better than the majority of digital cameras.

This camera almost has direct competition. The Fuji Finepix X100 has an even larger sensor but no zoom while its sibling, the Fujifilm X10, has a considerably smaller one but an awesome mechanical zoom lens. At the same price many photographers will consider an SLD, thinking about the flexibility of having interchangeable lenses. However, the all-in-one aspect of the G1 X will be even more attractive to those looking for image quality without hassles. For the same market it matters that the G1 X has an optical zoom rather than a prime lens.
Chad Kirkpatrick calls the G1 X "a professional's travel camera." He lists many cons, but what's the best about the G1 X?
Image quality: This is the first point-and-shoot that includes a high quality large sensor and a built-in high quality zoom lens that provides high quality RAW files equal to a DSLR. Many point-and-shoots provide RAW files but the sensor creates a file with very little headroom to work with when it comes to noise, dynamic range and color tone, plus correcting the lens's extreme distortion and CA further compromises the file's image quality. Overall JPEG and RAW image quality is comparable or better than CSC and DSLR's with their kit lenses.
The Phoblographer really wanted to like the G1 X. Better luck next time, Canon:
The G1 X is puzzling, but I am beginning to feel that it was rushed to get a slice of the mirrorless sales. It's really just larger sensor crammed into a slightly sleeker G12, with very few tweaks to make it a truly competitive camera.

I really wanted to like the G1 X. I wanted to believe that Canon had created a viable answer to the market's mirrorless demand. Unfortunately, I think they've done the worst they could do: built a dud. I can't for the life of me figure out where this camera fits in. At $799, it's nearly twice the price of the Canon T3 kit, but offers so much less and is inherently much more frustrating to use. The only thing you gain is size (or lack thereof), but for that price, there are so many other great small options, particularly in the micro four thirds lines. Heck, even the Fuji X10 is $200 cheaper, offers a fantastic sensor, a faster lens, and a significantly better viewfinder.

Canon's rush to the market, or their fear of cannibalizing entry-level DSLR sales has left them with a product that doesn't seem to keep up with an already quick moving segment. Better luck next time, Canon.
Imaging Resource's verdict:
Unfortunately, the Canon G1 X is also reminiscent of the early mirrorless cameras in another way. It feels like a first-generation product, one that's not yet had sufficient life for the design to be honed and refined. Once the edges are taken off, a follow-up will very likely shine. In fact, in the right situation and for the right photographer it already offers an attractive proposition, even bearing in mind the drawbacks. There are definitely some things I'd like to see Canon work on, however. For one thing, it seems like there's a fair opportunity to reduce the size and weight of the G1 X still further, and thereby offer a clearer advantage over SLR and CSC cameras. Although the chunky body is fairly satisfying in terms of control layout (with the exception of the easily-bumped exposure compensation dial, anyway), it just doesn't feel small enough. A prime candidate for space saving is the viewfinder: it's small and inaccurate enough that I found it of very little use, and I'd rather have seen some height shaved off the design, instead.

The Canon G1 X can also feel frustratingly slow, something that leads to missed shots when unexpected opportunities crop up, especially if you're trying to shoot active subjects like kids or pets. It's macro performance could be better, and its battery life is a rather below par. Were those quirks resolved, it'd be so much easier to recommend as a camera for the step-up shooter. Many mirrorless and SLR camera buyers will never change their lens anyway, and for them an integrated design like the G1 X could well be a smarter solution. As is, though, I think it represents a better option for somebody who already has a capable SLR or CSC, which they can rely on for those times when the G1 X isn't up to the job. The shortcomings will likely prove too frustrating for the inexperienced shooter who doesn't have another large-sensor camera option they can rely upon.

The image quality is undeniably in a different class to most fixed-lens cameras, however. Not just that, but as a large-sensor, fixed-lens compact camera with a zoom, the G1 X stands in a class of its own: it genuinely offers something completely different to any other camera on the market. And honestly, quirks or not, I had a lot of fun shooting with it, and found it rewarded my patience with a lot of shots I really liked. I'd have missed a lot of those shots with an SLR or mirrorless camera because the added bulk would've seen them left at home on my desk. Sure, I could probably have gotten something resembling them with a typical compact camera, but the pictures wouldn't have been anywhere near as easy on my eye as those from a large-sensor camera. For that, I think that the Canon G1 X deserves a pick, even if some of it's failings mean it's not the ideal camera for everyone.
R. Doug Wicker's three part review calls the G1 X both evolutionary and revolutionary. He likes:
The G1 X offers something I've not seen before in Canon DSLRs — "Image Effects," or "Creative Filters." My EOS 5D can do red, yellow, or green filtering for black and white photography, but the G1 X allows for: High Dynamic Range (internal processing of three bracketed, tripod-mounted shots to produce one picture with higher dynamic range), Super Vivid, Poster Effect, Nostalgic (faded colors), Fisheye, Miniature Model (similar to the fore and aft defocusing of a tilt-shift lens), Toy Camera (dark, blurry corners; offset colors), Color Accent, Color Swap and Monochrome. Alas, monochrome does not allow for in-camera filtering for reds, yellows, and blues. This must be done in RAW post processing with DPP, or in the case with JPEGs with third-party software such as Google's Picasa.
And now for his major rant:
Accessories: Filter threads should have been incorporated into the lens rather than requiring the separate purchase of a filter adapter. The optional sunshade will not work while the filter adapter is in place. The included lens cap will not work over the sunshade.

Lens aperture: While image sharpness and resolution are exceptions, the lens is too slow. This is especially true at the telephoto end but also a factor on the wide side. I understand that Canon was trying to balance weight and compactness against performance, but I would gladly have given up some of the former for an F2-4 lens over the existing F/2.8-5.8. Had this been done, the G1 X would have excelled in portrait photography as well as travel.

Lens focal lengths: On the subject of the lens, a really good travel camera should start out at 24mm on the wide-angle side. So, a 4.5x 24-108mm would be preferable to the 28-112mm used. A 5x lens with a focal reach of 24-120mm would be even better, almost perfect.

Other stuff: A tad slow on focusing — hard to get little Johnny romping around the backyard. Burst mode/frames-per-second practically nonexistent—forget photographing little Johnny's baseball game. Forget about getting intimate with a small subject — flowers, insects, etc. — the macro capability of this camera is probably closer to the Palomar Observatory than to a small travel zoom.
Says THEME's own critical Canon G1 X field report by Patrick Thorpe:
The cost-effectiveness ratio is fair and justified. You get a mighty good sensor slightly larger than the Micro Four Thirds size used by Olympus and Panasonic. The G1 X's sensor is similar in height to the APS-C sensors used within Canon EOS DSLR models, with a surface area approximately 6.3 times larger than the sensor of its predecessor, the acclaimed G12. That's DSLR image quality in a body small enough to carry anywhere.

That size has its price.

In other words, the G1 X is one of the most inexpensive APS-C camera on the market — compact, powerful, best bang for your buck.
Think Digit's verdict:
The PowerShot G1X is a feature-rich large sensor compact from Canon offering some of the best high ISO performance we have seen amongst compact cameras. The sensor which is just 20% smaller than the sensors seen on Canon mainstream DSLRs offers good low light performance as well. Of course it does come with some disadvantages such as poor continuous burst mode, major focus-hunting issues in the macro mode, a lens which could have been a stop or two wider. Features such as dynamic range and shadow correction control are good. Handling the camera is a joy thanks to the intuitive placement of the buttons and two control dials. The high resolution LCD screen does not throw up any issues in sunlit conditions. However it has a ridiculous pricing for a high-end point-and-shoot camera (…) T his price point is in direct competition with some mirrorless interchangeable lens cameras in the market which offer you the choice to use different lenses.
Mashable calls the G1 X as a "camera caught between two worlds":
In its entirety, the feature set on the G1 X makes it difficult to justify spending $799 on it — $250 more than Canon's entry-level DSLR, the Rebel T3. Ultimately it's for people who specifically don't want a DSLR but still want to take great photos. For that small but assured audience, the quirky Canon PowerShot G1 X is relationship material.
DxOMark scores are in, and they like what they tested:
You have a reflex-quality sensor in camera of the same volume as a G11
You can use this camera even under relatively difficult conditions
If you're an amateur photographer, this camera can satisfy pretty much all of your needs (especially if you want to take great family photos, for example). If you're a professional photographer, this can be a good backup camera
And DxOMark likes the G1 X's "great lens on a great compact camera":
The G1 X's strong points:

Good uniform sharpness across the field at 15mm
Tolerable distortion between focal lengths from 31mm to 60mm
Absence of vignetting across 2/3 of the field, regardless of focale length and aperture
Chromatic aberrations are absent or negligeable between focal lengths from 21mm to 44mm

The weak points:

Poor sharpness along the edges starting at the 21mm focal length
Chromatic aberrations are visible at the two focal length extremes (15mm and 60mm)
DP Review gives the G1 X a 76% overall score:
The G1 X is an excellent camera for some but not for everyone. The camera gives you great image quality and a versatile zoom range in a small package and without the need to carry a stack of lenses. However, the sluggish AF, limited close-focusing capability and lack of manual control in video mode will make some users look elsewhere.
Bummer from Reviewed.com:
We see the PowerShot G1 X as a miss for Canon. We had a lots of fun shooting with it, and love the shots we were able to capture. But with the $800 price tag, and the explosion of the mirrorless camera, there are too many better, cheaper options available to list. This is a fine camera, but one we cannot recommend.
Also CNET's not too excited:
The good: The Canon PowerShot G1 X delivers excellent photo quality and a nice shooting design. The bad: Two flaws stand out: the camera's underperforming lens and sluggish shooting speed. The bottom line: A big camera capable of shooting some lovely photographs, the Canon PowerShot G1 X's slow lens disappoints given its high price.
Steve Huff posts a "really quick" comparison of the G1 X and the mighty Leica M9:
The comparison shots with the Leica are interesting in two respects. The Canon lens is very sharp, close to the Leica. The bigger difference is the greater depth and richness in the Leica shots. Maybe that is just subjective, a desire to see some benefit in paying more than ten times the price for the Leica. But that said, the Canon produces a very good photo.
Luminous Landscape's field report, eloquent if not poetic as always, demands a Canon palace revolt as the giant seems to have lost some of its mojo:
Fine. But offerings like the G1 X, which are neither fish nor fowl, only serve to underline that Canon seems to have lost some of its mojo. Nikon's revival over the past five years has been nothing short of remarkable, and Sony is beginning to hit its stride. Sony is a fierce competitor and technology innovator in any market that they choose to enter, and the prosumer camera market is definitely centered in their sights. Fujifilm has developed a new and exciting niche and looks to become a major new force in the enthusiast marketplace. Panasonic and Olympus are continiously innovating in the mirrorless segment, and sales figures show that along with products from Sony and Samsung mirrorless is taking significant market-share, both at the low and mid ends of the market.

Can Canon continue to be content to produce warmed-over versions of last year's DSLRs, ignore the mirrorless segment, and produce compromised crossover products such as the G1 X? I sincerely hope not, because they are a great company which has hugely contributed to the photographic industry over the years. It's just that at the moment the still camera division at Canon seems stuck in about 2005. It took a palace revolt that same year at Nikon to give that company back its mojo. Will the same be required at Canon in 2012?
The G1 X doesn't really make Camera Labs a happy shooter — still, it's a recommend:
For me personally the biggest problems are the price and the limitations of the lens. Had the G1 X been cheaper or the lens more capable, or indeed the body smaller, then I'd have been happier, but as it stands you could alternatively buy a CSC with the flexibility of interchangeable lenses, and in many cases quicker shooting, faster handling and a smaller body.

Ultimately though you have to give Canon some credit for finally delivering what people have been requesting for years: a PowerShot G with a DSLR-class sensor and image quality to really match an APS-C EOS DSLR. The G1 X gives you this with good quality video, loads of physical controls, a great articulated screen, flash hot shoe and a built-in lens with a useful general-purpose range. These pluses earn it a Recommended rating, but one with the caveat that you understand the limitations of the fixed lens and continuous shooting.
Ken Rockwell's overall positive, if you don't care about the price:
The G1 X is the best compact camera there is for nature and landscape shots. For a trip to Yosemite, it's the best little camera there is if you don't want to bother carrying a DSLR. The G1 X's relatively huge sensor allows for far cleaner and larger prints than from the lesser point-and-shoots like the old Canon G12.

The G1 X has no close-up, much less macro, ability. Forget it for head shots. It's handling is slow and fill-flash performance poor, so it's a poor choice for people pictures. Any DSLR is a far better idea for people pictures. The Canon G1 X is a premium product for people who demand the best and don't care about price.
DC Resource doesn't care for the high price, AF performance and below average battery life. Still, it's a recommend:
The PowerShot G1 X is Canon's flagship compact digital camera, and in most respects, it earns that title. For those looking for a compact camera which can rival that of a DSLR or interchangeable lens camera, look no further. That said, the G1 X is a large, bulky camera with a slow lens and sluggish performance in several areas (…) If you've got $800 burning a hole in your pocket and want a semi-compact camera with DSLR image quality, then look no further than the Canon PowerShot G1 X. It's not for action photography (due to its sluggish focusing and burst modes) nor is it great for close-ups, but for virtually every other situation, the G1 X delivers. I'm hopeful that Canon's next large sensor camera will have a faster lens, snappier performance, and improved battery life, but for now, the G1 X is easily good enough for me to recommend.
ePHOTOzine laments the slow focus speed but nevertheless likes the camera:
The Canon Powershot G1 X is an interesting camera, simply because it has a large 14.3 megapixel CMOS sensor that is capable of producing high quality images with lots of detail. ISO noise performance is impressive with low noise right up to high ISO settings. The optical viewfinder is quite small and shows a cropped and obscured view at wide angle. Compared to compact system cameras the Canon Powershot G1 X comes in at a fairly high price although the optically stabilised lens is better than most kit lenses starting at F2.8 and providing 4x optical zoom. If image quality is of a high importance to you then the Canon Powershot G1 X is recommended, it would be nice if the 5 fps shooting mode was available in all modes, rather than in just one of the scene modes.
What Digital Camera is not too convinced about the G1 X:
The Canon G1 X's sensor is the star of the show. The images this camera can produce are exceptional, easily of a DSLR quality — and it's not often that's said. But in use there are issues. The hefty price tag ought to bring a better, more advanced autofocus system, plus the close-focus distance of the lens can be limiting (…) Considering the high price-point the camera's performance is underwhelming, yet its images are so good that the G1 X is guaranteed to win over a demanding audience. It's that good.
DP Review thinks Canon is being a little modest in suggesting that this is a camera for high-end DSLR owners:
The Canon PowerShot G1 X may look like the company's existing G-series compacts, but is a very different prospect. It's a large sensor camera with a flexible 28-112mm-equivalent, 4x zoom lens and extensive manual controls. The company says it sees it as a camera for photographers who already have a high-end DSLR such as a 5D Mark II or 7D, but at a price of $799, we think it'll appeal much more widely than that. After repeated waves of cameras aimed at point-and-shoot upgraders, it's heartening to see a camera really living up to the billing of a "serious compact."
Official Canon site:
Bright, fast and more creative than ever: advanced technologies come together for an exciting new camera that moves beyond anything the G-Series has seen before. The PowerShot G1 X digital camera will inspire advanced amateurs who have embraced the G-Series to explore new realms of photographic expression, and give pros an excellent camera that complements their creative demands.
+++ Order the G1 X now from Amazon, B&H or Adorama. +++