Sooner or later Canon has to jump into the mirrorless fray. Sure they're losing market share. On the other hand they maneuvered themselves into a comfortable position: observe the competition's trial and errors, learn from others' mistakes — and proceed from there with a lineup hopefully mature, thought-out and unique enough right from the start. Canon's benefiting that the "small lens on biggish sensor technology" is clearly advancing rapidly. So what to expect when from Canon? Here's the Canon mirrorless rumors timeline:
+++ Update: For the latest Canon EOS M hands-on reviews and field reports see our dedicated, continuously updated The Canon EOS M Review File.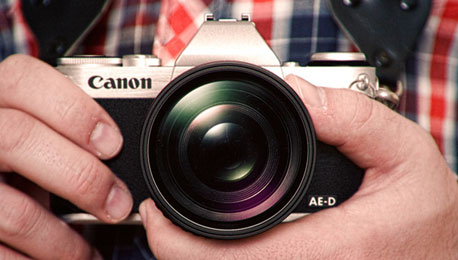 What do I think we might expect? Canon will most likely give us a slightly improved G1 X with interchangeable lens system aimed at the consumer market, a.k.a. a Nikon 1 system clone with bigger sensor. We all want a compact full-frame system, I know, but this most likely might not yet be it.
June 20: Japanese site Digital Camera Info leaks what's supposed to be the first image of the upcoming first Canon mirrorless. Say hi to the "EOS M." A bland body aimed at the mass market. A consumer electronics type of camera. It looks more like a pepped up point-and-shoot than the classic retro design many wished for. But it comes with a relatively fast 22mm F2 pancake. Depending on the sensor size that's a 33mm (APS-C) or a 44mm lens if they want to compete head-on with Micro Four Thirds (also check out the post by CanonRumors with more pics showing sensor and mount):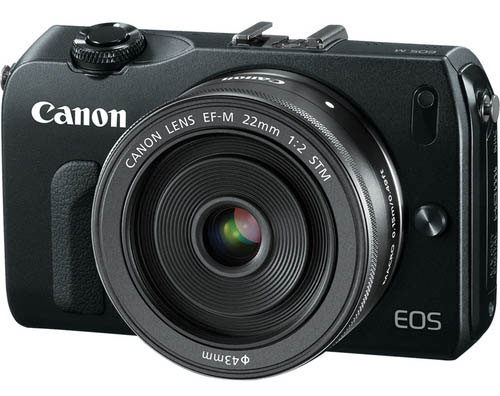 On June 11, there is first talk that Canon goes APS-C with its mirrorless system, reports 43rumors. That would be quite a feast — and challenge at the same time:
Canon will almost certainly opt for a classic APS-C sensor. Whether this is good or bad news for Micro Four Thirds I can't judge now. Certainly it will be a challenge for Canon (like it is for Sony) to create compact lenses. Here lies the advantage of the Micro Four Thirds system.
But what about Canon's new 40mm F2.8 pancake? If that's not mirrorless size… Just add the adapter Canon will announce.
Adds Northlight Images:
We're told that the first new mirrorless camera from Canon will feature a near identical sensor to the recently announced 650D.
This is due to the new inbuilt phase detect system — although we've had suggestions of both 15MP and 18MP.
On July 10 Canon Rumors positively confirms a possible announcement date of the first Canon mirrorless interchangeable lens camera: July 23, 2012.
Adds 1001 Noisy Cameras:
It will be interesting to see what Canon cooks up. Nikon's Angry Inch mirrorless system was not the rangefinder fantasy many were hoping for, instead it was a system designed to minimize losses of Nikon DSLR sales. Will Canon follow the same path?
Early July Northlight Images has a nifty diagram supporting THEME's earlier observation that the new 40mm F2.8 pancake could be the first Canon lens with mirrorless in mind.
By the end of June there's talk of an announcement on July 24. Analyzes Photography Bay:
The camera is further rumored to use a different mount than the current EF and EF-S DSLRs. An increasingly popular theory is that the upcoming mirrorless line of cameras will adopt the Canon G1 X sensor format, which equates to a roughly 1.85x crop factor. This is larger than both the Nikon 1 series (at 2.7x) and the Micro Four Thirds standard (at 2x).

Of course, the advantage of an interchangeable lens design over the G1 X would simply provide better lens selection. My biggest problem with the G1 X is the rather slow aperture on the long end at F5.8, as well as the minimum focus distance of 4.3 feet.

Nikon's rather odd 1 series format doesn't quite stack up to other mirrorless camera offerings thanks to the much smaller sensor. However, Panasonic and Olympus are squeezing a lot of goodness out of the smaller Micro Four Thirds sensor and lenses.

In my book, Sony's NEX line is the mirrorless system to beat. Sony uses a larger APS-C image sensor and still manages to keep the cameras very compact. Lenses like the 16mm F2.8 and Sigma's excellent 30mm F2.8 lens let the NEX models compete in the size department with other smaller-format cameras. And, Sony's fast autofocus and fluid video capture match or best just about everything else out there.
On June 18 CanonRumors reports there may be good news soon:
We're getting more and more information that the announcement will be coming sometime in the next 30 days, but no solid date has been nailed down. Original estimates pegged an announcement in June, however Canon announcements move around pretty frequently.

We've heard only little bits of info about the mirrorless camera. The most notable is mentions that it will use the same sized sensor as the G1 X, and maybe even the exact same sensor. There has been no mention of the mount for the camera, that's probably the biggest question surrounding it.

We've been told it will be launched with 3 lenses, which tells me we're looking at a new mount. I don't doubt there will be some way to make the camera compatible with at least EF lenses, and maybe EF-S as well.
The Verge posts an interesting Canon mirrorless forum comment mid-June:
If there's gonna be one, I expect the G1 X sensor with Canon 650D/Nikon 1 like AF system. Also some fast-ish (F2.0-F2.8 range) pancakes in the style of the recent 40mm. Also like the Nikon 1 series, one EVF model and one without. Looks will be bland, probably pretty close to the G series. Exactly what you'd expect them to do.

And with logic switched to OFF: the return of APS-H, that same AF-system and a range of L primes, styled like a Canon 7 rangefinder. Do this in the Xpro price-range and say goodbye to Sony and Fuji. Maybe a full-frame model as well? For the lower end APS-C finder-less models and non-L lenses. (Well, there is a 1000 dollar gap in the lineup now, so why not?)

P.S. Somewhere I think there could be some confusion with the 650D and it's phase-detect module baked in the sensor and the Pancake lens. It sounds so much alike Nikon 1, and it could be interpreted as a mirrorless model coming from Canon (when there's no mention of the name "T4i").
It's early June, the Canon Rebel T4i is released, and TechRadar asks whether the Canon T4i is hiding a future mirrorless camera in plain sight:
For a start, the EOS 650D (T4i) is Canon's first DSLR to feature full-time autofocusing in live view and video mode. Both of these modes require the reflex mirror to be lifted out of the way, so the camera in effect emulates a mirrorless model.

Full-time focusing is enabled by the new hybrid AF system that combines the benefits of phase detection and contrast detection, using information drawn from the imaging sensor. It also enables the live view AF to be much faster than normal.

We have seen hybrid AF systems before in mirrorless compact and compact system cameras such as the Nikon J1 and Nikon V1.
On May 10, 2012, CanonWatch says Canon may launch mirrorless anytime soon:
Canon will showcase their mirrorless ILC to selected customers in Australia during PMA Australia at the end of May. The new camera should then be announced in June. That Canon is working on a mirrorless ILC is given for sure. Canon just released its First Quarter Earning Call, and you can find some hints concerning those plans there.

Canon (…) will further differentiate and enhance (its) lineup by launching new cameras offering the image qualities that approaches SLR cameras; furthering the improvement in design and qualities, and by incorporating features such as network, connectivity capabilities.
In early May, 2012, Canon spokesman Hirotomo Fujimori tells the Wall Street Journal Canon is capable to release mirrorless technology anytime:
Canon remains the only major camera manufacturer absent from the segment. Many industry watchers expect Canon to release a mirrorless model this year.

Canon spokesman Hirotomo Fujimori declined to comment on product plans but said the company has the technological capability of releasing a mirrorless camera now. He said Canon has been testing a variety of ways to make cameras smaller and that mirrorless technology is an option.
In an interview with Amateur Photographer on April 10, 2012, Panasonic looks certain that Canon will go mirrorless in 2012. Read the whole thing.
U.K.'s Lumix G product manager Barnaby Sykes says that the continued loyalty of many photographers to major camera brands such as Canon, owing to their long photographic heritage, continues to pose a 'massive challenge' to Panasonic, despite the firm's success in the compact system camera arena.
Panasonic expects Canon to launch its first CSC in 2012.
CanonRumors on March 25, 2012, says wait until August and you may see a Canon mirrorless – alongside an entry-level full-frame camera (now wouldn't it be perfect if that mirrorless is full-frame… just dreaming). But hey, it's Photokina year, every two years some of the finest photographic novelties pop up in September in Cologne:
I'm told that Canon's foray into the mirrorless world will begin in August with an announcement. Photokina is in September, so it makes a lot of sense to announce at the end of summer.
You might remember Reuters' widely quoted 2011 interview with Masaya Maeda, head of Canon's camera division, about the prospects of Canon mirrorless:
"We are considering the technical aspects," Maeda said, when asked about the mirrorless segment.

"We will launch an interesting product next year," he said, adding that it would be small, but not specifying whether it would be a mirrorless model.
MirrorlessRumors on March 26, 2012, posts an interesting follow-up on CanonRumors' August announcement.
They refer to Japanese magazine Impress Japan interviewing the top executives of all the camera manufacturers. The Canon guy said they wwill be coming out with a mirrorless in 2012.
Read the whole thing. It's Canon talking about the mirrorless philosophy. Main points are:
Canon questions if mirrorless cameras really need interchangeable lenses.
They fear DSLRs and compacts might eat into the mirrorless market – and vice versa one might assume.
Image quality of consumer cameras is improving tremendously, with or without mirrorless.
In May 2012 gifted designer David Riesenberg hits the nerve of the times with his Canon mirrorless concept, producing a refined a rationale behind each detail — the EVIL camera we all want:
Actually, this camera represents more of a fantasy rather than vision. Personally, I don't actually see Canon going this route since it will probably be quite expensive. While pros and enthusiasts may welcome it, the bulk of the profit is in the sub 1K vicinity. Nonetheless, there is a market for such a system and that is something that I constantly kept in mind while working on the project. I wanted to conceive and design a product that could find its roots in reality. Both product/marketing wise and technical wise.

The design is inspired by the classic AE and AE-P which are two of my favorite Canon cameras ever. Simple, iconic, timeless. I couldn't think of a better basis for a modern mirrorless system.

Some of the main features and the reasoning behind them are:

Full-Frame — Might as well be the pinnacle of 35mm. Especially if a new lens mount is required. Future proof.
18.1MP sensor from the 1D X — This camera will not rob sales from the 1D X on form factor alone so it makes sense to use an existing sensor instead of a new one. Plus, it will make an excellent pair to someone with an 1D X.

CM-D Lens Mount — That was the source of most headaches for me. Naturally, I wanted to design it around the EF mount for reasons that I don't need to state but it proved to be very problematic. Both the flange depth and actual mount diameter meant that the camera needed to be much thicker and possibly taller to accommodate EF lenses. So this "CM-D" lens mount is roughly FD sized which keeps the dimensions close to the original and enables lenses that are not too huge. EF lens use should be possible with an adapter but please correct me if I made some wrong assumptions about the dimensions here.

50mm f/1.0L "Kit Lens" — Fast primes. What can I say? I love them and they probably the best match to a system as I outlined above. So their existence is no less realistic that all the other items here. While I am far from being an optics expert, I designed this 50mm lens based on a combination of schematics of the Canon 50mm f/1L. FD f/1.2L and Leica f/0.95 so it should be a realistic representation of the dimensions of such a lens. It also features an aperture ring for direct control as well as an Auto mode for shutter priority or auto mode.

Viewfinder — Design wise, I knew from the start that I wanted to incorporate the prism hump of the AE cameras. It is a prominent feature that without it, the context of the design gets somewhat lost. At the same time, it is obviously not a technical requirement in mirrorless cameras so making it detachable while housing the EVF felt like the the optimal combination of form and function. After all, if this is a camera for photographers, a viewfinder, even if electronic, is a must.

Flash + Flash + Flash — I regard flashes as an integral, must have feature of any system and I didn't want to handicap its use in any form. Not when taking snapshots with the built-in one and not when the viewfinder is either attched or not.

As for the future, I see myself designing a second camera in the line. Something more pocketable with more pancakey lens. Something that will also possibly more in line with what Canon will offer us themselves in the future.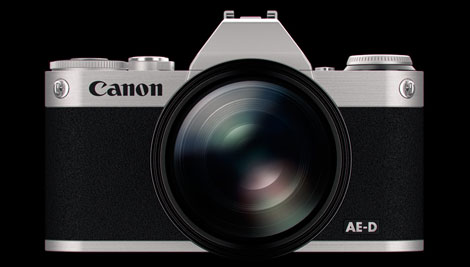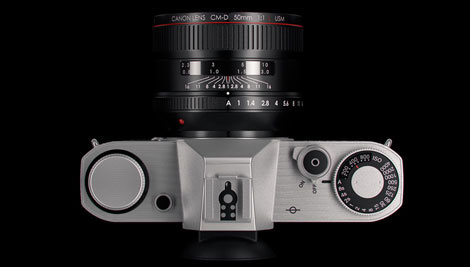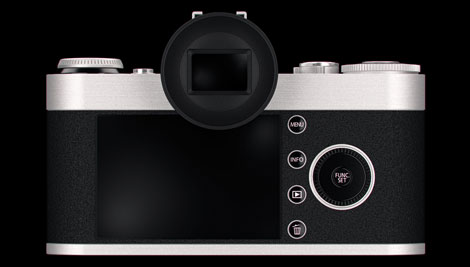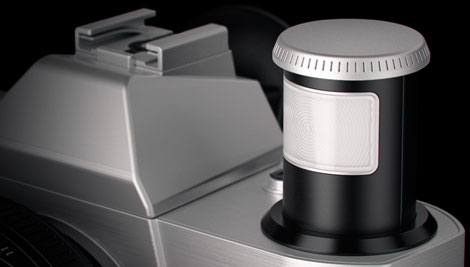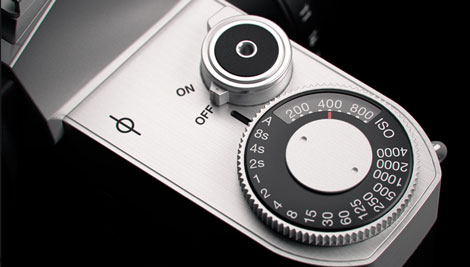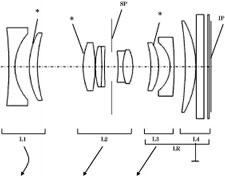 On February 20, 2012, MirrorlessRumors updates on the inevitable. It has long been seen as a matter of when, not if, Canon will come out with a mirrorless camera. The only question is: when.
As seen above, Japanese website Egami disclosed a (quite slow) Canon 8-45mm F3.5-5.6 kit lens patent for mirrorless system and APS-C sensor.