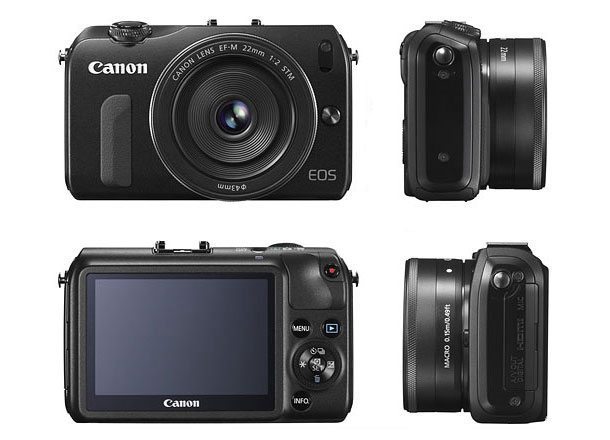 It took Canon nearly four years to come up with an answer to Olympus' and Panasonic's first digital mirrorless interchangeable lens camera system announced in August 2008, a.k.a. Micro Four Thirds. Sony and Nikon followed suit. Finally Canon joins the mirrorless market with the Canon EOS M and its 18MP APS-C hybrid CMOS sensor (specs). A basic, solid but unsurprising mirrorless offering. That's the more surprising especially since Canon had years to evaluate the mirrorless market and produce something truly fantastic. You get a touchscreen LCD — but no viewfinder, no articulating screen.
The EOS M is a compromise, designed for consumers moving upmarket while at the same time trying to satisfy photographers invested in Canon. It basically looks like Canon's popular G series of advanced point-and-shoots — it's about the same size, but unlike the G you can switch lenses. It's basically the power of the T4i, the latest Rebel/Kiss — but half the size! The EOS M is nothing really new, nothing too different, nothing revolutionary. It will just work. What else you expect from a reliable camera? Canon somehow nailed it. You get a no-frills, compact power package with a fast 22mm F2 pancake or the initial 18-55mm zoom. Already invested in Canon gear? With the EOS M adaptor the little powerhouse makes for a great backup camera.
But make no mistake, the EOS M, a direct competitor to Sony NEX, is not about to replace Canon's DSLR lineup. As seen before in the mirrorless market, the EOS M is predominantly aimed at the point-and-shoot market looking for DSLR quality in a smaller package. For some this may be a perfect entry into a mirrorless system.
Read our definitive, continuously updated Canon EOS M Reference File bringing you all the relevant Canon EOS M hands-on reviews and field reports that matter (latest update on top).
+++ Order the Canon EOS M from Amazon, B&H or Adorama.
Gizmodo's verdict is in. Should you buy the M?
No. Canon's effort on the EOS M buttresses those frustrated users who believe that their beloved brand is focusing more on protecting their markets than they are on innovating. The M is just too safe and too boring in a time when other companies are pushing the envelope and offering more in almost every respect. Olympus offers lightning fast focus and a great many lenses. Sony offers ergonomics and versatility. Fuji offers insane image quality and control. Many of those cameras feature built-in flashes and viewfinders. The EOS M contains some minor victories, but can't make a case for itself as the mirrorless camera you need.
Pixelogist reviews the M:
It's a good camera that could've been much better if Canon decided to fix a few things before releasing it. If it focused better, I would've recommended it. If it focused better and added a mode dial, I would've highly recommended it. If it focused better, added a mode dial and a few other buttons, and if it was simply what it should've been, I would've said this is one of the best mirrorless options on the market today. But as it is, I can't even recommend it. I don't think anyone wants a slow AF performer like this — even if you don't need it, why get something sub-standard? Get the NEX-F3 and save yourself a couple of hundred bucks — while getting a better product overall

There's not much else to say in conclusion. The EOS M works well for the most part — the basic controls and operational interface can be considered a plus point for budding photographers and the like, while the performance of the lens and the image sensor cannot be faulted. The size and design is a personal thing — I like the size, and I don't mind the design, but I can't speak for everyone — but I'm sure most people will at least love the compact-ness of the EOS M. But then there's the single biggest flaw: do I need to say it again? If not for this issue, the Canon EOS M would have been a very good first entry into the market. And like I said, maybe there's still hope for it via a firmware fix — the Fujifilm X-Pro1 had a similar AF problem that was fixed via firmware — but until such time, the EOS M will remain a below standard product.
DxOMark joins the EOS M verdicts. Conclusion:
Canon was late to introduce a hybrid or mirrorless camera, but it was probably inevitable the firm would chose to revamp its 3-year-old APS-C sensor design to keep the body size to reasonably compact dimensions while at the same time offering good image quality. It doesn't match the best sensors used by the Sony NEX hybrids by quite a margin in some instances but it outperforms the much smaller (by surface area) 1-inch type used in the Nikon 1 series.
Conclusion from THEME's very own EOS M review:
So they say the Leica M is photography reduced to its bare essentials. I'd say: give the Canon M a try. It's a bland, not too exciting, nevertheless reliable camera. AWB is mostly spot on and the 22mm prime's bokeh is creamy enough for my taste, and boy am I choosy. Even the kit zoom can be a cream machine. Didn't like the dust specs that showed up in no time under the front lens element, but why bother about something that doesn't affect performance.

But… buy the EOS M?

Yes, if I have nice Canon glass and want a lighter setup. IQ is not far off the quality of APS-C DSLRs. The M's menu will limit you in certain ways, but for casual, not too serious shooting or as a backup camera the EOS M offers reasonable value for money.

Yes, the EOS M offers a good option for the keen photographer who wants the closest thing to DSLR quality in a compact mirrorless camera that takes interchangeable lenses. But I wouldn't buy the M if I'd be looking for a main camera. The product's just not yet mature enough. A second or third M generation may deliver the goods, and I'm mainly talking overall speeds. Be it startup, processing or autofocus speed — and the very slow write times! –, the Canon EOS M is just not where the competition already is.

It's a camera that just works within its limited range. Hopefully firmware can speed up things. I'm doubtful. Why would Canon release such a slow performer in the first place.

I don't mind the lack of an EVF or OVF, composing via LCD screen is convenient and just fine for this casual type of photography. Because the EOS M is the kind of all-you-do-is-press-the-shutter-button-camera.

But depending on the settings it takes ages until the M is ready for the next shot. Sorry Canon. Yes, you've kept your powder dry for a long time. But this M was definitely released prematurely.

There are just too many better alternatives available. Yes, I do love the Oly OM-D.

If picture quality alone counts, the EOS M certainly can deliver.

At the current prices, however, I'd go for a much faster, more responsive and more compact Nikon J2, even though it has a smaller sensor. The Canon M's just not yet where it hopes and pretends to be.

The M's a decent performer, but a bit boring and bland. If it absolutely has to be Canon mirrorless, pass this M and wait for the next generation. Can't be away too far.
DigitalVersus' verdict:
The Canon EOS M could be a great camera. In fact, its easy, pleasant-to-use design and image quality are easily worth four stars. However, the M's general slowness just isn't acceptable, which is why it ended up with a two-star score.
Here's The Camera Store's M field test:
Camera Labs' final EOS M verdict:
The EOS M is a debut model competing in a market full of mature products. For first time CSC buyers, there are better options, with superior handling and versatility, greater customisation, a wider choice of lenses and accessories, and many are also less expensive than the EOS M. Enthusiasts hoping for a compact body to complement their Canon DSLR are going to be disappointed with the slow AF, lack of viewfinder or the option of fitting one, and the poor customisation options.

That said, for Canon compact owners looking to move into the world of interchangeable lens photography it offers a sensible and in many ways attractive upgrade path. Sure, it lacks a comprehensive catalogue of native lenses, but they will come. Yes, the AF is sluggish, but not everyone is a sports or street photographer, and you can take action shots with the EOS M, it's just easier to get good result with models that have have faster AF sytems. Plus, the EOS M combines the best of consumer friendly ELPH / IXUS design, auto exposure and creative modes with the more advanced EOS menu system.

For enthusiasts there's plenty to gripe about; no dedicated mode dial, no viewfinder, few programmable controls, and again, sluggish AF. But balance that against the ability to use any EF or EF-S lens on the EOS M with full AF support and it begins to look a whole lot more attractive. Just remember when using EF lenses, the already slow AF of the EOS M becomes even slower and you won't be enjoying continuous autofocusing either.

There will be many who will be hoping to see rapid developments in the EOS M line including new models that fill in the gaps – particularly the ones where faster AF, a viewfinder, physical controls and greater customisation fit. As it stands, though, there will be no shortage of Canon compact upgraders who see the EOS M as the logical path to more sophisticated photography as well as DSLR owners keen to try out their EF and EF-S lenses on a compact body. The slow AF even with native lenses, lack of viewfinder options and limited native lens catalogue at the time of writing rule out our top rating, but it remains a solid beginning to Canon's mirror-less compact system camera line and one deserving of the Cameralabs Recommended Award. Just be sure to compare closely with the competition, especially if you want a viewfinder, quicker AF or access right now to a broader native lens catalogue.
CanonWatch posts an EOS M travel review. First impressions:
What they like:

Compact size and light weight
Superb image quality, cutting edge DSLR-like performance
Very good low light/high ISO performance
Responsive and very usable touchscreen (a highlight). You won't miss the physical controls.
The EF-M 18-55mm F3.5-5.6 STM kit lens. Sharp, and very effective image stabilization.
Solid build, both the EOS M body and the EF-M 18-55mm F3.5-5.6 STM lens. Magnesium alloy for the body, metal for the lens.
Easy (and fun) to use from the beginning, even for newcomers and people not experienced with photography. Could be the most easy to use mirrorless interchangeable lens camera around.

What they don't like:

Battery is soon exhausted; expect to shot not more than 200 to 250 pictures with a full charge. This is annoying, especially for travel photography. I bought two batteries and will probably get a third one (if I am able to find it while abroad).
The auto focus. Should be faster and better implemented. I will come back to the EOS M auto focus when abroad and shooting the EOS M in real world settings. But the AF is definitely not a highlight of the EOS M.
No viewfinder
No focus peaking
No lens hood
Only two native lenses (so far)
THEME's very own Canon EOS M video test:
PetaPixel calls the M a "sluggish DLSR trapped in a compact body":
The Canon EOS M is a camera that falls one big step short of being a fantastic mirrorless camera. If only it had an autofocus system as solid as its other specs and attributes, it'd be a camera that we'd recommend in a heartbeat to both serious photographers and casual consumers.

Unfortunately, its major flaw lies in a feature that's absolutely critical for most photographers, so unless you know for a fact that you can live with a sluggish AF system, you'll be better off waiting to see whether Canon's next mirrorless camera — which is reportedly coming soon — has addressed this issue.

It's a shame, really, since it's extremely fun to use such a small and powerful camera on an existing set of Canon lenses.
Concludes Digital Camera World's review:
WhatDigitalCamera has this video review:
DigitalRev's hands-on video review is up:
Conclusion of CNET's review:
The EOS M should appeal to beginners looking for DSLR-like quality minus the bulk as well as Canon users who require a secondary body — especially when they already own an existing stable of Canon DSLR lenses.

Overall, the EOS M is a downsized version of the EOS 650D and shares similarities such as its touch-sensitive display and image sensor. We were impressed by the EOS M's excellent low light performance and fluid touchscreen interface, but were let down by its slow autofocus performance — a factor which prevented us from awarding it with our Editors' Choice.
Roger Cicala's LensRentals has a first look at the EOS M. So who is going to like it?
Oddly enough, I do. I'm all about image quality above all other things. This camera gives me great, great image quality in an amazingly small package. It had me at 870 line pairs/image height.

Will it replace an OM-D or SLR for my everyday shooting? Absolutly not; its AF is too slow and there aren't many native lenses yet. But will I tuck it in my wife's purse when we go to holiday parties, and take it on trips for snapshots? Sure. Sometimes those kind of shots are great and with this image quality I could easily make a large print if I wanted to.

If they fix the AF speed with a firmware update I would probably use it a lot more, though, because of all the Canon lenses it gives me access to. I love the adapter. I could see having an EOS-M, 22mm, and the adapter as my backup camera a lot of times.
When I reviewed the Fujifilm X-Pro1 I said it was a firmware update and a price drop away from being a great camera. I think the summary applies perfectly for this camera, too.
Here's a review by xxx, giving the EOS M 3.5 out of 5 stars:
Of course I still hope secretly that Canon could do something about the AF performance with a future firmware release so that I can ditch my EOS 5D Mark III and bring this small little guy instead to event coverages. But honestly, the "weak" autofocus is far from being a deal breaker and more of something irritating like an ant bite that goes away with time.

Ultimately the EOS M is not a perfect camera that's for sure and it is definitely not something for the professional photographer on duty. But for everything else that is more towards the fun and casual side, the EOS M is one strong contender when it comes to deciding which camera should I take out of my drybox.
In case you can't wait, Canon has the EOS M manuals for download.
Canon has some EOS M samples to download — not too shabby, worth to have a look.
DigitalCameraWorld's hands-on preview:
In its review Engadget asks whether the EOS M was worth the four-year wait:
We like the Canon EOS M — far more than we might have expected, given its mediocre performance during our hands-on — but the company's first mirrorless ILC falls short on several fronts. Professional photographers can affix their pricey L lenses, which is nice, but the dismal focusing performance means SLRs will probably be far more appealing to these users. With the M, Canon is providing a digital camera bridge of sorts in the hopes of capturing the hearts (and wallets) of amateurs looking to step up from point-and-shoots. Indeed, this is far more versatile than what these beginners are used to, yet it's still built on a simple interface that isn't intimidating. Granted, this isn't what the pros had been hoping for, but Canon's DSLR series clearly isn't ready to free these users from their hefty housings, leaving the company's ever-strong professional lineup to live another day.
A site called GSM Nation lists five reasons why the EOS M will not suck:
Mini EOS 650D: Yeah you can call it that, because the EOS M is really a smaller and tighter version of its bigger brother the Canon EOS 650D. The camera sensor is the same, the DIGIC 5 processor is the same and even the touch screen LCD measuring 3 inch and clocking in a 1040K dot display which by the way is very vibrant and crisp for composing pictures. Considering that Canon has taken parts out of the EOS 650D we are pretty sure that the EOS M will be a big hit in the CSC market.
It's really compact: The EOS is small, quite smaller than a DSLR though bigger than other CSC cameras. But it's small enough for you to slip it in to your coat pocket or your baggy jeans. Attach the camera with a 22mm pancake lens and the overall size and weight will increase but it is manageable enough. The camera (body) weighs in at 298g which gives the camera a solid feel as well.
Image Quality: Though we can't say for sure that the image quality will turn out to be the best, but since this little pocket rocket is fitted with its bigger brother's sensor and image processor we are hyped at what this little bad boy can do. And if it does perform anywhere near to what the Canon EOS 650D can do, than we have a winner in our hands.
More Glass: Canon supports its camera's pretty well considering the huge amount of lenses on offer. But with the EOS M Canon will only release 2 lenses at the time they retail the camera. But the story doesn't end there, since Canon will be providing you with an adapter ring, you will have lots of options to choose from the EF and EF-S lens range.
It's Canon: Yeah we are being a little biased here but you know it as well that if Canon comes in the market you are bound to get something special. Though you will end up paying more for it in the end, but still the quality is undeniable in a Canon product and EOS M looks to sweep the CSC market as well.
Edoardo Angel put the EOS M to the test. You might have mixed opinions after reading this report. In all fairness, the camera tested is not a production model. Still, will Canon get it right in a few weeks? Sobering conclusion:
You have until Octo­ber to change your mind. We will play it safe, and can­cel our pre­order, get a pro­duc­tion sam­ple when the cam­era is released, and depend­ing on the new firmware, we will buy one, or two.
The Phoblographer has first EOS M impressions up:
Overall, I perhaps misjudged the camera and poo-pooed it a bit too much. Once you actually hold it and play with it, you can see how on would actually use it. With that said though, I still do believe that the camera would be best for videographers and those that know nothing about photography and just want a camera that shoots good photos. With that said though, even they will need to spend some time exploring the menus and interface.

In the mirrorless camera market, Canon still has a lot of catching up to do to the other systems. But the EOS M seems to deliver in many areas that Canon has traditionally triumphed.
LetsGoDigital links to official Canon EOS M sample images. Here are the links to full-size test images, picture effects and videos.
DP Review updates it's earlier preliminary hands-on preview:
We've updated our initial preview of the Canon EOS M with lots more information, including our own hands-on pictures of the camera and a video illustrating the shutter sound. So if you're interested in finding out more about Canon's first mirrorless offering, it's worth having a glance through to see if there's anything you missed first time around.
cinema5D, speaking for filmmakers, asks if the EOS M is cool:
The EOS M really uncovers its strengths with its EF-M lenses. They are extremely lightweight and small and it's truly amazing to get Canon HDSLR images out of a package that weighs so little (…)

Of course the EOS M feels different than your average HDSLR. A lot of the controls had to be simplified to fit the smaller body and the video side suffered a little.

Personally I'm not fond of touch screens for video, but this is probably a thing of individual taste. What took most of my attention though was that I couldn't figure out a way to easily zoom in to judge focus as per the quickzoom button on other Canon HDSLRs. I had to go into the menu to switch to a zoomed-in view, set my focus and then go into the menu again to zoom out.

The EOS M has new snap-on neck strap that makes it easy to remove it when doing video and attach it when taking stills images if that's something you do. And on a side-note, for a camera of this size it takes beautiful 18MP pictures and will certainly stir up the photo world, even if this time the product does not stir up the HDSLR world so much.
Camera Labs' first in-depth look for now:
Canon is the last of the big names to launch a mirror-less system camera with the EOS M coming a considerable four years after Panasonic brought the G1 to market. As a first-generation model the EOS M is inevitably a little rough around the edges and lacking some features enthusiasts hoped for, but equally it delivers what many others have been wanting for ages: a small body with DSLR quality and EF lens compatibility.

Compatibility with the existing EF and EF-S lens catalogue is undoubtedly the strongest benefit of the EOS M over the competition. Sure it may only have two native lenses at launch, but with over 70 "legacy" models to choose from with the same field-reduction as a normal APS-C DSLR, who cares?
Amin Sabet in The Online Photographer:
All preliminary reports suggest that the 22mm lens is dog slow to focus, which reminds me how mature our Micro Four Thirds system has become. Fast AF is one of many niceties we take for granted (…)

Let's not lose track of the fact that Canon has a lot of ground to make up here, all the while devoting significant resources to their DSLR system. Canon is the cool kid late to the party—but it's been a long time since it has been an upstart. Despite a promising entrace, Canon's ultimate success at this party is not assured.
Ken Rockwell praises the EOS M as the "world's first serious mirrorless camera." Dogmatist? This is how he backs it up:
By "mirrorless" I mean modern digital cameras with DSLR image quality, live through-the-lens (TTL) viewing and interchangeable lenses, just without the flipping mirror. Obviously 4×5″ cameras have no mirrors, but I'm not referring to them.

By "serious," I mean professional grade. Sony, Samsung, Fuji, Olympus, Panasonic and other third-tier brands offer lots of mirrorless cameras, but then aren't pro grade; they are just consumer electronics products and usually only with smaller Four Thirds sensors (or smaller) and/or lens mounts often with few advanced lenses available. (First tier is Leica, classic Hasselblad, Contax and others. Second tier is Nikon and Canon.)

While a serious camera with a big sensor and no mirror; the Leica M9 doesn't count: it has no TTL viewing, so you never really know what's in your picture until after it's taken!

The Fujifilm X-Pro1 is the next best thing to the EOS M, but again limited by too few lenses and a weird custom mount and only so-so color rendition. It's a great start, but lacks Canon's color savvy and system breadth. The limited lens selection is OK since it has everything I need, but the sloppy colors are almost as bad as the Leica M9's.

Up until now, there have been no serious professional mirrorless camera systems.
Philip Bloom's take?
This is a first step and hopefully it will lead to bigger and better things. After all smaller, lighter cameras with the same features is a good thing… especially if they cost the same or cheaper… now if only Canon would be a little bit bolder and bring out something to blow our socks off! Then again this is a 650D for same ish price and half size. Pretty damn cool!
Endgadget's reports some AF testing issues with the early EOS M and waits for the final release model:
The EOS M feels quite nice in hand, with a smooth, but solid, finish on the black model and a glossy, reflective magnesium alloy coating on the white version. The display is sharp and vibrant, and the touch functionality is accurate and responsive — which is crucial, considering you'll be doing much more tapping with the M than you would with any other Canon EOS, or even a point-and-shoot. The touch-heavy interface reminds us of the Panasonic GF3, though the few dedicated buttons and wheel make it possible to input key selections when tapping isn't ideal, such as when navigating the multi-level settings menu. As with other cameras, Canon has enabled the touchscreen to support tap-based focusing, exposure and shutter release, making it easy to select specific elements in the frame.

Speaking of focusing, our experience was surprisingly sluggish, even with the 22mm and 18-55mm kit lenses. Using full-size EF optics, such as the 400mm f/2.8 L, was almost painful, with the camera struggling to adjust when shooting in a dimly lit room. Like image quality, which we weren't permitted to review on a computer, Canon says that the camera's performance is far from final, and given the October ship target, it's reasonable to expect significant improvements before the EOS M makes its way to consumers.
Amateur Photographer has no major complaints:
The camera feels solid and weighty in the hand thanks to the stainless steel and magnesium alloy used in its construction. The lack of dials and buttons won't suit everyone but with the touchscreen it is easy to access most features. It seems a shame that the screen has not been given a bracket, at least for tilt control and I'm quite surprised there is no ability to attach an electronic viewfinder. The two available lenses also feel solid and well constructed, especially the 18-55mm complete with IS (image stabilisation) and STM (stepping motor technology). To complete the range the EOS M needs access to a nice wideangle zoom (10-20mm) a standard prime (30/31mm) and a good portrait and macro lens (85mm and 60mm), which will hopefully come in time. The adapter for EF/EF-S lenses is likely to be popular especially as part of the larger kit for the existing EOS user but is no sacrifice for a decent range of dedicated EF-M lenses for the new or compact user.

So far I've only had chance to view the images on the back of the camera but initial indications look good. It will be interesting to test how the hybrid AF performs against the increasingly fast contrast-only systems from Panasonic and Olympus and how the images compare to those from the 24MP models from Samsung and Sony, not just in resolution but also distortion, noise and fringing.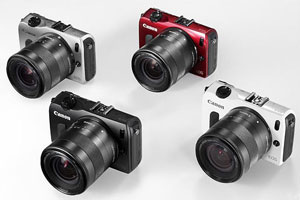 DP Review has a first hands-on preview:
The EOS M's commitment to simplicity is reflected by its physical control layout, with buttons and dials kept to a minimum. The exposure mode dial – a staple of Canon's EOS range for over 20 years – has been reduced to just three positions, distinctly reminiscent of the company's Ixus / Elph compacts. The rear of the camera is also rather compact-esque, with a familiar combined 4-way controller / settings dial and just a smattering of button.

The lack of physical controls is, however, substantially made up for by the large capacitative touchscreen on the back. This uses much the same interface that Canon introduced on the EOS 650D, and stands out as the most usable, comprehensive and engaging touchscreen that we've yet seen on an interchangeable-lens camera. But whereas on the 650D its use is very much optional, on the EOS M it becomes the preferred method of interaction with the camera (…)

The lenses use minimalistically-styled, plain cylindrical barrels that bear more than a passing resemblance to Sony's NEX series optics. In terms of dimensions they're fairly typical for their class, which means they're smaller than corresponding SLR lenses.
TechRadar's early hands-on verdict:
On the whole the Canon EOS M impresses. It's a nice, solid-feeling camera that offers plenty of control to the enthusiast, without daunting its more novice target market.

We think that Canon has made the right move by using an APS-C sized sensor, and inevitably this means creating a new lens mount if the camera is to reap the size benefits of being mirrorless.

Nevertheless, those with a collection of EF or EF-S lenses can use their optics collection with the Canon EOS M via the EF-EOS M adapter. While this may be enticing and help persuade some Canon users to invest in the EOS M, we wonder how much it will be used, since it adds an extra centimetre or so to the length of the lens and thus loses some of the size advantage of the Canon EOS M.

Canon's primary aim with the EOS M was to produce a high quality camera that is easy to use and bridges the gap between compact and DSLR cameras. On the face of it, it seems to have achieved this and more.
CNET asks, "For this, the long wait?"
The camera uses the same STM-technology lenses that Canon announced with the T4i. But since the shallower flangeback of the mirrorless model requires a new lens mount — voilà, EF-M. Canon plans to ship an adapter to allow the camera to use standard EF-mount lenses, so that you're not stuck with just the the 22mm f2 and 18-55mm f3.5-5.6 OIS lenses that are available at launch, but that puts it in the annoying small-body-big-lens category. That type of solution only makes sense for enthusiast-level cameras, not the entry-level that this seems targeted at, given the predominantly touchscreen operation and no option for an electronic viewfinder.

Canon managed to pack that largish sensor into a body about the same size as the Micro Four Thirds-based E-PM1. That's nice, but I would argue that shaving a few decimal points off the dimensions has become trivial at this point.
Imaging Resource calls the EOS M a "simple, consumer-targeted" offering. As Canon fans they're hopeful:
The Canon EOS M is promising. I'm glad it has an APS-C sensor, I like the responsive capacitive touchscreen, and think it's built beautifully. I really didn't want to leave the meeting without it. I was pleased with most of the features on the EOS M, including the multi-shot modes and menus, and could live with the few controls, as I'm used to shooting with cameras with limited manual controls; but I can only hope a fix is coming for the autofocus system. Autofocus is a critical component of any camera with so few manual controls and no optical viewfinder or dedicated phase-detect system to fall back on; something easy to do with the T4i. Had Canon stuck with the contrast-detect autofocus systems built into their PowerShot cameras, they'd be far ahead of where they seem to be now. It's perplexing. But this is Canon we're talking about, and if anyone can tune an autofocus system in three months, it's that technology behemoth. As a Canon fan, I'm hopeful.
Lloyd Chambers votum:
The Canon EOS M does not appear to be something of Olympus OM-D E-M5 caliber. Though its APS-C sensor is larger than the Micro Four Thirds sensor of the E-M5, I don't see this as compelling, especially given the huge range of Micro Four Thirds lenses, many of which are superlative. And the E-M5 operates like a real camera with solid controls and its sensor is big enough — and if I want more, well that's what the Nikon D800E is for.

In short, the EOS M looks like a dud to me in terms of ergonomics, an uninspired "me too" camera. Still, EOS DSLR owners might find it an attractive 2nd body with the EF lens adapter, and I will have to keep an open mind and see one for myself.
ThatNikonGuy's analysis:
PC World says:
Canon hopes that this camera will find success as a serious camera that's easy to use and easy to carry to any type of situation. The company said it recognises the need for a high quality camera that doesn't weigh or command as much attention as a full-blown digital SLR. The EOS M can be taken to any type of event or gathering and provide much better overall image quality and flexibility than a regular compact camera. It can even be the second body in a photographer's camera bag thanks to its ability to use such a wide range of existing lenses via the adapter. The camera has an ISO range of 100-12,800, Full HD movie recording and a speed rating of up 4.3 fps.
Gizmodo's bottom line:
We've been waiting a long time for a compact interchangeable-lens camera from Canon, and from the looks of it the Canon EOS M is a winner. Some of the traditional questions about mirrorless cameras remain, though. Will the camera be practical and easy enough for regular consumers who want a more powerful camera? Is the camera powerful enough for someone who's used to a DSLR? At $800 with the 22mm lens, it's not the cheapest camera of its kind out there, but it's mighty reasonable considering others can cost upwards of $1,000. We'll know for sure how good a deal it is when the Canon EOS M is available in October.
EOSHD calls the EOS M a "T41 in a smaller box":
So I am impressed with the EOS M?

If the embargo on sample images and movies ends, I might be able to make up my mind.

A have been hoping Canon would make a mirrorless for a while now. I was hoping they would do a proper one and not catch the "compact step up" marketing bug which Panasonic caught from Olympus and their early PEN success. The GF2 was infected by this bug and it was a backward step from the GF1 in terms of a photographic tool. The EOS M is more GF2 than GF1. More lifestyle tool than photographic tool. Even so I do find the simplicity and the way it looks quite appealing. Being based around a T4i is no disaster in terms of image quality and sensor size and you can use your existing Canon glass with it. It is more attractive to me than a T4i because of so many adaptable lens options on the new mount – but unfortunately still nowhere near as good as high-end mirrorless cameras for video, overall feature set and image quality. It is those 3 things I really want to see in abundance, and so for me the EOS-M rates as a 'fun' camera which I cannot see myself really needing.

Especially not at the £850 the 22mm pancake kit bundle costs in the UK. Way too high and no body only option!

There is still a very small chance that Canon have put something useful in this thing… Like a better video processor, or more resolution in 1080p, or…

No I'm dreaming.

This is Canon.
They link to a nifty camera and sensor size comparison: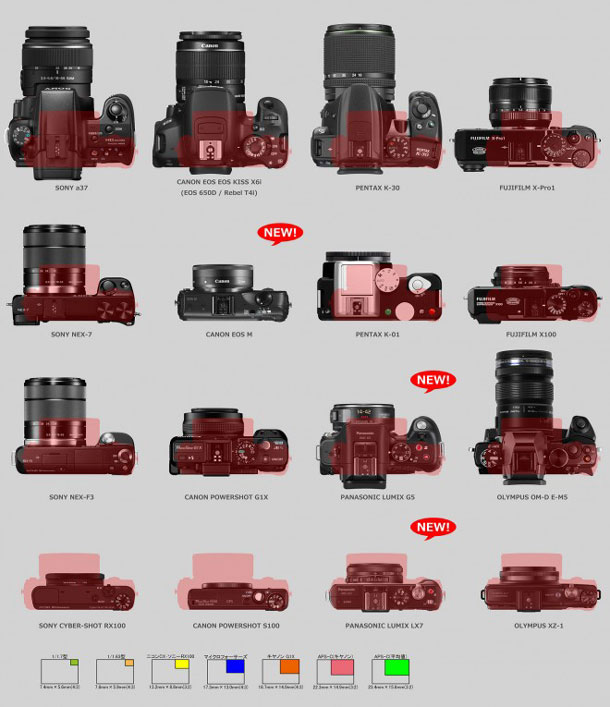 The Verge says the EOS M is just another Sony NEX-5N — that's right, a one year older and $100 dollar cheaper opponent…:
In terms of autofocus performance, the EOS M was noticeably laggier than the NEX–5N, but offered results comparable to a good point-and-shoot. Another point worth noting is that in continuous mode, the EOS M shoots at 4.3 fps, significantly slower than many other mirrorless cameras on the market (…)

Where the EOS M shines, though, is in backward lens compatibility. The EF-EOS-M adapter lets Canon's new mirrorless body autofocus and meter with more than 60 of the company's EF lenses, making the EOS M an ideal backup body or video shooter for those invested in the company's system. To get an idea of how it performs with the adapter, we tried the EOS M with two of the company's most important lenses, the 24–70mm F2.8 and 70–200mm F2.8. While we were satisfied with the autofocus speed, the lack of a viewfinder made it difficult to wield the 70–200mm in a way that was comfortable. The lack of an articulating LCD means you have to hold it away from you in order to see what you're shooting, leaving you in a much less stable shooting position than you would be with a DSLR, and unfortunately Canon hasn't announced any plans to sell a separate viewfinder for the EOS M.
DigitalCameraInfo's eight pages of review like that the EOS M offers the components from Rebel T4i in a compact frame. They like that both launch lenses include stepping motors for smoother focus. But the lack of control dials will throw off some enthusiast shooters while the front grip may be a struggle with better, heavier glass. Overall:
The EOS M is a camera for the masses, a simple-to-use DSLR that won't intimidate, but doesn't skimp on the components or build quality. Its similarity to the Canon T4i is going to make for some tough buying decisions for many people in the sub-$1,000 camera market.

We're very excited to see where Canon takes this line in the future. While it may not reinvent the wheel, it's another major player looking to take DSLR quality and shrink it down to a more manageable size. It's not the retro dream enthusiasts have been clamoring for, but it's the kind of camera with broad appeal that has defined Canon's camera lineup these last few years.
Last but not least two official Canon teasers:
+++ Order the Canon EOS M from Amazon, B&H or Adorama.