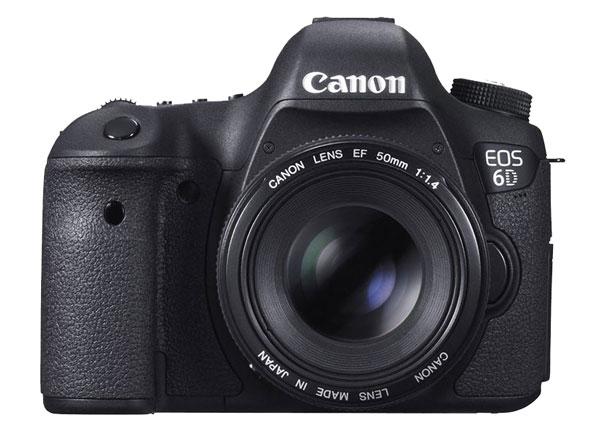 Here we go, the full-frame revolution for the masses keeps on rolling. It's getting crowded — and predictable. Nikon announces something. Canon announces something similar. Very similar. They even adjust their release schedules accordingly. A few days after the full-frame Nikon D600, Canon announces the similarly named EOS 6D. Not only priced almost identically as the earlier-announced D600, the Canon $2100 full-frame prosumer DSLR as well cuts back on a lot of the professional-orientated features. It comes at almost half the price of the 5D Mark III, making it the cheapest full-frame HDSLR ever. But wait, they took away more than they should have. Let's face it, the 6D's (specs) main contender, the D600, offers better specs in several key areas, be it more AF points, a 100% viewfinder, more sensitive metering, faster fps, etc. Still, you get a lot in the 20.2MP package with ISO up to 102,400. Another 6D positive: ISO plus 50. Not native, but nevertheless. Add built-in Wi-Fi and GPS receiver. Looks though like Nikon might win this race.
What do others think of this "lightweight" full-frame DSLR? Read our definitive, continuously updated Nikon D600 Reference File bringing you all the relevant D600 hands-on reviews and field reports that matter (latest update on top).
+++ You can order the Canon EOS 6D body-only ($2,099) from Amazon, B&H or Adorama. Or go for the kit with the 24-105mm F4.0L IS USM AF lens (Amazon, B&H, Adorama).
Imaging Resource asks whether the affordable, full-frame DSLR live up to its promise? Lengthy conclusion:
Despite a few quibbles, the 20.2MP Canon EOS 6D lives up to its promise of housing a glorious, full-frame CMOS sensor inside a smaller, lighter and more affordable digital SLR camera body designed for prosumers, enthusiasts and even novice photographers. Are we in love with everything about this camera? No, but Canon's done a great job of not dumbing down, or cheapening the 6D to fit its $2,000 "sweet spot" pricing.

First, the good stuff. The 6D's 35.8 x 23.9mm CMOS image sensor might be a bit smaller than the imaging chip in the Canon 5D Mark III, but its individual photosites are bigger since it has slightly less resolution. The result is exceptional image quality, in both good and poor available light, that puts it on par to the 5D III, which was one of our favorite cameras of 2012. We got bright, punchy color in good lighting from the 6D, which wasn't too oversaturated as with some DSLR models. Skintones also looked healthy and life-like, unlike some cameras which tend to pump up the pinks and reds to produce an artificial, "doll-like" look.

Our portraits, particularly those shot with fast lenses with wide apertures, produced stunning results, with the 6D's big imaging chip producing an eye-catching shallow depth of field, which made our subject pop. But the 6D really shined in low light at high ISOs, producing clean and visually appealing images at up to ISO 3,200, and very usable results at up to ISO 12,800. The camera did have some issues when shooting in dodgy, indoor incandescent light, particularly when we used the Auto or Incandescent White Balance settings. Things got much better when we manually adjusted the White Balance, but some novice photographers who might be drawn to the 6D may not want or know how to do that.

Photographers of all backgrounds, however, will likely be drawn to how fast the 6D is to use and how logical its menu system and controls are. While the 6D is $1,500 less expensive than the 5D Mark III, it still has a solid, rubberized camera body with a comfortable hand grip and a well-placed shutter that just begs to be pressed. We also found the 6D's excellent HD video quality to be on par to the 5D III, with the ability to produce creamy clips with very little rolling shutter when we panned.

On the downside, Canon has had to nip and tuck a few things to meet the 6D's more affordable pricing and smaller and lighter build. There's no pop-up flash on the camera. And there's no handy, multi-direction joystick control on back or headphone jack. It also particularly bothered me that Canon omitted a button control for white balance on the camera. Additionally, the 6D's 11-point autofocus system is not as advanced as the Canon 5D Mark III's system — nor that of the directly competitive Nikon D600 full-frame DSLR. And last but not least, the 6D's burst speed is a little on the slow side. But the Canon 6D adds a few tricks that the competition doesn't have, including a full-featured, built-in Wi-Fi system that allows for sharing and remote control, as well as built-in GPS with geotagging.
Ubergizmo tests the Canon, verdict:
Here's how I look at it: if you have been drooling on a Canon 5D Mark III but were never able to justify spending that much, the EOS 6D should be an easier decision. That's particularly true if you are already invested in canon lenses and accessories. If your options are broader than this, you should definitely look at the Nikon D600 since it offers slightly better specifications.
DP Review posts its final and conclusive 6D assessment. In a nutshell: too many compromises don't pay off!
It faces very stiff competition from the Nikon D600, which for the same price boasts a slightly higher resolution sensor, a more robust AF system, dual card slots, built-in flash (which can act as a wireless flash commander) and weather sealing comparable to the much more expensive Nikon D800.

That's not to say that the EOS 6D is an entirely uninspiring product by comparison (…) While the 6D is certainly capable of delivering wonderful images with a minimum of fuss, we can't help feeling that Canon's compromises have turned what could have a been a truly great camera into merely a very good one. This places our highest award ever so slightly beyond the reach of the EOS 6D, but Canon's latest camera easily earns our silver award.

The EOS 6D doesn't offer the depth of features that its best competitors can, but it combines very good image quality, impressive high ISO performance and class-leading low light autofocus ability (with the central AF point) as well as impressive built-in Wi-Fi and GPS features.
Full-frame photography has got a lot more interesting in the last twelve months, especially for people whose next camera isn't a business expense, writes Expert Reviews. Rating:
Flawless image quality at a tantalizing price, but the basic autofocus won't suit everyone (…)

Canon clearly needed to differentiate the 6D from the 5D Mark III, but £1,499 is a lot to pay for a camera that you might have mixed feelings about. Then again, the 5D Mark II sold well with its 9-point, 1 cross-type autofocus — ultimately, it's a personal decision as to whether this issue is a deal-breaker. It keeps the 6D from a five-star rating, but this is still the best camera for a lot of people. We can easily imagine it being a best seller, and deservedly so.
DigitalVersus' 6D verdict?
The Canon EOS 6D is an attractive full-frame SLR that's light, responsive and pleasant to handle. Picture quality is excellent in both photo and video modes. Some of Canon's choices are may be questionable (no built-in flash, no swivel screen) but Wi-Fi and GPS bring new possibilities.

However, the autofocus still isn't up to scratch, and makes the video mode pretty much useless for filming day-to-day or family scenes. It's also a shame that there's no headphones out socket for monitoring sound. Similarly, you can't take a still shot while filming video.
DP Review updated its 6D preview. They've added their noise, dynamic range, resolution and test scene shots to the preview, including analysis. They've also reworked the introduction and expanded on their first impressions of the camera. Verdict: The 6D lacks the camera maker's passion, says the rather disillusioning summary:
Overall, though, it's difficult to shake the feeling that the EOS 6D somewhat lacks the "wow" factor of its main rival. That's not to say it's bad — far from it – but it does feel a little unambitious and feature-light, even in comparison to Canon's 3-year-old APS-C flagship, the EOS 7D. The overall result is the kind of conservative, slightly unimaginative design that's become the company's hallmark. Make no mistake, it's still a very good camera; just perhaps not quite as good as it could be.
TechRadar's early 6D verdict…:
The Canon EOS 6D looks like a pretty decent DSLR, with the Wi-Fi and GPS technology being nice bonuses for the average photographer. At 20.2MP, the resolution is not a great deal more than that offered by Canon's APS-C format DSLRs, but there should be a significant image quality advantage.

Those upgrading from a Canon EOS 60D should find it pretty straightforward, without any major handling changes. You'll also be happy that the Canon EOS 6D uses SD format cards rather than CF, but we wonder whether this could be a limiting factor for video shooting.
… and then TechRadar's full EOS 6D verdic:
All things considered, the Canon EOS 6D is an excellent choice for the enthusiast and club photographer looking for a full-frame DSLR. These users will find that they have just about everything they need, and a bit more besides.

It may take them a while to get to grips with the subtleties of the camera's AF system, and they will have to remember some of the basics of metering when using the iFCL evaluative system in high contrast conditions, but they will appreciate the end results.
The TechCrunch verdict is in, calling the 6D a "solid beginner full-frame, with a few caveats for buyers with pro demands":
The areas where the Canon 6D falls short (outer AF points, relatively slow fps for continuous shooting) aren't important to me or my shooting style, and the advantages (excellent low light performance, built-in Wi-Fi photo review and transfer) are extremely beneficial. For those reasons, I can safely say that Canon's 6D is a camera I'd recommend to anyone looking to make the leap to full-frame, provided your needs and use cases match those I've described above where the 6D really shines.
DigitalRev TV's Kai tests the 6D:
SLR Digital Camera, gone offline by now, reviews the 6D:
In our opinion, Canon makes the new model in terms of technology is an important step forward. At the facilities there is nothing to complain about. Particularly praiseworthy is the contemporary integration of WLAN and GPS.

In general, it's hard to find fault with the premise of a camera that promises full-frame quality and a high level of control at a reasonable price.
Imaging Resource has Canon's Chuck Westfall explaining how you connect to the 6D by iOS or Android smartphone or tablet:
From the short hands-on review by PhotoPro Coalition's Dan Carr:
In the hand the 6D seems fairly similar to its bigger brother, the 5D Mark III. Ergonomically its controls are very different but the overall size, weight and feel in the hand seemed very similar to me. The Nikon D600 on the other hand felt much smaller than a D800 and Nikon clearly spent time making a "small" camera. The 6D looses the little thumb joystick from the 5D and instead replaces it with a new directional pad within the typical rotating dial. Coming from a 5D myself I felt like it was definitely a step down. My hands fell far easier on the 5Ds controls than the 6D. Having said that, if you're coming up from one of Canon's APS-C cameras like the 60D or the Rebel series then you'll likely appreciate the new layout (…)

Overall impressions are pretty good though. People will continue to debate the inclusion of the Wi-Fi and GPS vs. a better AF system, afterall you simply can't have everything at this price point, but it's an encouraging start to this segment of the market. I certainly wouldn't shy away from this camera as a backup for a pro either. For wedding shooters it makes an excellent second camera alongside a 5D I think.
The Phoblographer has some first 6D impressions:
There are quite a bit of use features for potential buyers of the Canon 6D to be excited about. Not only the Wi-Fi abilities, but the awesome camera meter (which is much improved over previous versions which tended to underexpose images and therefore created nightmares in the studio) as well as the new white balancing system. The autofocus system is also quite good.

But that's the thing: all that goodness is on the inside. The outside of the camera feels a bit premature in that it should have a few more buttons perhaps and also the multi-directional joystick.
Art of the Image gives you six reasons to buy the 6D instead of the 5D Mark III:
The 6D is Canon's answering jab to the D600. They're both very close in size, although the Canon shaves off just enough, especially in the weight department, to kill Nikon's days-old claim that its D600 is the "smallest and lightest" full-frame DSLR. In practice they'll both be touted as "small" or "compact" for full-frame, but they're really cruiserweights, especially to anyone acclimated to mirrorless (…)

The 6D is probably aimed anyone upgrading from an older original 5D, or for any Canon fan who's been itching to get into full-frame but holding back because of the age of the 5D Mark II and the cost of the Mark III. Or for anyone who just wants a no-nonsense, workhorse camera with the typical full-frame advantages of a relatively big, bright viewfinder and the restoration of accustomed angles of view of legacy 35mm focal lengths.

The 6D's 20 MP is close enough to the D600's 24 that pixel peepers are unlikely to detect any consistent difference, but it's certainly a wash with the Mark III's 22 MP. It's a newer sensor, said to do a little better in the lowest light.

The price on both, slated to be a little above $2k, is a disappointment to some enthusiasts, who were hoping one or the other of these new FF models would break the $1,500 barrier. Not close yet. Still, the prices of both cameras seem eminently reasonable considering the ample goodness on offer.
Digital Camera World asks whether you should go for the 7D instead of the 6D:
Reasons to buy the Canon 6D

Its much larger sensor (more than 2.5x larger than the 7D), and all the creative possibilities it affords
Higher sensitivity and better low-light performance
Wi-Fi capability
GPS functionality
HDR function
Smaller and lighter

Reasons to buy the Canon 7D

Faster continuous shooting rate
More cross-type focus points (19 vs 11)
More viewfinder coverage (100% vs 97%)
Faster maximum shutter speed (1/8000sec vs 1/4000sec)
Much cheaper
Camera Labs like the 6D's "boundless creativity":
To help photographers unlock their full creative potential and explore all the different avenues of digital photography, the EOS 6D includes several creative modes for image capture. First is the HDR (High Dynamic Range) mode allowing the camera to capture three separate exposures and combine them in-camera for a stunning image capturing both enhanced shadow detail and bright highlights. Next is the camera's Multiple Exposure mode where users can combine up to nine individual images into a single composite image, with no need for later computer post-processing. Four different compositing methods are provided for maximum creative control, including Additive, Average, Bright and Dark. Compositing results can be viewed in real time on the camera's LCD monitor, and there is a one-step Undo command that allows photographers to delete an image and try again if desired. The EOS 6D will even allow photographers to specify a previously captured RAW image as the starting point for a new Multiple Exposure composite image. In addition to HDR and Multiple Exposure modes are Canon's standard Scene Intelligent Auto and special scene modes to capture great images with ease. The camera is compatible with SD, SDHC, and SDXC memory cards including the new Ultra High Speed (UHS-I) cards.
Ken Rockwell compares the 6D to the 5D Mark III:
The differences are minor, so if money matters, of course get the 6D for 40% less money. The 6D loses about 5% of some of the 5D Mark III features, most notably a simpler AF system, only two "C" modes, only one memory card and no auto brightness control for the LCD, but adds the same 5% back with GPS and Wi-Fi not in the 5D Mark III. Many people will prefer the 6D for adding GPS with lighter weight.

They take the same pictures with essentially the same shutters, sensor, color controls, resolution and ISO range. Yes, there are many minor differences in the sensors and shutters as I'll outline below, but these are designed merely to help upsell innocent rich amateurs to the 5D Mark III; they aren't different enough for a real photographer or someone without a spare $1,400 lying around to blow on camera bodies to worry about (…)

Top shutter and sync speeds are the same. No one uses 1/4,000, much less 1/8,000, so the 5D Mark III having 1/8,000 makes no difference in actual shooting.

Likewise, flash sync at 1/200 versus 1/180 is only one-sixth of a stop different, and specified this way merely as a sales tool to upsell rich people to the 5D Mark III. If the 5D Mark III was 1/500, it would matter, but even 1/250 vs. 1/180 is the same thing as far as I'm concerned.

The 6D adds GPS and Wi-Fi, lacking in the 5D Mark III.

The 6D has a simpler AF system. You may prefer either; gearheads will prefer the 5D Mark III.

If you shoot all day with it as I do, the cost becomes less important and little things, like having a third "C" mode and second memory card, become more important, so I prefer the 5D Mark III.

Then again, if I have to carry it all day, the 6D wins on weight.

If you have to ask, just get the 6D. It gives a lot more for the money than the 5D Mark III.
Engadget likes the size:
"Neat compromise of a camera," says Pixiq:
"Compromise" can have negative connotations as a word, especially when you apply it to politicians found in dubious situations with their office juniors. But compromise doesn't have to be negative. No, it can mean that sweet spot of satisfaction where you're able to hold on to just enough of what you need but give up those bits that, yes, you'd quite like, but you can live without, to get yourself something that makes you, generally, happier. I'll compromise with my mother about not putting smoked haddock in my fish pie if I can serve it with runner beans instead of French beans. Sure, I'd prefer it with smoked haddock, but ultimately I'm happy.

This, I think, is where Canon sits with 6D. It's a camera with a full-frame sensor that's smaller, lighter, and cheaper than its similarly full-framed bigger sibling, the 5D Mark III, but likewise has had to skip some of the toys and excitement to enable its slimmed down form and slightly more approachable price. You can't always have everything that you want. If it'd been able to make the 5D Mk III smaller, lighter, and cheaper whilst retaining all the functionality, don't you think Canon would have? (…)

As for the autofocus system, the 6D has a new 11-point system that Canon believes is the best it's put into a camera when it comes to low-light operation. No, it doesn't have the 61-point AF of the Mark III, or its ability to shoot 6 fps. But guess what, 4.5f, it bests the Mark II which can only manage 3.9 fps and has a 9-point AF system (…)

The 6D, then, is offering a very neat specification of a camera to someone who lusts for a full-frame sensor but can't stretch to the bulk or the budget of the 5D Mk III. It's not perfect, no. But I reckon that it's a very tidy compromise.
CNET:
For non-professionals — and in a few ways for pros — the 6D's specs compare favorably to the 5D Mark II's, which was likely Canon's intent. Inside there's a new sensor with the same Digic5+ processor and metering system as the 5D Mark III. It's got a new autofocus system that should be better than the older camera's, and rated to be more sensitive in dim light than any Canon model thus far, but it's still a single centerpoint cross type. The camera is also rated faster than the 5DM2.

The 6D's body is relatively similar to the 5D Mark II/III and 7D, about the same size as the 7D, but as with Nikon part of the goal was to create something smaller and lighter than the higher-end pro offerings. Canon managed to chop a little bit off the height by dropping the joystick on the back and integrating navigation into the large control dial and decreased the width of the body by dropping the buttons down the left side of the LCD. I'm guessing part of the height decrease came from a slighly smaller viewfinder (though I don't have size specs as of this writing), since the camera has a disappointing 97 percent coverage — that's less than the 7D. And some of the weight loss comes from the construction: an aluminum chassis covered by reinforced polycarbonate, though it's as dust-and-weather resistant as the 7D. Canon streamlined the direct-access buttons on the top — white balance and flash compensation have been dropped and are presumably settable now in the Quick Control screen.
Filmmakers' EOSHD's first take:
Build quality wise, the camera features a polycarbonate top plate but is otherwise magnesium alloy like the 5D Mark III.

I'm expecting the video mode to be very similar to the 5D Mark III. As usual in the specs, gritty details are limited about what it does but I can see it has the ALL-I codec which is a good sign. The 650D lacked this and didn't fix moire or aliasing. If either are present in the 6D it would of course not be worth the saving over the 5D Mark III if video is what you will be using it for.

It will be interesting to see how the lower megapixel count affects low light performance – I'd say the difference of 2MP will make any improvement extremely minimal, and the pixel design will have a larger affect. It could be that it isn't as good as the 5D Mark III in this respect.
Official Canon 6D promotional videos:
+++ You can order the Canon EOS 6D body-only ($2,099) from Amazon, B&H or Adorama. Or go for the kit with the 24-105mm F4.0L IS USM AF lens (Amazon, B&H, Adorama).