For years indie photographer Mike Brodie traveled with dropouts, adventurers, homeless and freedom seekers on freight trains across America. Now his first photobook A Period of Juvenile Prosperity is published — the book is a ride as wild as inspiring. It's not the work of a few happy shoots, but of many years of ardent, self-forgetting dedication resulting in a photography that is able to get under anyone's skin. Maybe the saddest, most moving and authentic photography I've ever seen. Honestly.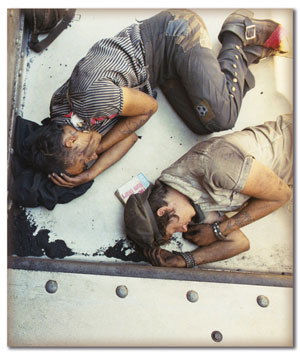 In his first photobook, 27-year-old Mike Brodie shows a selection of the best photographs he shot on his adventure bohemian train lifestyle trips crossing America.
Together with modern-day outcasts and vagabonds, he traveled as a stowaway on freight trains across the country. With a camera he had found in the back seat of an old car.
Brodie captured the everyday life of this unique community. Over time he produced an astonishing archive of contemporary American travel photography consisting of thousand of photographs.
One day, a gallery in Los Angeles discovered the back then 18-year-old. Other exhibits followed, even though Brodie wasn't particularly interested in them. He had to hit the road and travel.
The first photography prize money of $10,000 he gave to his mother while he continued to illegally travel through the country with almost no money.
He usually slept outside, either on the trains or along the railroad track. Right, sounds like an endless holiday. Brodie drove over 50,000 miles, shooting more than 7,000 pictures in all these years.
Today, unfortunately, he hardly photographs anymore, even though experts call his collection one of America's most impressive archives of travel photography.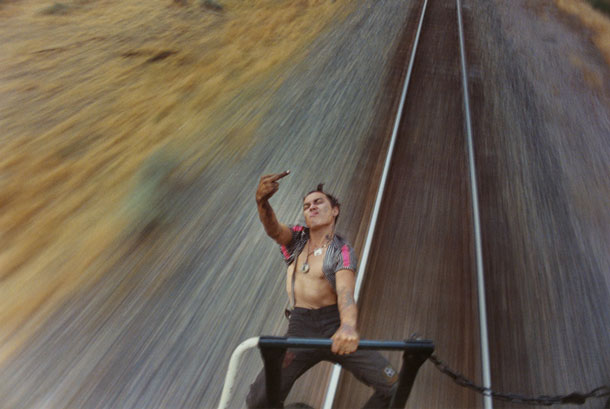 The photographic documentary book is more than just a photobook. It's Brodie's personal biography that reads like a Charles Bukowski story. Born in 1985 in Mesa, Arizona, Brodie's father was a drunken crook who had to spend nine years in jail. Brodie witnessed the arrest. Five policemen were needed. Brodie was never able to forget the smell of the teargas.
His mother worked hard, cleaning the butts of old people. Eventually she swore off alcohol and was baptized along with her son. In high school, Brodie won BMX competitions and was caught masturbating during class.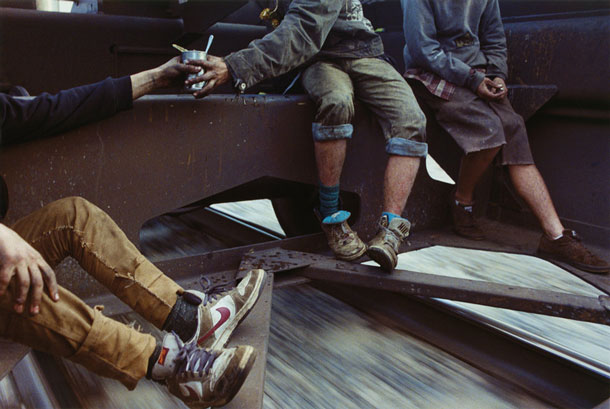 The first time he had sex was with a female punk. They broke the wash basin. With 14 he tattooed his hands. He dropped out of school, then out of his job and gave up believing in God. At 17, as he was sitting in the back of a car, he found a Polaroid camera.
He began to photograph, lived with vegans and underground rock bands in Portland, Florida and Philadelphia. At a photo competition, he won 10,000 dollars which he sent to his mother.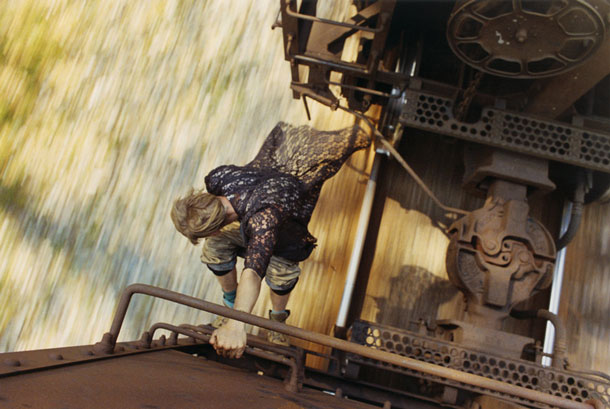 Over the years, Brodie produced some amazing travel photography. When Hurricane Katrina devastated New Orleans, he was in town but he did not use his camera. Brodie began to travel. On foot, by hitchhiking and especially on freight trains, as a stowaway, crisscrossing America along with other dropouts, adventurers, homeless and freedom seekers.
To stay in contact with his companions, he started putting the images on the Net. Brodie soon became something of an Internet celebrity. He didn't want that, deleted his website and found work as diesel mechanic.
Too bad. His collection is already enjoying a unique place in modern American photography. Well I guess fame and more money would destroy his very photography.
Renowned galleries show his work, even though Brodie never referred to himself as a photographer. And you can't reach the man. He's out there, somewhere, traveling again.
+++ You can order Mike Brodie's outstanding "A Period of Juvenile Prosperity" from Amazon.