The man needs no introduction. Says the Magnum photographer about himself, "Most of my photography career has been spent in the documentary genre, working for magazines photographing areas of conflict. In my photography most of the time I am just simply walking around with the camera, shooting life as it unfolds." What does this Steve McCurry have to do with the Pirelli calendar that's famous for a few things? It's populated by the world's most unapproachably gorgeous women, unencumbered by clothing, and its distribution is so limited that, statistically, you have probably never seen one in person. This legendary Pirelli calendar, says McCurry, is an entirely new direction for him, and he wants to do it his way, bringing something new to it.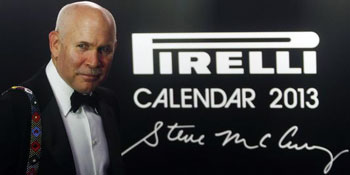 And indeed he does. In this year's edition, it's the bared flesh that's more elusive than usual. The 2013 McCurry calendar features all fully clothed models set against the backdrop of Brazil.
Breaking even further from tradition, some of this year's models were chosen as much for social good deeds as their looks. The Brazilian actress Sonia Braga makes an appearance, even though she is in her early 60s, and Adriana Lima has the distinction of being the first-ever visibly pregnant Pirelli calendar model.
Well done Steve McCurry and Pirelli. The use of models as a reflection of reality rather than as reality's superficial embellishment is to be praised. Don't you just envy this man.
High resolution images of the 2013 McCurry Rio calendar are available at Pirelli.
See the full version video of the making of the calendar — and further below enjoy a selection of the 2013 images: