It's no more secret that Sony, the probably most innovative and aggressive camera manufacturer these days, aims for the top spot in the digital imaging world. And boy are they on track, poised to steal more photographers' hearts, first and foremost with their full-frame formula making photographers' longed for dream of compact digital full-frame come true. We're not there yet, but a compact full-frame with interchangeable lenses is just a matter of time. Sony will be the first to have it. Prepare to put your Canons and Nikons on the market.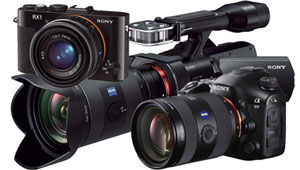 Sony, a relatively new imaging kid on the block with its base in Konica Minolta technology, has got the revolutionary single-lens translucent SLT technology that does away with the mirror lock-up and allows full-time phase detection autofocus, Sony produces imaging sensors that are by Nikon's flagship cameras, by Olympus' best-performing OM-D E-M5, by the iPhone 5 and heaven knows whom else, Sony's got the best-implemented focus peaking — and the ambitious imaging powerhouse Sony knows how to market it all:
Take the recent propaganda hype with leading photography websites and bloggers flown in to San Francisco where they were they wined and dined, given beautiful models and access to play with Sony's latest creations, the full-frame A99 aimed at professionals, the compact full-frame RX1 for perfectionists who appreciate light gear and the essentials of photography, the refined NEX-6 — and last but not least, but that camera wasn't on show, the full-frame NEX-VG900 interchangeable lens camcorder. A world's first.
(BTW, Lloyd Chambers speculates that the RX1's Zeiss Sonnar 35mm F2 will outperform the Leica 35mm F2 Summicron ASPH. And this for not even the price of a Summicron, in a body with technology that make the Leica M look like stone age.)
Canon and Nikon? It's weird that they largely ignore the might of the Internet and bloggers. They keep on spending millions of dollars for print and other conventional advertising. The average consumer will barely notice an advertising in a magazine. More and more people are interested in information they get from dedicated sites and blogs, written by agnostic persons they can trust more than the corporate establishment's spins. Big companies still doesn't seem to realize this opportunity. Sony does. They know how to play the market. Add the stellar Carl Zeiss glass. The full-frame assault is part of this marketing strategy that even makes die-hard Canon and Nikon men talking.
Canon and Nikon? They keep pedalling the same technology again and again, just with slight improved iterations, based on wishful thinking that more compact and mirrorless models aren't perfected enough. Also don't forget, Canon's dominance in the point-and-shoot category has been usurped as Sony's RX100 redefined what the world can expect from a pocket-sized camera…
True, the D600 is a fantastic camera. But in a few years down the road the D600 and the likes will be mirrorless and all EVF. Sony's already there whereas the big old boys reiterate that mirrorles hasn't impacted on their DSLR sales. Come again?
Sony's the name to reckon with. From their Q1 2012 report — yes, they're putting their eggs in many baskets to solidify their position in the digital imaging market:
In Sony's digital imaging business, the market for compact digital cameras is shrinking as the market for smartphones with camera functions grows, having an impact on Sony's results for the current quarter. Sony endeavors to strengthen its high value-added line-up of compact digital cameras and interchangeable single lens cameras that are enjoying increased sales, Sony is working toward further profit contribution by focusing on the expansion of sales.

Sophisticated technologies like image sensors, signal processors, and lenses support the digital imaging business from a technology perspective. The image sensor business not only contributed to differentiation of Sony's products in the current quarter but it also contributed to profit through external sales. In order to solidify Sony's position in the market, in June 2012, the company decided to make an additional capital expenditure to increase production capacity with the aim of further increasing profit. This investment will be used to expand production capacity of stacked CMOS image sensors, which are more compact and functional, and will enable Sony to meet the increasing demand for high resolution image sensors in the market for mobile devices such as digital cameras, smartphones and tablets.
Sony's year-on-year sales increased 7.6% to $2.5 billion. This increase was primarily due to a significant increase in sales of interchangeable single lens cameras reflecting higher demand.
Canon's recent earnings call noted a slightly increased operating profit of 0.2% in Q1 2012. Net income increased 11.0%, but that's mainly due to a gain on foreign currency denominated assets and other factors. Gross profit as a percentage of net sales declined 1.3 point. Overall camera net sales nevertheless increased 7%:
Among this market environment, we achieved a nearly 30% increase in unit sales of SLR cameras reflecting strong sales of our entry-level models, and strong demand for recently launched camera targeting advanced, amateur users. We also continue to see the best sales for interchangeable lenses. We posted strong sales for new compact digital cameras, launched in March that incorporated Wi-Fi connectivity capabilities. As a result, overall cameras' net sales increased 7%.
Canon expects "a strong global demand for SLR cameras to continue driven by such factors as an expanding user base and replacement demand," but hark!
As for compact cameras, we are aiming to boost sales by 17% to 22 million units:
To achieve this, we will further differentiate and enhance our lineup by launching new cameras offering the image qualities that approaches SLR cameras; furthering the improvement in design and qualities, and by incorporating features such as network, connectivity capabilities.
So compact cameras are the future. Finally. Canon voices some clear need for action.
Nikon, on the other hand, had a deplorable Q1 2012. It's net profit fell nearly half. While sales increased 5.6%, operating profit was down 36.7%. Nikon mainly blames "fierce price competition in its digital camera segment," but don't forget the Thai floods in Q4 2011 that inundated a main Nikon factory.
If you look at the successful diversification of Fujifilm you're left with no doubt that Sony's imaging strategy is poised to pay off in the long run whereas the future of Canon and Nikon largely depends on legacy users and their replacement decisions.
You're not expanding your user base by revamping legacy gear and avoiding true innovation.