The Sony DSC-RX100 promises a point-and-shoot's heaven and earth. This is less of a marketing hype. It's real world user reports that praise the RX100 above the rest. No doubt, the RX100 belongs to a class of its own.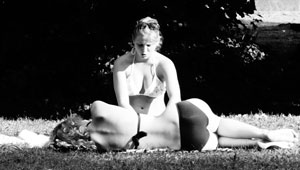 I've been playing around with this stunning little beast that carries a beautifully bright Carl Zeiss lens for a first few hours. Absolutely amazing piece of engineering. Totally smooth operation, reliable output, excellent build quality. Even though I'm a wide angle kind of shooter, even the maxed out zoom is usable.
A review will follow, what I fell in love with right from the start is this preset: High Contrast Mono setting.
Who needs a Leica!
Am not a friend of presets and art filters. This High Contrast Mono though gives you nice, rich, splendid blacks. No real shadow detail's left, for this the RX100 offers Rich Tone Mono setting.
With High Contrast Mono even dull motives start to look interesting. And you don't waste time in front of your computer trying to get an acceptable monochrome look.
That's it for the moment, am off shooting, more soon!
Update: Here's THEME'S hands-on RX100 review.
+++ For all the relevant Sony RX100 information, read our dedicated, continuously updated The Sony RX100 Review File.