The cat's out of the bag and Leica really must put on a very special show on June 11, 2013, if they want their latest baby to succeed, the Mini M a.k.a Leica X Vario Typ 107. They better make it a low-key event. If you scroll through the various online sites and orums the verdict is clear: bummer. Not what most were hoping for. Leica aficionados can be emotional, so maybe, once they see the output of this X Vario, they're appeased. But most likely not.
Were people expecting too much? Well if Leica marketing refers to a Mini M and implicitly suggests an M mount camera, a kind of mini M 240 and the likes, oh yes then they raised the bar way above their heads and made people intentionally expect too much. Now they have to pick up the tab.
A new source that seems to have good access was so kind to share some X Vario Typ 107 samples (that's the camera's name in EXIF), and I must say: nice images. But today every camera is capable of delivering nice images. Still, not every camera has a red dot!
The fact of a fixed lens camera is confirmed. The photo looks like a doctored fake — just to mention the jumping Vario Elmar letters the wrong way up… But in essence this is what you'll get. A source tells me the X Vario's zoom is "great." Looks like a solid performer. At 28mm no distortion to speak of, reasonably nice bokeh and maybe even more natural skin tones than the M 240's that have become a nuisance for some. But this X is no M.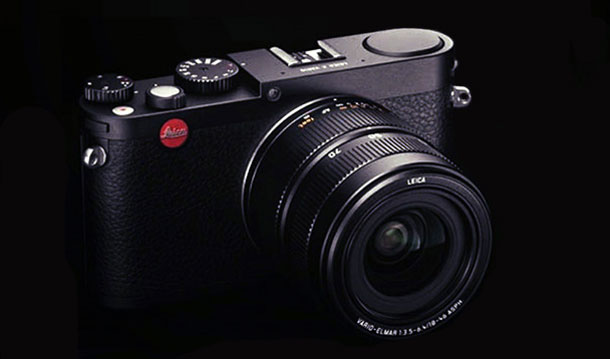 For a low cost marketing campaign — just put a picture on a website and let it go viral — the Mini M was a brilliant idea. But it raised wrong expectations. We were made to expect something more game-changing from Leica. The competition's way ahead while Leica has since years a "compact M" in the drawer. So the puzzle made sense.
Some time ago acknowledged, then eagerly denied, the now known end result is a compromise. Nothing groundbreaking. The X Vario is a kind of stopgap that mainly pleases those who yearn for the red dot while not being to concerned about fast glass, compactness and versatility.
If this slow of a zoom lens, why not at least retractable? Looks like a product to optimize profit margins while this X Vario is clearly not aimed at the Internet chatterati — who were always going to talk it down. It's for people who can afford Leica, trust the name and like the reasonably compact zoom concept with that red dot.
But nah, the X Vario is not pocketable. You'd have to saw off that Vario lens.
Nah, if you have a stake in the M system you still can't make use of M or R lenses without shelling out $8k.
Nah, about all of the X Vario's specs are below the direct competitors from Sony and Fujifilm — and we haven't seen the Sony full-frame NEX yet that'll likely come in 2014.
Nah, the X Vario isn't filling the gap between the X and M series. That gap remains wide open.
Nah, for the estimated street price of $3,000 I'd still get an RX1. No zoom? No-brainer. The Sony gives me a third more megapixels. Just crop. And that Sony sensor is crème de la crème.
Yes, the X Vario has one higher spec: price.
And yes, we have a Hasselblad Lunatic challenger.
And yes, the X Vario for sure doesn't eat into M sales.
Bingo!
Come on Leica, that's not a 21st century product by a company known to make wise use of its past to look into the future. You're about to open the brand new Wetzlar factory. Don't want those assembly lines to work around the clock?
But Leica knows, its brand aficionados are patient and trustfully keep on waiting for that full-frame EVIL Leica that (at least now) would have made clear to even Fujifilm and Sony: that's where the future is heading.
The free market can be a merciless place. The X series never was a great seller. The X Vario won't do any better.
A true more compact M would have.