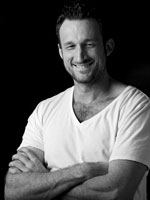 By STEVEN MCCONNELL
Have you forgotten to call a client recently to find out how their photoshoot was? Do you often have customers calling you to find out what's going on? Do you find yourself often muttering, "I'm sorry I'm late…" or, "Sorry, things are just so frantic around here…" Is running behind deadlines the norm for you? These are some indications that your business processes are failing you. And they are probably costing you reputation, customers and good-old moolah.
Have you ever walked into a business (be it a photography studio, a café or a medical center) where, despite a huge amount of customers, things just seemed to run smoothly? And the staff seemed totally focused, working fast and yet were calm and in control?
That's a sign of a business where the business processes have been thought out, designed, implemented and properly tested.
Think of your business functions like little trains, which need little tracks (processes!) to make them run precisely, predictably, smoothly and systematically.
Every track in your business has to have its destination, and will have interchanges with other tracks. If your business stopped growing, or is experiencing problems related to scheduling and customer service, it's probably outgrown its tracks.
And that's perfectly normal. Every successful business invests heavily in process development.
And every few months you need to take a step back away from photography, become a rail engineer and look at the gaps in your service. And then you draw up a new set of tracks which help fill in the gaps.
Personally, I like to do this by grabbing a big sheet of paper, a crayon, and drawing flowcharts with lots of arrows pointing to lots of different circles.
Then those sheets end up taped to my walls.
Enquiry and Customer Handling Process
The main thing is that this doesn't need to be some formal, expertly laid out document. It simply has to, at minimum, provide you with answers the following questions:
What happens you get an enquiry?
What information do you need to provide to facilitate making this enquiry into a customer?
What path does the customer need to follow to make the booking?
What if the customer doesn't have a credit card and wants to pay using bank transfer/cheque/cash?
What if the customer is interested, but has too many things on their plate – how do you solve their problems to help them commit to a booking?
What entries do you need to make in your calendar and account-keeping software?
What happens if the customer wants to cancel at this point?
Just before and after the shoot — when do you get in touch? What does the customer need to know?
Here's a customer enquiry process I've been following until recently: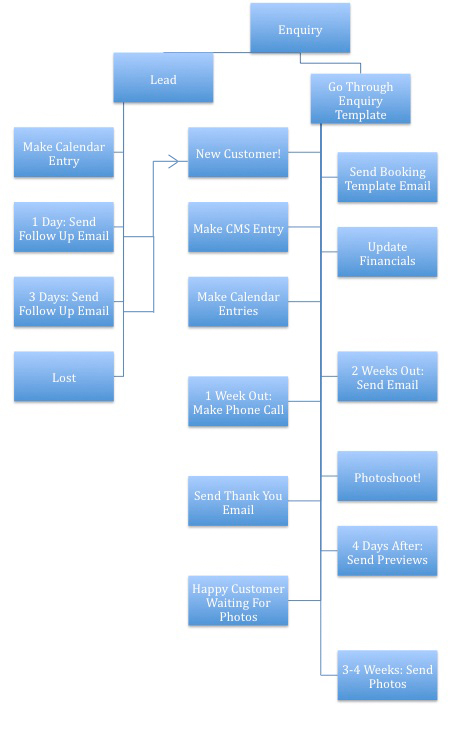 As you can see, it's very basic and I've recently outgrown it.
But it provided me with a powerful system to follow to make sure nothing was ever missed.
Image Handling Process
Your images are the internal currency of your photography business. Just like banks have elaborate systems to ensure money is not lost, you need to create systems which ensure your images are safe and are delivered to your customer on time.
You'll need a set of processes, which outline the following:
What happens to the RAW images once you remove the memory card from your camera?
What are the backup processes?
What (if any) adjustments are applied during import?
What is your tagging and rating system?
What copies of files need to be made during export?
How do images end up at the print lab / in an online gallery / on disk?
What are the archival procedures?
How long until the customer receives their images?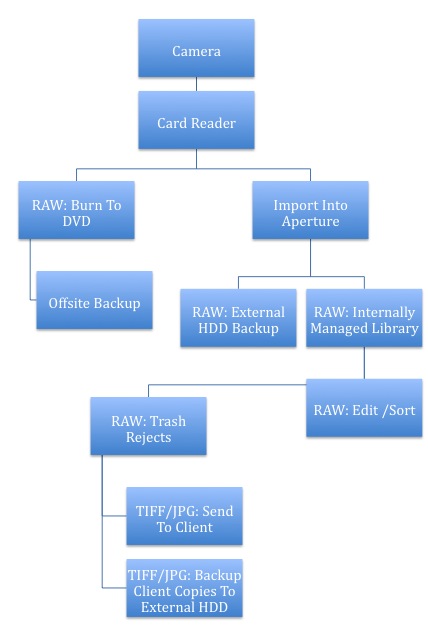 Business Management Process
When you're a self-employed professional photographer, you're as much a businessman as much as you're a "creative."
It's easy to get lost in the fallacy of being a creative who looks down on the "business side of things".
Truth is, if you're not spending as much time being a businessman as you are being a creative, your business is suffering.
Here's my basic business management checklist I follow when I start each and every day. I log into Google Analytics, SEO (Ahrefs and MicrositeMasters) and accounting (Xero) programs, which give me information about the following:
How many unique visitors were on the website yesterday?
How many new links were made to the website yesterday?
What are the rankings of keywords in organic search?
How is the profit/loss report looking for the past week? And month?
This helps me get an accurate snapshot of how my business is going, and helps me prioritise my activities to make it most competitive.
I also have a weekly checklist, where I do two things:
Enter all the invoices / pay all the bills.
Clear my inbox by answering / deleting all emails I've been avoiding.
I get certain clarity and peace when I know that everything I need to do has been done, that there are no admin hang-ups and no-one is annoyed at me because they're waiting for me to do something.
To Make Your Photography Business Run Even Smoother
To save you time and introduce a degree of consistency into your business I also suggest you create two types of documents:
Text communication template
Voice communication templates
You probably noticed by now that a lot of the stuff you write and say to your customers at each point of the sales funnel is the same. And some of it is unique to each customer.
I have a folder on my computer which has text templates called "1-thanks-for-enquiry.txt," "2-how-to-confirm-booking.txt" and so on. When writing emails, cut and paste the template and then quickly go through it to customise it to each customer.
Voice communication templates are the same. As soon as I answer the phone, I open a file called "1-phone-enquiry.txt," which has a list of questions to ask.
As I'm talking to the customer, I'm writing notes directly into the template and then, when the conversation is over, I paste the whole document into a new customer project file.
Steven McConnell is a professional family photographer based in Sydney, Australia.

He is passionate about creating photographs which communicate real stories and creating a business which creates real value.

His website is www.familyphotographysydney.com.au.