Never rest on your laurels. Look at Apple. They kept on relying for too long on their cash cow, the iPhone. Now all indices are pointing southwards. Stock is worth nearly half of its high in 2011. Not that the share price reflects reality, but despite revolutionary innovations they failed to stay ahead of the game. They're copied and overtaken by others — something that happens in the parallel universe of the digital imaging industry. Canon for years dominated the market. They still do. But since a few years Canon is no longer a synonym for innovation. While Apple has been really slated for incremental updates and lack of innovation, Canon shares keep going up — that is until the recent weak earnings report that sent the share price slumping, along with slumping global demand for cameras.
With less cameras sold and weak earnings in all businesses, Canon reported a 34% decline in net income for the quarter ending March 31, 2013, citing falling prices and slowing economies in China and Europe. As consumers increasingly use smartphones to snap shots, Canon is still in a better shape than many competitors, even though global shipments of digital cameras almost halved to 4.26 million units in February from a year earlier while inventories keep on building up. Nikon is still selling the D90 which is two generations old…
February 2013 marks the 10th consecutive monthly decline according to the Camera & Imaging Products Association CIPA in Tokyo. Overall shipments of compact models were down 40% in the first two months of 2013 from a year earlier, while that for cameras with interchangeable lenses dropped 17%, according to the industry group.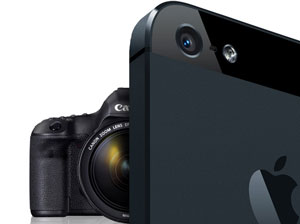 That bodes ill for companies that are majorly involved in the compact digital camera business, a business model without any future whereas DSLRs at least keep on providing cash flow while they slowly pass their formerly bright torch (or what's left of it) to newer, lighter, more compact system cameras with interchangeable lenses.
Similarly depressing news we get from Fujifilm, this truly creative innovator that has gone niche with the X series. But why keep on innovating when you only lose money. According to Fujifilm's consolidated financial results 1Q 2013, revenue is (slightly) down, mainly because of the negative impact of yen appreciation. Fujifilm invested heavily in the launch of new products and moves to step up sales promotion measures in response to growth in emerging countries' markets. Nevertheless: revenues down.
All this augurs badly for innovation. Financial constraints significantly reduce the likelihood that firms have innovative activities, even though right now would be the time to break away boldly from the competition by sticking to a clear innovation strategy.
Like in any industry, research and development often take a backseat as economic times constrain company's budgets. Yet, the digital imaging industry is slightly different. Innovations continue to come from the ever-improving camera industry, meaning the camera market will always be at the cutting edge of scientific advancements.
Nevertheless, both the innovative and the clueless copycat manufacturers are financially troubled these days. Nikon is struggling, Panasonic's shares have recently been downgraded to junk status and we all know the misery Olympus is in. Sony had to come to their rescue.
Pentax? Out of the room already. Samsung? No traction in the market, but a big elephant in the room with deep pockets. Sony? My hopes rest on them. BTW, Sony just doubled its profit forecast…
The only silver lining on the horizon really is Leica. Their finances are sound as a bell. These ingenious Germans don't care what the competition does. They have their niche and loyal followers while at the same time they're pricy high quality products attract newer, younger market segments.
God would have, oh sorry, "should have a Leica, no question about it," rock legend Lou Reed recently said when he unveiled Rimes/Rhymes, a book of photography spanning four decades of his "adventures with light."
In the book's intro — you can order it from Amazon.ca and Amazon.fr — Reed is even going a step further, saying:
I'm sure God owned a Leica.
While this is nothing but a personal opinion that sounds juicy, there is in fact much more to it than what meets the eye. While in the, say, real estate market it's all about location, location, location, in the camera industry it's more and more about uniqueness, uniqueness, uniqueness; uniqueness and quality that can ask for hefty profit margins.
You don't want to look like the rest. There's too much of the same available these days.
Camera makers are well advised to take a page from Leica's book.
Otherwise the future looks pretty bleak with Apple and Samsung dominating the camera market. No one underestimates the number of serious and professional photographers out there that are not going to give up on quality. Still, the next decade will be very tough for the camera industry with more consolidation and outright failures.
One only need look at the top camera model by frequency of use on Flickr to see that this is already happening. This list comes from EXIF data and is typically about the same every week. Here's the current ranking of week 17/2013 (the number in brackets is previous week's rank):
(1) iPhone 4S
(2) iPhone 5
(3) iPhone 4
(4) Canon EOS 7D
(5) Canon EOS 5D Mark II
(6) Nikon D7000
(9) Canon EOS 5D Mark III
(7) Canon EOS 60D
(8) Nikon D90
(12) Nikon D800
Compact system cameras are nowhere in sight and therefore still a small minority.
Problem is, these days nearly any camera is completely capable of delivering good results. The future will be less about image quality, that's already achieved. You can't reinvent the wheel. The future of camera products and design will more likely be a contest between uniqueness (hyper quality) and convergence (multi-functional devices).
Les jeux sont faits. The vast majority of consumers a.k.a. accidental photographers will demand converging devices. But how many people — count me in! — still enjoy vinyls?