Skyfall is upon us, the first of all James Bond 007 films shot entirely in digital. What camera did they use? An Alexa digital cinematography camera, made by Munich-headquartered ARRI, a family business founded in 1917. With even elaborate Bond gone digital now, chances are that digital cinematography cameras tip the film world's scales completely to digital.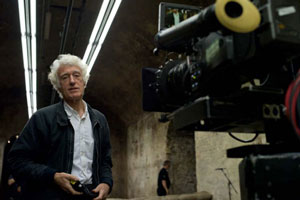 Skyfall is the first James Bond 007 film that ten-time Oscar-nominated cinematographer Roger Deakins has shot on a digital camera. "This camera has brought us to a point where digital is simply better," he says of the ARRI Alexa.
Deakins is one of the most respected cinematographers working today. So when he weighs into the film vs. digital debate, it's an opinion worth hearing. Turns out he comes down confidently on the side of digital, which won't please many traditionalists. Further below I embedded a conversation with Deakins. It's fascinating to hear him justify his opinion based on his working methods.
The Alexa Studio's ALEV III Super 35 sized CMOS sensor has a resolution of up to 3392 x 2200 pixels. That's a lower resolution than the Nikon D600's. Doesn't that say something about the detail today's even more basic full-frame cameras offer. There are actually more pixels on the ALEV III sensor, but they are used for calibration and other purposes.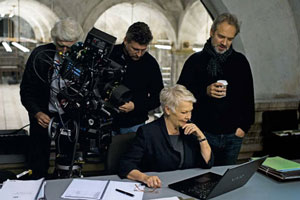 First introduced in April 20120, the ARRI Alexa marks a true revolution in cinematography and may well tip the film world's scales completely to digital. Among many benefits such as instant access to images, filmmakers get easily hooked on the cameras' top-of-the-line exposure range between highlight and shadow. Well, this quality doesn't come cheap. A Studio starter kit will set you back some $160k.
Deakins, one of the world's top cinematographers, shot Skyfall with an extensive Alexa camera package and grip equipment. Deakins was brave enough to use two new Alexa Studio prototypes as his main cameras. He mainly relied on master primes shot wide open. Point though is, Deakins is still making the transition to digital whereas many of today's cameramen are brought up on digital.
Deakins offers some interesting perspectives. Here are some excerpts from a Film & Digital Times interview:
Tell us about the decision to go with the ARRI Alexa.

It seemed like there would be a lot of low light photography and situations where I'd want to work with practicals. I suggested he look at the tests I had done and some of what I had shot on In Time. We decided that would be the way to go.

What were your impressions of the Alexa Studio camera?

We had two prototypes of the Studio on the movie, literally the first ones out of the factory. The optical viewfinder makes a huge difference. I think that over time you get quite a lot of eyestrain off the electronic viewfinder. But apart from that, I like to be able to look through the camera without anything interfering. I've always lit through the viewfinder, and nothing's changed that way. I do look at the monitor from time to time, but I still basically work the same way as if I were shooting film.

You're known for operating yourself. How did you find the Alexas for handheld work?

It's a good balance. The problem is, at the moment, if your camera goes too light, the heaviest thing becomes the lens on the front. Lenses seem to be getting heavier and heavier, so you need a good balance, and in that regard, I think it's very good. It could be a bit lighter. I found I couldn't really do an extended amount of handheld with the Studio because of its weight. But ergonomically, it's very well designed to sit on the shoulder. I would shoot with the Plus when I was doing handheld, and then the Studio when I was on a dolly or whatever.

You said that you're not sure you want much higher quality. Can you elaborate?

Well, there comes a point where everything starts looking, frankly, anemic and kind of synthetic, and has no life to it. And I'm very impressed by the image quality the Alexa gives. You do have to get it right. You can't be cavalier and overexpose willynilly. You can't just point and shoot, and not care about where your exposure is and what you're shooting. It's just as if you had been shooting film. For the most part, I think there are one or two shots in the movie that quality-wise, I don't like. But I don't think it would have been any better on film. I'm not quite sure what "better" is. I like the image better than if I'd shot it on film, put it that way. Really it's just sensibility.
If you want to learn more about why Deakins — a converted "film traditionalist" so to say — decided to go digital, watch this conversation series telling you all about the cinematography of Skyfall (see also Part II and Part III):