Great Fujifilm X-E1 bundle offer by B&H:
Choose either all or from these lenses: Fujifilm XF 35mm, 18mm, 60mm and 18-55mm, plus get a lens kit with protector filters.
Deal includes the following:
Fujifilm X-E1 Digital Camera $999
35mm F1.4 XF R Lens $599
XF 18-55mm F2.8-4 R LM OIS Zoom Lens $699
60mm F2.4 XF Macro Lens $649
18mm F2.0 XF R Lens $599
Included Free: 52mm Protector Filter $9.95
58mm Protector Filter $59
39mm Protector Filter $9.95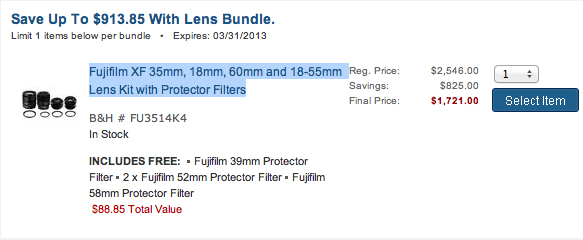 Offer expires end of March, 2013. Free shipping + 2% reward apply. For details and orders proceed here.