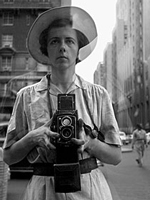 Priceless views of a nanny… A new documentary tells the life of unknown street photographer Vivian Maier who in New York and Chicago from the 50s onwards shot photos with her Rolleiflex that she zealously hid from the eyes of others. Taking snapshots into the late 1990s, Maier would leave behind a body of work comprising over 100,000 negatives that were only recently discovered. Now there is a documentary, "Finding Vivian Maier." See the trailer below.
A free spirit but also a proud soul, Vivian became poor and was ultimately saved by three of the children she had nannied earlier in her life. Fondly remembering Maier as a second mother, they pooled together to pay for an apartment and took the best of care for her.
Unbeknownst to them, one of Vivian's storage lockers was auctioned off due to delinquent payments. In those storage lockers lay the massive hoard of negatives Maier secretly stashed throughout her lifetime. Vivian Maier's photos were seemingly destined for obscurity, lost among the clutter of the countless objects she'd collected throughout her life.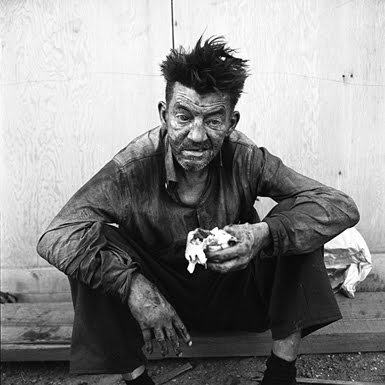 Her massive body of work would come to light shortly before her death when in 2007 her work was discovered at a local thrift auction house in Chicago. From there, it would eventually impact the world over and change the life of the man who championed her work and brought it to the public eye, John Maloof, a then 26-year-old realtor and hobby historian who bought a box with 30,000 negatives.
Well aware that he's in the possession of a treasure trove, he was able to buy altogether 100,000 images with 700 rolls of undeveloped color film and 8mm and 16mm movies… But he only found out who the photographer was when he read Maier's obituary notice in a Chicago newspaper.
Now there is a film bringing to life the interesting turns and travails of the improbable saga of Maloof's discovery of Vivian Maier, unraveling this mysterious tale through her documentary films, photographs, odd collections and personal accounts from the people that knew Vivian.
With her photos destined for the trash bin, we still don't know if Maier didn't want to develop her films or if she couldn't pay for it. For 40 years she had as a nanny and photographed her life, neighborhood and the world as she saw it. Maier piled more and more boxed with undeveloped films, hiding one of the most remarkable photographic oeuvres of the 20th century.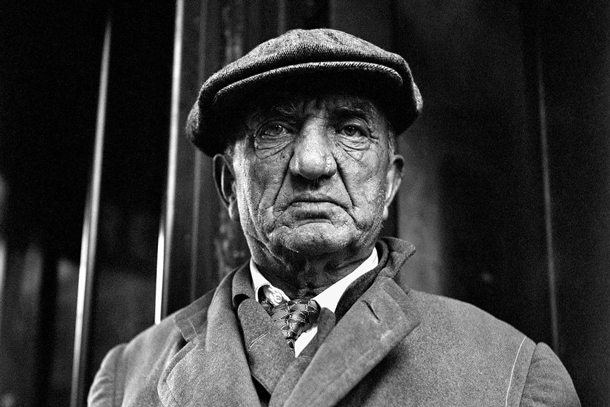 The American of French and Austro-Hungarian extraction bounced between Europe and the United States before coming back to New York City in 1951. Having picked up photography just two years earlier, she would comb the streets of the Big Apple refining her artistic craft. By 1956 Maier left the East Coast for Chicago, where she'd spend most of the rest of her life working as a caregiver.
Maloof wrote the book Vivian Maier — Street Photographer.
In the documentary he tries to find out who the secretive, reclusive Maier was. He talks to former friends and families Maier worked for. "We certainly had no idea that she took photographs," says an interviewed man. "She wasn't an open person", recalls a woman. "She was a closed person."
"She liked the worst parts of town," we're told, and "maybe we didn't understand her."
Maier's a unique, important contemporary witness we'll never see again. Our days' Vivian Maiers are killed by the flood of digital imagery that steamrolls quiet observers such as Maier was one. Only in death this unique woman street photographer is getting the fame she never had in life as an artist.