Must say I was pretty excited when I got the Canon EOS M — "M" = mirrorless? — for testing. But to cut a potentially long story quite short: Canon, this camera is nice, but so slow, please go back to the drawing board. In the mirrorless world, in my book, the Olympus OM-D E-M5 remains the benchmark. Not only for its ergonomics, 5-axis stabilization, AF speed and optics; but for a product that has grown organically into a nearly perfect camera. Canon took their time. But frankly, the Canon M offers ease of use and good IQ in a compact package. But what camera doesn't these days. The Canon M presents — to put it mildly — not a single light bulb moment, and that's especially frustrating because you'd expect something more thought-out, more challenging from the market leader. Still, the EOS M has one major ace up its sleeve: it truly embodies functional and design-wise minimalism.
(BTW: I'll update this review with ISO and blurred background bokeh samples once I get hold of the SD card holding the samples…)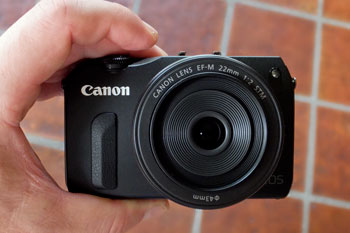 Mirrorless, in the end, is nothing else than the miniaturization of the classic pentaprism SLR. Promising the same photographic comfort and quality, mirrorless has come great lengths since its inception only some four years ago. Mirrorless revolutionized cameras as we always knew them. Mighty Canon hesitated, and hesitated… and jumped on the bandwagon with considerable delay.
Their first mirrorless offering, the modestly looking EOS M, might not look like a groundbreaking, revolutionary photographic tool, and it is no groundbreaking, revolutionary tool. It's a camera that works. Nothing more, nothing less, with not the least hint of a minimum of sex appeal. Sure that's no deal breaker, but when I'm shooting a camera I at least want to feel good about the camera. A nice camera must be a pleasure to be held, must be also visually attracting. The EOS M leaves me completely unemotional. It's just a camera.
The Canon M is a well built camera for that; a camera that performs as most others do — with the exception that an EOS M mount adapter lets you mount native Canon glass. So finally there's a more pocketable solution for Canonians at about two thirds and half the weight of a traditional DSLR.
Still, after all the ranting, there is one thing the EOS M does considerably better than other mirrorless cams:
The M literally embodies the spirit of mirrorless by reducing buttons and functions to the bare essentials. Nothing more, nothing less.
For instance, you'll search in vain for a dial or button to enlarge an image in playback. There ain't any. Enlarging is done via touchscreen which you can pinch, iPad style, to examine photos.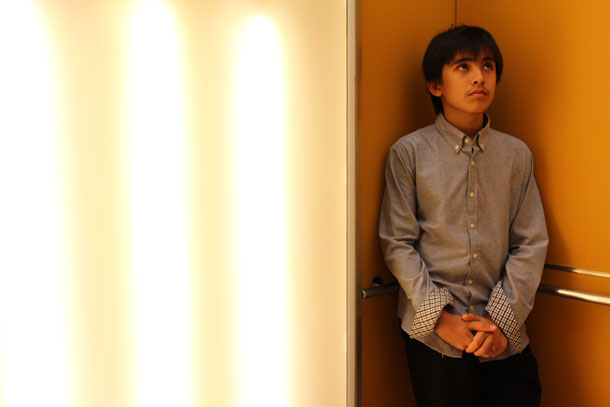 The touch panel is the camera's brain. Canon says apacitive touch panel was chosen based on ease of operability to allow touch, drag and multi-touch operations.
While most mirrorless cameras aim to copy their larger, more and more outdated ancestors in terms of operation, Canon strips down its mirrorless M down to what is only absolutely necessary.
If you like minimalism, you'll like the M.
Welcome to the glorious world of touchscreen interactivity. Simply touch the screen and enlarge and move the image by the power of your fingertips.
Autofocus point? Simply position it with your fingertip. Easy peasy lemon squeezy. Why complicated when life can be so easy.
Touch Shutter? How convenient. By the tap of a fingertip shutter button is fired. Just sit there and tap.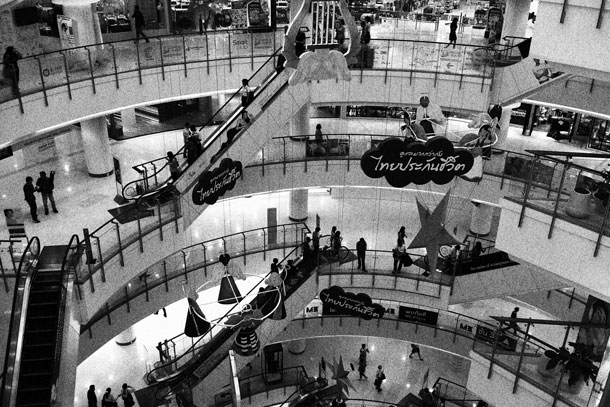 In the Box
First unboxing impression? It's a sturdily built little body with surprisingly plane ergonomics. I like the weight, like the thumb and finger rest and the overall feel of the body. Seems to sport a reasonably scratch-proof finish, so no need to be overly protective of this gear. And the e Movie Start/Stop button inside the thumb rest is supposed to be prone to accidental triggering.
It's a small camera, but not too small to be held with one hand… for a few seconds. The grip's not really a grip. What's nearly impossible? Holding the camera with one hand and pressing the movie button. Reductionism obviously comes at a price.
Well then I attached the strap, you never know — and joy of joys, have you ever been attaching a Leica M digital's strap? Look what Canon does: by the simple turn of a screw the strap is attached (and detached as easily). No more fumbling. Other camera makers, have a look.
The EOS M package comes with three DVDs each for Windows and Macintosh: Softare Instruction Manual, Instruction Manuals and EOS Digital Solution Disk Version 25.4 including Digital Photo Professional 3.12, ImageBrowser EX 1.0, EOS Utility 2.12, PhotoStitch 3.2, Picture Style Editor 1.12 as well as EOS Sample Music.
Quite a package, but didn't touch any as all I need is CS.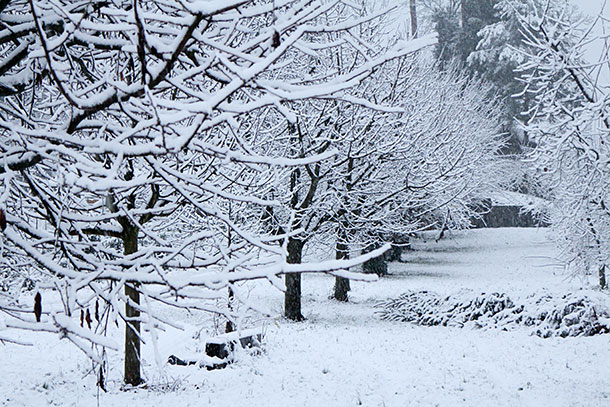 And kudos to Canon for including a printed manual. Call me old-fashioned, but who reads a DVD or online manual?
Oh, and not to forget the Speedlite 90EX, a flashgun for the little Canon. Comes with its own pouch.
Ease of Use
The functions and control need getting used to at first. The menu is simple and plain. The camera is obviously not aimed at the seasoned DSLR user.
The EOS M offers the usual modes in Basic Zone modes, such as Creative Auto, Portrait, Landscape, Close-up, Sports, Night Portrait, Handheld Night Scene and HDR Backlight Control — including Auto and Manual exposure. As default setting I'd choose Manual in Basic Zone, gave me the overall best results.
For a complete look at the M's functions and operation have a look at the instruction manual.
Manual exposure works like a breeze. You can see live on the LCD screen how aperture and shutter speed change the exposure. There's also a convenient over- and underexposure control, with which you can watch your picture change in live view as you alter the aperture or speed. Lovely.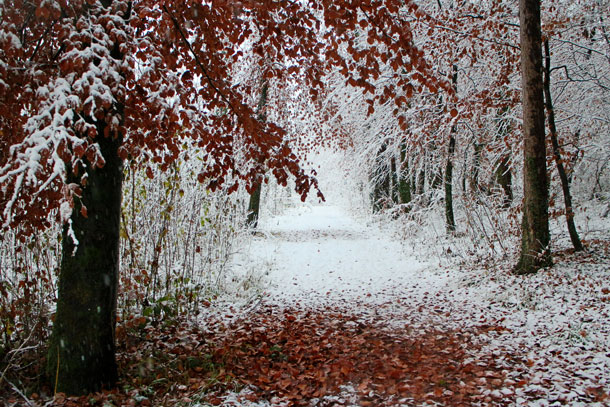 It's a no-nonsense camera. The EOS M does well what it does and offers a few surprises, but it does nothing outstandingly well.
Take the automatic background blur in CA mode (Creative Auto Shooting). Sony masters this, Fujifilm's solution is also not too bad. The EOS M? A slider lets you choose between blurred and sharp background… Depending on the lens used and shooting conditions the background may look more blurred, but even my cheap Fujifilm F750EXR point-and-shoot renders a smoother, more beautiful blur.
Speed, however, and that becomes clear after the first few shots, is not a strength of the EOS M.
The camera literally forces you to slow down. AF may hesitates and hunts in many cases, and boy I do have to mention the hibernating startup time of some 1.5 seconds. That's so yesterday, Canon. The slow startup time is hardly the reason for missing a shot. Still, most cameras in 2012 are near-instantly ready to fire when switched on. Not the EOS M.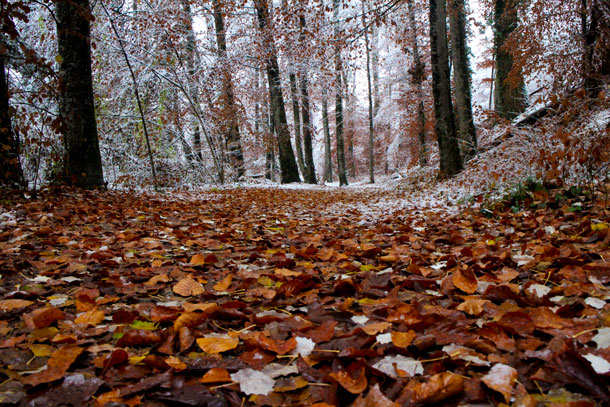 It soon becomes clear that it's hard to believe that Canon couldn't come up with the technology to provide an overall snappier, more responsive experience. Once cannot avoid thinking that Canon might not yet want to kill their golden calf, the DSLR market, but why present such an obviously half-baked product to delay the inevitable? In the mirrorless world, the competition is so much more ahead.
Speed won't be an issue for the average shooter. Speed, however, will be an issue for the serious enthusiast and even more so for the pro who wants to use the M with the adapter and L glass.
As the EOS M documentation I got from Canon said: "Be a Playfessional."
I think that says it all. Enjoy the pretty and scratch-resistant toy, but in terms of technology, well… don't let me say it. I really wanted to like this camera.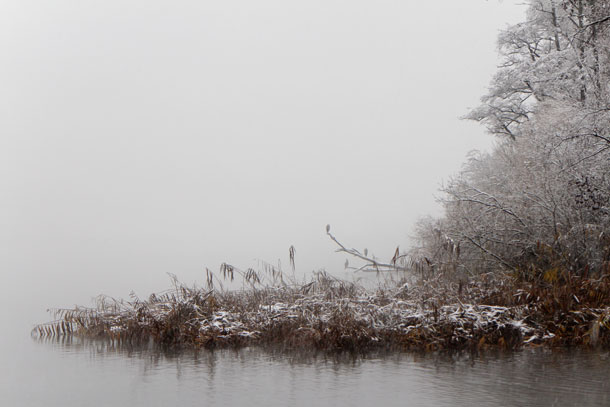 Yes, DSLR Image Quality, But…
Well it's not that bad. You get an APS-C CMOS sensor and DIGIC5 imaging engine, potentially realizing the same high image quality as EOS SLR cameras. 18.1MP provide enough resolution to maintain high image quality even in cropped images, and the 14-bit A/D conversion provides rich gradation, a wide dynamic range and realistic colors.
But the sensor and imaging engine are thwarted by less-than-optimal processing speeds. What's the use of a 1500cc Porsche.
Movie Mode
For videos, the output is again very satisfactory. Our EOS M video review is available here. Below you see a short video test — and a still shot in movie mode. There's one thing, however: You can still shoot full resolution stills in movie mode, but they're captured with a 16:9 aspect ratio: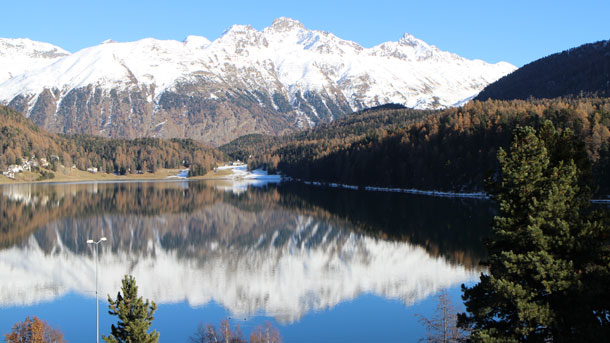 But again, no true image stabilization. Shooting video with the Oly OM-D is — sorry to be blunt — so different as day and night. Our short OM-D video test is here. That's right, you can walk with the camera and it looks stabilized. Impossible with the EOS M.
To ISO or Not
The EOS offers ISO from 100 to 12,800, expandable to 25,600. Here some samples at default settings with no additional NR applied:
(To be updated once I'm back at the office…)
Would I Buy the M?
So they say the Leica M is photography reduced to its bare essentials. I'd say: give the Canon M a try. It's a bland, not too exciting, nevertheless reliable camera. AWB is mostly spot on and the 22mm prime's bokeh is creamy enough for my taste, and boy am I choosy. Even the kit zoom can be a cream machine. Didn't like the dust specs that showed up in no time under the front lens element, but why bother about something that doesn't affect performance.
But… buy the EOS M?
Yes, if I have nice Canon glass and want a lighter setup. IQ is not far off the quality of APS-C DSLRs. The M's menu will limit you in certain ways, but for casual, not too serious shooting or as a backup camera the EOS M offers reasonable value for money.
Yes, the EOS M offers a good option for the keen photographer who wants the closest thing to DSLR quality in a compact mirrorless camera that takes interchangeable lenses. But I wouldn't buy the M if I'd be looking for a main camera. The product's just not yet mature enough. A second or third M generation may deliver the goods, and I'm mainly talking overall speeds. Be it startup, processing or autofocus speed — and the very slow write times! –, the Canon EOS M is just not where the competition already is.
It's a camera that just works within its limited range. Hopefully firmware can speed up things. I'm doubtful. Why would Canon release such a slow performer in the first place.
I don't mind the lack of an EVF or OVF, composing via LCD screen is convenient and just fine for this casual type of photography. Because the EOS M is the kind of all-you-do-is-press-the-shutter-button-camera.
But depending on the settings it takes ages until the M is ready for the next shot. Sorry Canon. Yes, you've kept your powder dry for a long time. But this M was definitely released prematurely.
There are just too many better alternatives available. Yes, I do love the Oly OM-D.
If picture quality alone counts, the EOS M certainly can deliver.
At the current prices, however, I'd go for a much faster, more responsive and more compact Nikon J2, even though it has a smaller sensor. The Canon M's just not yet where it hopes and pretends to be.
The M's a decent performer, but a bit boring and bland. If it absolutely has to be Canon mirrorless, pass this M and wait for the next generation. Can't be away too far.
+++ You can order the Canon EOS M from Amazon, B&H or Adorama.