Here she is, the long-awaited first Nikon full-frame for the masses, the Nikon D600, announced a few days before its direct competitor, the Canon EOS 6D. I'm not saying, am just saying, but a few days do mean a lot in today's fast-moving world. To begin with, I loved to shoot the D600. Nikon presents a thoughtfully crafted, weather-sealed full-frame for enthusiasts camera. Canon offers other, additional features such as higher standard ISO, built-in GPS and Wi-Fi, but no on-board flash. GPS and Wi-Fi are convenience features I could easily live with in a D600. But how essential are they for photography. It's as if Canon wasn't trying hard enough. The D600 gives you what you need. It is more camera than many will ever need.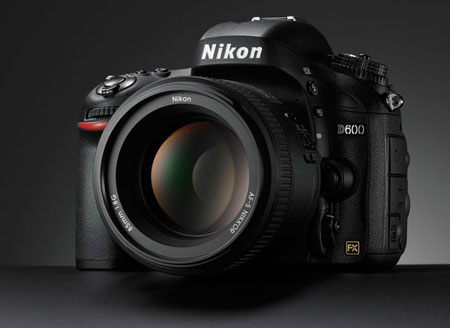 But isn't it telling, the cycle of a Nikon announcement closely followed by a Canon announcement; a cycle that has been repeated over the past few months.
Nikon announces the D800, a few weeks later Canon follows with the 5D Mark III. Nikon announces it's mirrorless system, a few months later Canon announces its own mirrorless system.
Am not suggesting that Canon uses the slightly delayed timing of releases to make sure to have the edge over its arch rival. But it would make some sense.
Nevertheless, even as the first incarnation of a new lineup, the D600 doesn't have to fear the 6D. Nikon releases a highly capable, well-thought-out camera that sure manages to please the most demanding photographer. Albeit nearly a third cheaper than its bigger, more powerful sibling, the D600 doesn't feel and perform at all like a stripped down compromise. A pleasant camera. Extremely functional, and not only for the masses.
It goes without saying that Nikon's best selling full-frame HD-SLR, the D800, offers more controls, a faster maximum shutter speed and other extras that no serious photographer does want to miss.
But let's be honest. How often do you really need a shutter speed of 1/8000th of a second. And for my needs 36.3MP are an overkill. The D600's 24.3MP (6016 x 4016 pixels) work just fine.
With 5.5 fps compared to 4 fps the D600 even offers a faster continuous shooting speed at full resolution. Actually, in 1.2 crop mode the D800 shoots 5 fps and with the optional battery grip 6 fps in DX mode (5 fps if you're just using the camera's internal battery). Still, overall, for $800 less you get a hell of a camera that doesn't handicap a photographer the least.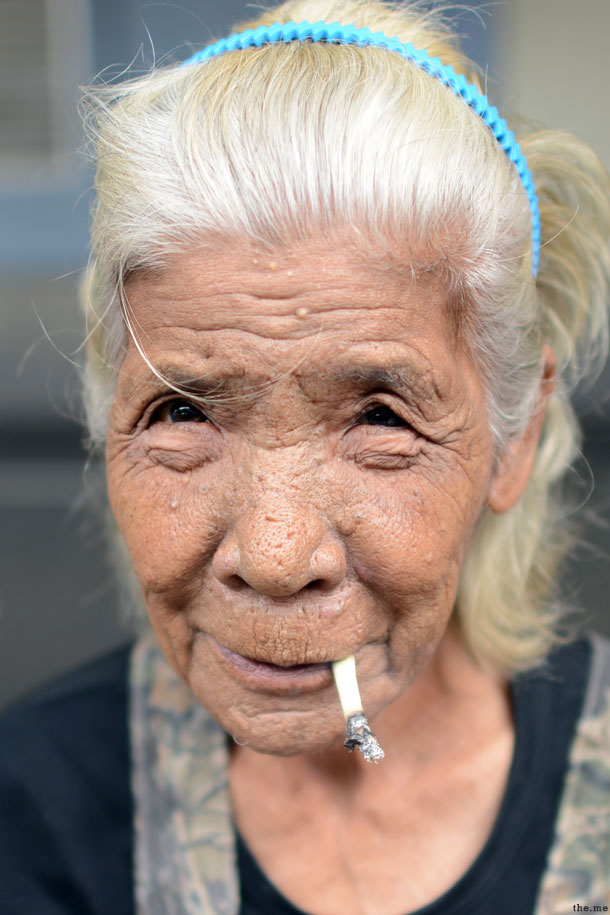 Where's That Full-Frame Feel
Handling and image quality of Nikon's "lightest, smallest and most affordable full-frame" HD-SLR are closer to the D800 than D700. The real gap lies between those cameras and Nikon's flagship D4 offering 10 fps and everything you need if you depend on and love the extremes.
I would even go further and argue that the differences between the D600 and D800 are more a marketing than a real world issue. Sure the D600 holds less detail. But did negligibly less detail ever ruin one of your photos? Fine detail is more a question of the glass used. So pair your D600 only with the best available lenses you can afford, and you're likely produce an output that's on par with the D800 if you're not working in a very challenging shooting environment. But who does.
If you're mainly working in dim light and shoot fast action, the choice is obvious. I like to work in dim light, the D600 however performed just fine up to maximum ISO. More on the low-light performance further below.
Overall, the D600's weight, materials and ergonomics feel nice and well balanced. The camera, with battery and card, weighs 850 grams, that's 70 grams approximately the D7000's weight with battery — versus the D800's 1,0000 grams. 850 grams plus lens feel solid, the ergonomics please, even though Nikon could have spent a little more time on designing that built-in grip.
It's a squarish thing that feels kind of awkward. The middle, ring and little finger automatically find their intended positions, but especially the ring and little finger wouldn't mind to rest a little more comfortable.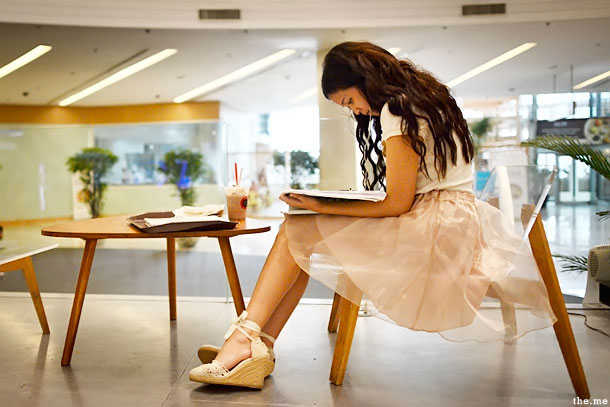 I was testing the D600 alongside a friend's D4… well I guess you get what you pay for. Despite being a big, clunky beast, that D4 is a smooth darling to hold with a perfectly molded grip.
Well we all know, the D600 is a tuned down D800, or to be more exact: a D7000 on steroids. The grip will tell you so. On the other hand, when shrinking the body there's only so much space left between the grip and mounted lens.
That's why the D600 feels more like a D7000 than a D800. Not much to moan about the D7000, it's just that the D600's feel doesn't provide the "sensation" one would expect from a full-frame HD-SLR. But then again, the D600 is marketed as an entry-level full-framer for serious shooters. Not too perfect ergonomics are a fair price to pay for such a nice sensor in a compact body — and about the only major complaint I have.
Besides auto-bracketing restricted to three exposures — that's ridiculous for a camera of this price. Ancient cameras manages nine. Cheapskate firmware crippling is not appropriate at this level.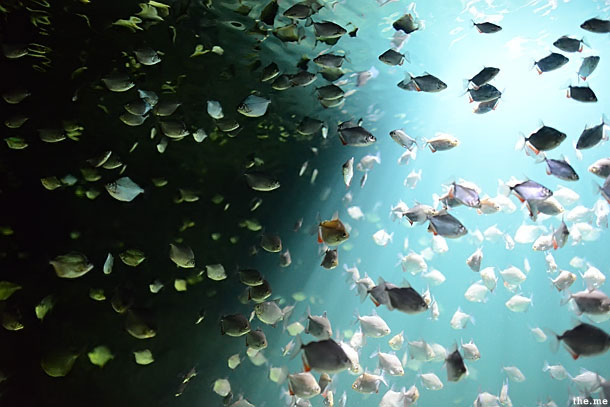 The D600 Ain't Need Much Post-Processing
Now let's talk about what really matters: image quality. The photos you see in this review are hardly post-processed. Resizing, that's it. You might prefer punchier colors and deeper blacks. This here is what the D600 produces out-of-camera without putting much effort in it. The JPEG files would offer lots of room to bend and tweak the images. But this is probably one of the first cameras I've ever worked with that I didn't have the urge to "improve" the files. I happen to like that D600 output just the way it is. Others might feel the same.
Even the scenes from the market, they're all shot late at night with no daylight at all. Even under artificial light, the D600's white balance is pretty much top-notch. You can try Photoshop's Auto Tone, Color or Contrast. They won't change much. Because there's no need. Because those files straight out of the camera are mostly spot on.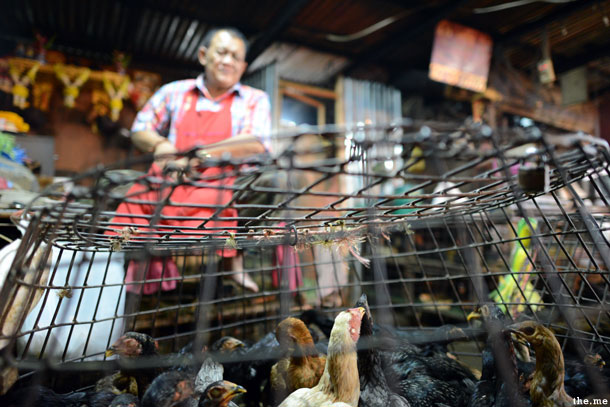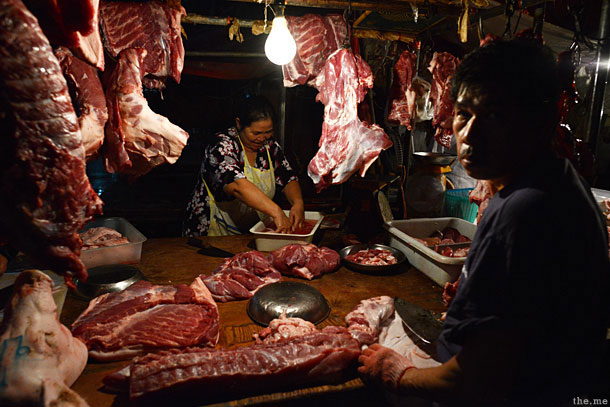 The D600's flesh tones are natural and discreet. While other camera makers prefer a more saturated default look, I like the plainness of the D600's colors. Not too loud, not too contrasty, just right. You can easily pep up the files though. I find no need to.
All the images here are shot in JPEG with normal settings. Most will prefer to shoot and develop RAW, but I think a camera in this day and age — first and foremost a top-level full-frame camera — should produce reliable out-of-camera JPEG output. Especially when working in the news and reporting business, you don't have much time to edit and doctor images. RAW is king when you got time. JPEG when you want to save time.
That D600 is a great camera for journalists. It works pretty much straight out of the box. No curves needed, no punch to add, hardly any noise removal. Simply no post-processing worth mentioning. Awesome job Nikon. Can't wait to get my hands on a Canon 6D to compare. On paper, the Canon might have an edge over the Nikon in the all-important department of ISO sensitivity.
Truth is, the Nikon has the bigger viewfinder, two SD card slots, 39 vs. 11 AF points, faster fps, more megapixels and 1/200 vs. 1/180 flash sync.
And Canon's higher standard ISO? It's well known that their higher numbers might be more marketing than usable ISO. Color blotches, anyone? It's probably safe to say that the D600's standard maximum ISO of 6,400 looks nearly as good (if not better when downsized) as the 6D's 25,600 standard maximum ISO. We'll have to wait and see.
After what I've seen from the D600 it's difficult to believe that the 6D will produce even cleaner files. Because honestly, this Nikon full-framer makes the life of a photographer already really easy. I'm used to having to play a little with digital files. The D600 is news to me. It's output offers peace of mind. Just trust the camera, relax. That's particularly important when you're working in the field and are under pressure to deliver in time. Those D600 files are edited in no time, that's a huge selling point if you ask me.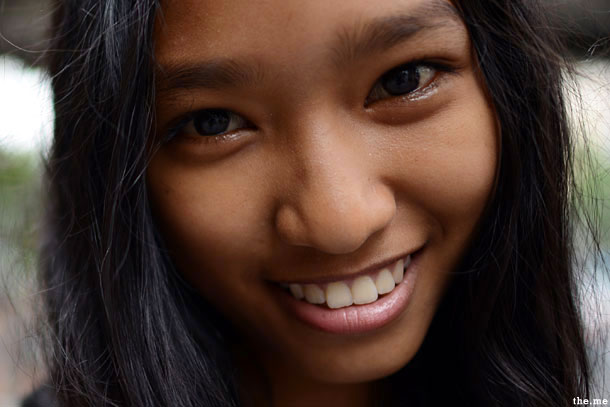 Modus Operandi
Anyone coming from Nikon will feel right at home with the D600, despite its new button layout on the left of the LCD screen. It's quick and easy to change focus mode and ISO settings. I didn't even feel like needing the dedicated Fn button on the front. I went for the Virtual Horizon in viewfinder. You sure have a better idea. The D600's implementation of the virtual horizon is rather archaic compared to, for instance, the Olympus OM-D E-M5's dual-axis virtual horizon. But that's hardly a deal breaker, and the bright 100% viewfinder makes up easily for anything you see through that pentaprism.
In daylight — it's sunny around here — I made good use of the low ISO settings, extendable to ISO 50 (L 1.0). Base ISO might be even cleaner, but what I saw gave me no reasons to change much. Combined with the right glass base ISO turns the D600 into a cream machine. And this with a camera for $2k. Full-frame clearly has become something as normal as APS-C or Micro Four Thirds. And that's just the beginning. Enjoy to start reaping the benefits. Awesome!
What's Missing?
High ISO complaints? The shark images are shot at ISO 6,400. That's at maximum default ISO, even though you can push the camera to H 2.0, that's ISO 25,600. Those ISO 6,400 images are not cleaned. In-camera NR is off without any post-processing noise removal. Must say, that noise doesn't even look ugly, what more you want? Sure, if you inspect the full resolution images the smoothness is lost. But you won't find the color botches that are common at Canon's higher ISO.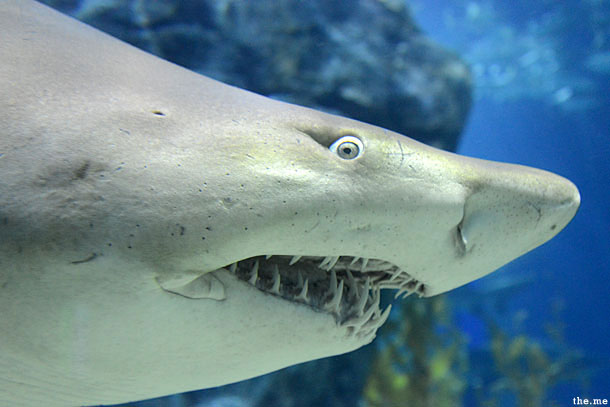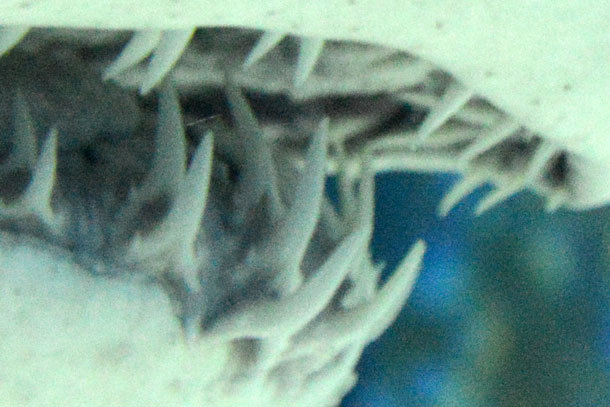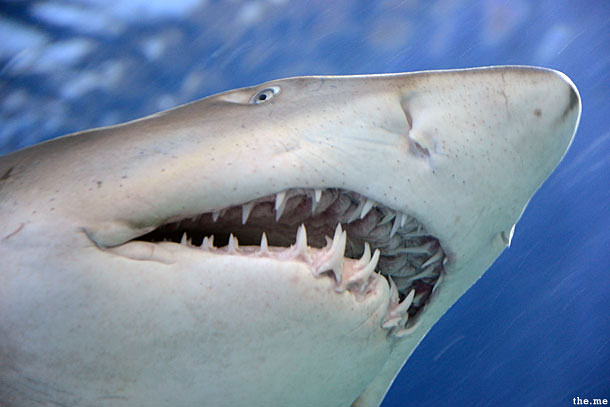 Still, life's not perfect, and neither is the D600. What am I missing? The articulate LCD screen.
Coming from mirrorless that's standard package. It should be full-frame standard, but somehow, guess according to "pros," it's still considered to be "consumer" and point-and-shoot stuff. Nonsense. An articulating screen can literally save lives. I had to give up on a few shots because the live view angles were too awkward. And I hate shooting in the dark. Wouldn't happen with a tilting screen.
Without a tilting screen you're forced to guess and just fire that shutter button. That's random shooting and not good enough. Again, an articulate screen has to be the norm. The only full-frame camera to offer a tilting and rotating screen is the Sony SLT-A99. It's the Sony again that tries to make the difference. I guess over time all cameras will have to move away from a fixed screen. It's legacy, really.
Hail the Battery
And the battery, that battery lasts. When I tested the applauded Olympus OM-D E-M5, that little stunner run out of juice within a few hours. Not so the D600. Try to drain that battery. Fully charged, without using built-in flash and with short review mode of images, you may well shoot close to 1,000 pictures. Nikon says 900. One charge kept me going throughout the day. Kudos Nikon!
The D600 offers many other bells and whistles, such as Time-lapse Photography mode, an extensive in-camera Retouch Menu with the usual filters, or Active D-Lighting. That's especially helpful in severe backlit situation when the subject/object is in full shade and the camera faces directly into the sun.
You can also Fine-Tune Optimal Exposure. But that's another of those digital camera gimmick settings that may make sense in a very controlled shooting environment, such as a studio. If you're able to properly expose your images there's no need for presets and the extra menu. Stick to the basics, learn how to work with aperture, shutter speed and light. It's photography's blessed trinity. It's all about those three. There's nothing else you'll ever need. Master them, and you're fine.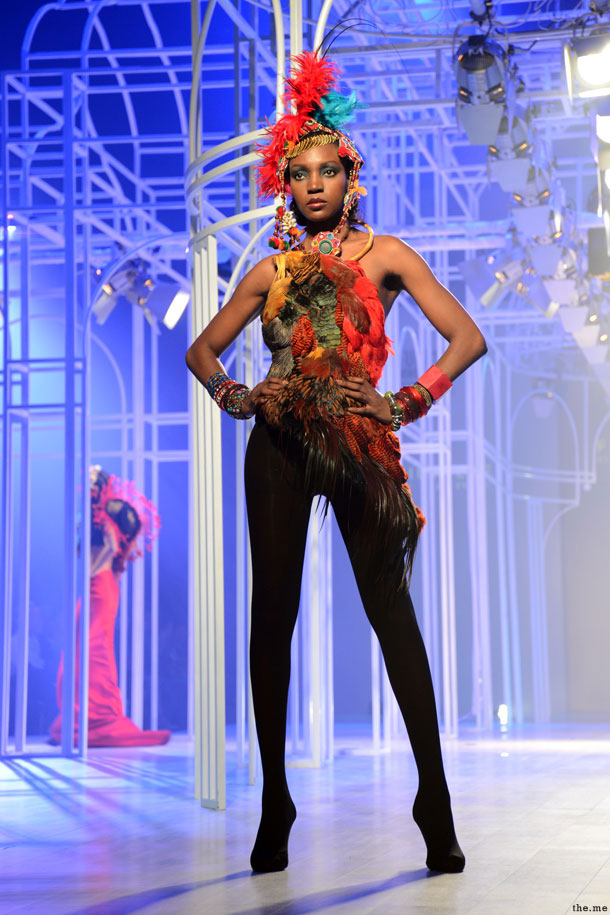 But turn that darn bright AF assist light off! Gosh it scares away people. It's really bright and autofocus works just fine with that bulb turned off. The light draws unneeded attention. In certain shooting situations you'll depend on it, but forget it for street photography. It can kill shots, really, because there's nothing left to shoot when an unaware subject/object gets blinded by that illuminator…
A word about the autofocus: even 3D and Auto mode work amazingly well. Didn't do any in-depth AF speed tests, but you can comfortably rely on. Nikon has included 39 AF points on the D600, substantially more than Canon 6D's 11 point system. This is fewer than the 19 points found on the APS-C sensored 7D, and just two more than the 60D. Guess that says something about the Nikon, even though I'm a single spot or center-weighted area shooter.
Other in-camera settings such as High ISO NR I'd keep turned off as a rule. Noise removal, if ever needed, is work for post-processing. A different story is Long Exposure NR for specialized photography.
Am not a big fan of the D600's two-shot HDR mode, superimposing an image on an image. This mode is difficult to shoot without a tripod. With a little bit of luck, static subjects/objects and a very steady hand you might just nail it. The camera doesn't even attempt to make those two shots look like one — my cheap Fujifilm point-and-shoot does, for instance with the Pro-Light Mode. Four images become one. So forget the D600's in-camera HDR when on the go.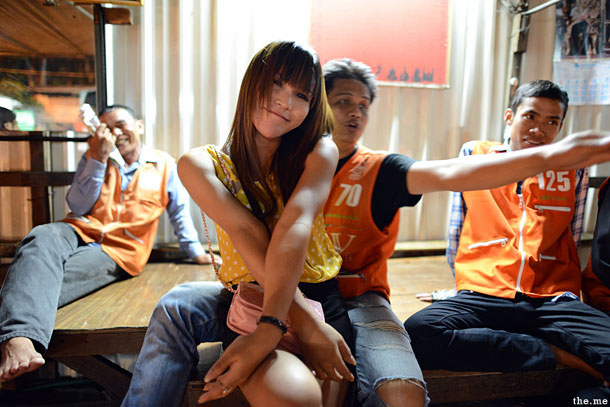 THEME's Take: The D600 Can Do!
I'm not much of a videographer, so this little review is about stills only. I trust you can rely on the Nikon D600's video capabilities. Long a stronghold of Canon, the video specs of the D600 and 6D are identical. So my conclusion about the D600 as an old-fashioned picture taking machine?
Spent a pleasantly stress-free time with this full-frame camera. Shooting was what photography is supposed to be: fun. I love the handling and output of the camera. Nikon was so kind to top the camera with fast prime lenses to get the best out of that body. What else can one want.
I doubt that the D800 can give you significantly better dynamic and tonal range. Yes, they are different cameras for different users. Some actual feature differences are less important to some, but critical to others.
I belong to the "some." Even the D600's noise is a no-brainer. This camera poses no limiting factor whatsoever. It does what you want it to do. It works. Worried about noise and detail? There's no reason to worry in real-world shooting situations.
The D600 produces gorgeous results. But frankly, if you're still asking yourself whether you should go for the real thing, you might find yourself disappointed soon. The D800 only costs a few hundred dollars more and certainly "feels" more like the real thing. But that's about it.
The D800 won't give you dramatically better pictures. On the contrary, there's not just the added size and weight. The huge files require a different workflow and you might have to upgrade your computer. You might even be forced to shoot with a tripod because the D800's resolution shows the photographers' and lenses' slightest weaknesses.
True, according to specs the D800 is the better, more mature full-framer with not only the better metering system. On paper this should show up in shooting. The D800 is marketed as a whole different league. The marketing of the cameras, however, marks the one major difference between the two cameras. Neither shoots much better or much worse images. Full stop.
D600 or D800, this question is in a way like the difference between the D800 and D800E. Even experienced photographers pore over the two cameras' files trying to discover discrepancies. Most don't. In real-world usage the D800E's missing anti-aliasing filter offers no clear benefit. Only in very specialized photography you might find a hint of an advantage. The difference is mostly, again, a marketing thing.
The same applies to the D600. It's not a compromised D800. The D600 is on the contrary a bold, mature camera that for many is even easier to hold due to its size and weight, and easier to control due to fewer menu buttons and a less extensive user interface.
Would I instead go for the D800? Again, I reckon the differences between the D600 and D800 are more of a marketing nature. Sure the D800 gives you more detail, more everything. But how essential are those better technical specs in real-world photography?
Just ask yourself what you really need. And trust the D600 can do. High ISO? The D600 is perfect for available light. Didn't use the on-board or any flash a single time.
If your budget is tight and if you can do without the extras, you won't lose one minute of sleep over the D600. The D600 is intended to work and operate a bit more amateur than the bigger sibling. Nevertheless, a great violin player is able to make any violin shine. The D600 offers all you need. Great hardware, the essential controls, fantastic sensor. If still in doubt, go test it, shoot it and look at the files. You won't look back. What more can you ask for from an affordable full-frame camera. But in broad daylight, with an F1.4 wide open, I could have used that 1/8000th of a second more than once…
+++ If you like what you read here, please support THEME. You can order the D600 from our affiliates Amazon, B&H or Adorama. Or go for the kit with the 24-85mm F3.5-4.5G ED VR lens (Amazon, B&H, Adorama).
(For more information on the D600, read our dedicated, continuously updated The Nikon D600 Review File.)
+++ BTW, interesting as well what Ken Rockwell has to say in "What's New in September 2012." This might be music in your ears if you're considering the D600:
D600, D800 and D4: All the Same Guts!

Holy cow, I just realized Nikon's big deception: the D600, D800, D800E and D4 are all the same cameras designed and produced in parallel at the same time and all have the same insides, producing the same images with the same processing power, same LCDs, same green-shift problems and identical AF controls. They differ only in exterior packaging and when Nikon chose to announce them to make them appear different. It's just like 1980 again!

Back when Nikon ruled the pro 35mm world, all their 35mm cameras took the same pictures. The only differences were how tough and how fast they were. Consumer cameras like the EM were plasticy and worked OK, while the F3 was tough and fast, with the FE in the middle. All took the same film and same lenses, had the same meters, the same automatic modes, all focused the same, and all took exactly the same pictures.

You paid more for speed and durability, and Nikon advertised to everyone implying that if you wanted to be cool or to be a great photographer, you needed the most expensive camera — even if you were shooting portraits or landscapes, none of which require speed. Nikon showed Galen and other sports and action pros, somehow implying that even if you didn't need speed or durability, that you still needed to buy the top pro camera if you could afford it. Nikon never let on that the EM took the same pictures, cost less, and did the same thing with a lot less weight.

Unless you weren't shooting sports with a motor drive, it just didn't matter.

Today, Nikon's 2012 FX trio of D600, D800 and D4 obviously were all designed and manufactured at the same time with the same innards, and merely announced in descending cost order at different times to try to hide the simple fact that they're the same camera inside.
Told ya so! Digital photography is a lot about marketing.