And some thought the camera is a dying breed. The all-in-one über-smart dream device combining camera, phone, Playstation and whatever remains as desired as illusive. Or as Apple chief executive Tim Cook put it, some products should not be brought together.
"You can converge a toaster and a refrigerator, but you know those things are not going to be probably be pleasing to the user," Cook told analysts during an Apple earnings call.
It's like a fridge mating with a toaster.
Same goes for the camera, defying the smartphone onslaught. The good old came refuses to die.
Here's an interesting background story by Reuters' Asia chief technology correspondent Jeremy Wagstaff:
STILL IN THE FRAME, CAMERA DEFIES SMARTPHONE ONSLAUGHT
SINGAPORE (Reuters) — While most attention in the gadget world is on the breakneck pace of innovation in mobile phones, tablets and computers, another device has resolutely refused to die: the camera.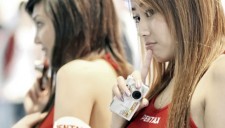 Despite the onslaught of camera phones — the iPhone 4 has this year become the most popular device for posting snaps to the photo-sharing website Flickr — cameras are still being sold. Japan, the world's largest manufacturer, shipped nearly three times as many cameras in January as it did in the same month of 2003, when the camera phone was still in its infancy.
"For several years, it has been predicted that smartphone adoption would cut into digital camera sales," said Prashant Malaviya, Associate Professor of Marketing at Georgetown University's McDonough School of Business. "In fact, the exact opposite has happened."
Driving this is a number of factors, analysts and enthusiasts say. And, while most point to a continuing role for cameras for both professional and personal users, the device's future is far from assured.
Firstly, photography is personal. We may be happy taking snaps with our cell phone or simple point-and-shoot camera, but it turns out that most of us won't entrust key memories to such basic devices. Surveys by NPD In-Stat last November show that while more than a quarter of all American photos were taken by a smartphone, more people were buying cameras with detachable lenses or cameras with optical zooms of 10x or more.