I'm not saying, I'm just saying that's what 24/7 Wall St. is saying: Each year, 24/7 Wall St. identifies 10 important brands sold in America that they predict will disappear. This year's list reflects the brutally competitive nature of certain industries and the importance of not falling behind in efficiency, innovation or financing.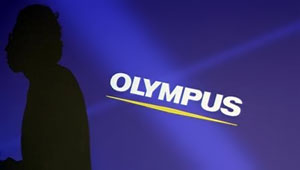 Not sure, however, if they refer to the whole Olympus brand or just parts of its camera business when they say:
The Olympus digital camera also will disappear from store shelves by the end of 2014. Camera sales, especially point-and-shoot models, have been eroded by smartphones, which have increasingly high quality cameras.
Among others, 24/7 Wall St. also predicts J.C. Penney, Volvo and LivingSocial to disappear. What's their analysis based on?
They use the same methodology in deciding which brands will disappear. The major criteria include:
Declining sales and losses;
Disclosures by the parent of the brand that it might go out of business;
Rising costs that are unlikely to be recouped through higher prices;
Companies that are sold;
Companies that go into bankruptcy;
Companies that have lost the great majority of their customers; and
Operations with withering market share.
Each brand on the list suffers from one or more of these problems. Each of the 10 will be gone, based on our definitions, within 18 months.
So Sony, new major shareholder, will let Olympus die, swallow it and make good use of patents they'd acquire? Or rather a Pentax-Ricoh kind of closing of ranks?
Here's the full 24/7 Wall St. analysis predicting Olympus' disappearance:
Except for market leaders like Canon, Sony and Nikon, no one wants to be in the digital camera business anymore. Worldwide unit sales are down 18% in 2012 since their peak in 2010 and are accelerating this year. It is no surprise then that Olympus, which only has 7% market share, has failed to generate a profit from its imaging business in any of the past three years. The decline caught the company's management off guard. Actual sales were less than two thirds of forecasts.

For the next fiscal year, the outlook is grim. Olympus expects compact camera unit sales to fall from 5.1 million to 2.7 million units worldwide. But these declines are hardly a new trend. A major reason for declining sales has been the increased adoption of smartphones — which now offer lenses and chips that capture high-quality images — as an alternative to digital cameras. Based on increased interest in high-end cameras, the company plans to focus on increasing sales of SLR cameras, which accounted for just 35% of its imaging business. Meanwhile, sales of its largest camera segment, compact cameras, will be cut in half. Of concern to investors, the company has pledged to stop issuing dividends until the camera business is restored to profitability.