B&H offers the stunning Blackmagic Pocket Cinema Camera for preorder:
Extremely small and light
Super 16mm CMOS
1920×1080 resolution
ProRes 422 recording
Rolling shutter
Mini HDMI output
Active Micro Four Thirds mount
$999 and July release
Says EOSHD — oh yes, Andrew Reid's excited: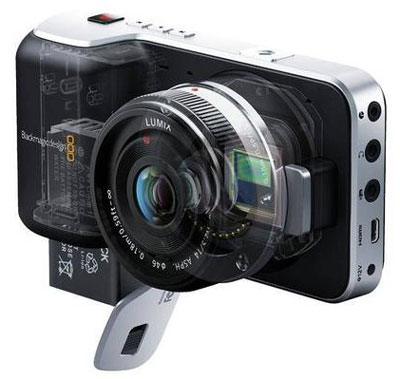 A pocketable BMCC M43, doing what the Bolex Super 8 movement did in the 1970s putting film in the hands of consumers, sub $1000. A new Super 16mm CMOS sensor should help avoid supply issues — it isn't the same chip as the trouble BMCC used. Camera seems well advanced in development though a few basic things like audio-meters still missing. Very nice high resolution screen but seems to lack dedicated buttons for ISO, shutter, etc. Only aperture and focus assist have their own button. For those not concerned at the small sensor size or looking for 5D Mark III style low light shooting capabilities, it will be a perfect replacement for a DSLR on a budget as small as the camera itself (…)

The Pocket Camera is a nice form factor in my view. It has a proper grip and is absolutely tiny. The SD card slot is under the camera, I'd have preferred to have seen it on the side but other than that it looks very convenient to use especially on sticks. Handheld in terms of low weight and grip is good but stabilising it will require extra stuff and there you are back to the old DSLR / BMCC ergonomic issues. Think of it as a Sony NEX-5N with a nice upgrade in terms of the image. Battery life could be suspect – but I am sure third party battery grips will be available before long.

This is a camera that will set alight the GH2 community — I can see a lot of people embracing it. The price is incredible for film-like 10bit ProRes and it fixes a lot of the ergonomic shortcomings of the larger camera. Much lighter at 355g for a start! It may also improve the rolling shutter skew — the smaller sensor is a new chip and the smaller physical size should make for a faster rolling shutter scan.

Blackmagic are clear that the Pocket Camera is a film camera not a camcorder, so it isn't aimed at the same market the Sony NEX-5N is. My mum won't be buying one but it IS a stern test of DSLR video — will people still be interested in a NEX when they can have this for $999?
Order this little stunner from B&H.