Ever wanted to go medium format? Now's the time to: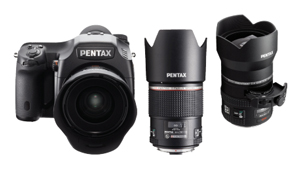 Until the end of March, 2013, Pentax is kicking two 645D promotions:
Promotion 1 — 645D Body and 55mm Lens
You purchase a Pentax 645D body and 645D 55mm lens and get the lens free ($1199.95 value).
Promotion 2 — $500 Pentax Visa Prepaid Card
You purchase a Pentax 645D body and get a $500 Visa Prepaid card when also purchasing a 645D 25mm or 90mm lens. For this promotion, one must purchase the 645D body and either 25mm or 90mm lens at the same time. This is a mail in consumer rebate. Find more information here.
You can order the promotions from Adorama.
As always, we appreciate you ordering via provided links. A lot of work goes into collecting all the information. When you buy gear via these links I get a small commission. Not much and you still pay the same price, but it helps cover the costs of running this site. Appreciate!
Please note: Promotion 1 and 2 can be used in conjunction with one another.
Furthermore, Pentax also has a K-5 IIs promotion:
Order one of three lenses (31mm F1.8, 43mm F1.9, 77mm F18) at the same time and get a $250 Pentax Visa prepaid card. This is a mail in rebate promotion.
For orders please proceed here.