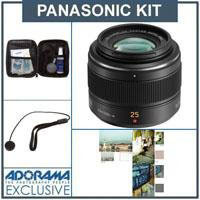 The much sought-after gem of a Micro Four Thirds lens is not only in stock again, here's a Panasonic Leica 25mm F1.4 lens kit:
For $589.96 you not only get this fast lens, a favorite of many Micro Four Thirds shooters. On top of it the kit gives you:
Tiffen 46mm Photo Essentials Filter Kit
Lens Cap Leash
Professional Lens Cleaning Kit
Available at Amazon.
If you want the lens only B&H has a limited quantity in stock again for the regular, not jacked up price of $549. Better hurry.