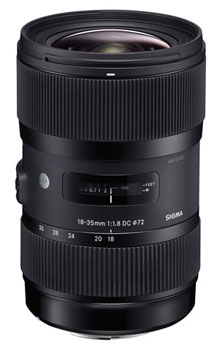 This one's for Canon, Nikon, Pentax, Sigma and Sony mounts: the rather revolutionary, market's first zoom lens to achieve a maximum aperture of F1.8 throughout the entire zoom range from 18mm to 35mm — which translates to a focal range equivalence of 27-52.5mm on a 35mm camera.
This outstanding Sigma lens was specifically created for DSLR cameras with APS-C size sensors.
Estimated believe-it-or-not street price: $799.
Now you can order the beauty from Adorama, estimated U.S. arrival time is July:
I'm not a fan of zoom, but this one looks like a master stroke.
For more information check out DP Review's first impressions and visit Sigma Photo.