Looks tempting, Windows 8? Finally Microsoft is thinking outside the box. Windows 8 and the new Surface tablet might convince some Mac users to switch allegiance. Could the new Microsoft offensive even give Apple a run for its money? And as a photographer, what are the pros and cons of Windows 8 and the Surface tablet?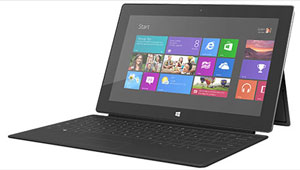 Windows 8 is to bridge the gap between the good old PC and mobile devices. With Surface you get one device that pairs the better qualities of the PC with the better qualities of the tablet experience. The new OS is the most dramatic overhaul of the personal computer market's dominant operating system in 17 years. It's reinventing how you interact with your hardware by seeing, touching, clicking and swiping. Sweet challenge, finally some more fun in computing?
But this is the, well, minor revolution: With its Surface tablet Microsoft for the first time sells its own piece of computer hardware. That's right, Microsoft tries to go Apple. As we all know Apple retains total control of the hardware that showcases its platforms, and produces the only systems available. Now Microsoft crosses a line by building an own product from scratch. Should Apple better be worried? Apple CEO Tim Cook called the Surface a "fairly compromised, confusing product" that does many things, but nothing really well.
So what's in the new Microsoft offensive for Photographers? First of all, Microsoft is opening a Windows 8 store featuring applications built to run on the system. Meaning photography apps are just a matter of time. So what's available in the Apple and Android and Nokia stores will soon available in the Windows store. BUT: Windows RT, the variation of Windows 8 the Surface device runs on, won't support current Windows programs and thus will have a limited selection of apps.
Confusing, right? Windows RT looks and acts like Windows 8 but doesn't have the same application compatibility. The Windows App Store currently offers some 3,500 apps compared to 275,000 in Apple's store. It will take at least a year or two until Microsoft's on par, if ever.
Still, there's a Surface Pro coming running full-scale Windows programs. The device will be heavier and more expensive. Just think Photoshop and Lightroom on a tablet. Desktop editing on the go might have never been easier, albeit Microsoft products were never known for the smooth integration and state-of-the-art simplicity Apple products stand for. We'll have to wait and see.
Furthermore, the Surface's option of a keyboard makes it easier to switch between tablet and almost-tablet on the fly. So you decide when you need the device for editing work or portfolio display. Neither of the two keyboards that double as a cover are included in the Surface that starts selling at $499 for 32GB or $599 for 64GB. The Touch keyboard version will add on another $120, the Type version $130.
Early reviews trounce the Touch Cover while the Type Cover with real keys seems to be the real thing letting you decide when you want the expanded keyboard of a laptop — or when you'll opt for the tablet experience.
Last but not least Surface offers smart stylus capabilities. A proximity sensor makes for seamless swiching between stylus and your fingers. And a new software architecture is supposed to help make graphics programs for photo and video editing work faster.
It's probably safe to say that the first incarnation of Surface isn't really custom-tailored for photographers. It's rather aimed at regular multimedia users, even though the 1,366 x 768 pixels display can't approach the iPad's 2,048 by 1,536 pixels Retina screen.
Additionally, you won't find any significant photography apps available for download and the Surface cameras are barely laptop quality. But then again, some photographers would like to carry a handy mobile devices on the run to store, process and send photos. They can hardly go wrong with a Surface.
Still, you can run Windows 8 on a tablet. If you get a Samsung Series 7 and run Windows 8 Pro on it you may enjoy a whole different experience from what Surface offers. Because of the processor architecture the Samsung Series 7 has a different hardware for effectively the same user experience. Early beta testers report a fast smooth OS experience.
My advise? Don't be an early beta tester. Wait it out. In a year or so Surface may offer a serious alternative to Apple's dominance in the photography world.