Many photographers are conflicted about the iPhone's place in photography. For many it's a toy that even lacks a dedicated shutter button. Yet which photographer isn't tired of lugging equipment around. These days some photographers even use the iPhone to shoot assignments. Photojournalism has become phone photography. Phono journalism, anyone?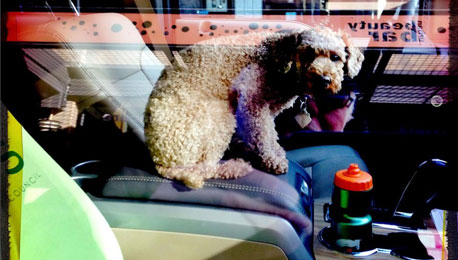 The best camera is the one that's always with you. With the emergence of digital photography cameras became beasts. You needed to go to the gym to steel your back to haul the gear. More and more we're profiting from Moore's Law.
Processing speed, memory capacity, sensors and even the number and size of pixels in digital cameras are improving at exponential rates. You get more for less in ever smaller, more convenient packages. I miss less shots with my iPhone than with the gear that takes better quality shots. Because the iPhone's more often with me. Do the math.
Today's Internet is awash with great iPhone photography, be it video or stills. Hey, even world renowned professional photographer Annie Leibovitz has recommended the iPhone as the camera people should buy: "That is the snapshot camera of today," Leibovitz told MSNBC.
Leibovitz, who is, possibly, most famous for her portrait photography of such subjects as Queen Elizabeth II, John Lennon (for the cover of Rolling Stone magazine, which was shot the day of his death), Michael Jackson, Bill Gates and many more, even went as far as to take a picture of anchor Brian Williams on her iPhone 4 (or 4S). However, pro snapper she may be, she left part of her finger in the way.
Admittedly, she does say that she's "still learning to use" her iPhone. But ain't that the case with any gear.
Shooting with an iPhone can be a liberating experience. Take iPhoneographer Alan Kastner. Hence further below we got five smartphones for you that can even replace your camera.
Fact is, you want a camera that's always with you. What better way than an easily pocketable smartphone — the simple reason why these seemingly underpowered cameras without depth of field control and lousy zoom functions created whole new markets.
iPhone photography is no longer only the amateur snapshooter's favorite new pastime. It's a gigantic industry by now that led to the development of countless iPhone apps leading yet again to the development of tons of iPhone accessories, just to mention the ingenious Mophie, a juice back power station that can keep your iPhone going in the most extreme conditions.
iPhone war photographers Teru Kuwayama and his colleague Balazs Gardi Hipstamatic would have loved the Mophie battery case. They belonged to the earliest adapters of the iPhone as the working tool of choice. Their preferred app? Hipstamatic — as its name suggests it's an iPhone app more associated with dilettantish hipsters than hardened war photographers.
The application, which allows iPhone users to take digital "Polaroids," had become the camera of choice for two experienced photojournalists who spent much time embedded with a battalion of the U.S. marines in Afghanistan.
"We didn't go out there expecting to use Hipstamatic," says New York-based Kuwayama, who first photographed Afghanistan. "We had several different cameras, lenses and video recorders," he says. But the pair settled on Hipstamatic both because of its retro aesthetic and because the iPhone "was the ideal, rugged piece of gear for southern Afghanistan". With its simple touchscreen, it didn't trap dust like larger cameras do, which was particularly handy in a desert location.
"Before, I would have three cameras hanging off me," agrees his colleague, Hungarian Balazs Gardi. "Using just the iPhone allowed me to move much more easily." The lack of a long lens also helped, Gardi says, because it forced him to get closer to his subjects. As a result, he and Kuwayama have created an unusually intimate series of portraits of both Afghan civilians, and U.S. servicemen.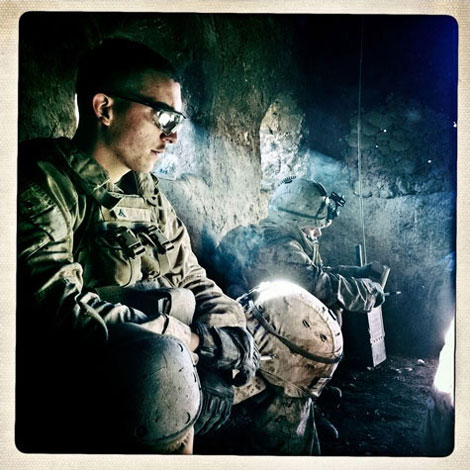 See Foreign Policy's story, "War in Hipstamatic."
Among the iPhone's biggest proponents is David Hume Kennerly, a veteran photojournalist who won the Pulitzer Prize at the age of 25 for a 1971 portfolio that included pictures of the Vietnam War.
Kennerly remembers the moment that "really sent me down the iPhone photo path," taking a photograph of a Dallas church on November 18, 2012: "When I got the Hipstamatic application, it really changed my perspective about this whole thing. It's kind of no-fault photography, in a way."
Check out Kennerly's Facebook page with hundreds of excellent iPhone snaps.
Kennerly has embraced the iPhone aesthetic so completely that it's as much an extension of his vision as any camera ever has been.
The lack of controls and settings on the camera, instead of being limiting, is freeing for him, he says, and it lets him concentrate on the subject at hand.
Like every other piece of equipment he owns, Kennerly figured out how the iPhone works best and uses it to his maximum advantage. But then again, it's neither the camera nor the apps that give his photos the punch. His photographs show the difference that having a photographer's eye makes, a maturity of vision that transcends any camera choice.
It's safe to say, today there's a new genre of photographer, the iPhoneographer who creates all of his images using apps on the iPhone or iPad. And where there is a market there is more and more choice.
The five smartphones here feature some of the best cameras available right now. Correctly used, they're capable of actually replacing your stand-alone camera:
iPhone 4S: Each new iPhone generation improves the camera substantially, not to mention the iPhone's camera apps. Hardware and software work together flawlessly. Photography has hardly ever been easier.
Nokia 808 PureView: It's a dedicated camera phone. Not the most desirable OS. But best phone camera on the market, period. Read THEME's take on this 41MP stunner here.
HTC One X: Running on Android the HTC has an 8MP F2.0 camera with a 28mm lens to provide a nice balance of light, speed and focus, even compared with some dedicated compact cameras.
Samsung Galaxy S II: Currently Samsung's leading Android device, but if you can hang on a few months wait for the Samsung Alaxy S III expected to bring an even better camera hardware to go with improved specs all around.
Nokia Lumia 900: My personal favorite, even though the 900 doesn't match the pure style and design of it's slightly older sibling, the Lumia 800. Besides a great OS you get a Carl Zeiss AF lens and top-notch hardware. Third party app support is nowhere near as strong as with the iPhone's and Android, at least for now.
Don't say you already dropped your beloved gear in favor of a phone.
(Based on reporting by the The Guardian, Chicago Tribune and Tecca.)