Too good to be true? Nah, it ain't no April Fools' Day joke: Philip Bloom reports he was asked to test an adaptor that turns current Canon or Nikon lenses (no EF-S or DX) and makes them faster, wider and better optically. Wild, crazy claims and if true, clearly beamed to us from the distant future!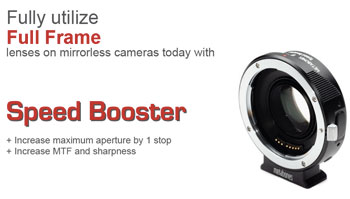 A future promised by a company called Leica R to Sony NEX inventing an adapter called Speed Booster that effectively reduces a full-frame to a cropped lens and thereby gives your mirrorles Sony NEX or Fujifilm X mount near full-frame coverage on a full-frame lens… more further below.
Revolutionary? You bet. In essence it's the opposite of a teleconverter. Rather than increasing the focal length and reducing the aperture, the adapter decreases the focal length and increases the aperture. This promises sharper images compared to using the same lens with a simple, non-optical adapter, as the visibility of aberrations is reduced.
After tests Bloom concluded:
In a nutshell, it makes your lens faster, wider and sharper! Yes, really. Have a look at the film and tests to judge yourself. It is that good!
Here's the film, for image test go to Bloom's post:
The test video is shot by Bloom's filmmaker pal James Miller who explains:
It's a really quick test with the new Metabones adapter. Filmed on the Sony FS100 over-cranked in camera. Single lens used, the EF Canon 17-40mm L F4. Shot at 24mm to crop out the window frame as I couldn't get the sticks any closer. I really just wanted to test to see if the adapter was usable.
What just happened?!
Does it work?
Well yes, says Bloom.
How?
Bloom:
I have no idea, but I think it might go something like this…

In essence, it's an optical adapter that attaches to the E mount of a Sony NEX camera (Super 35 sensor) and then to a full-frame SLR lens. The Metabones "Speed Booster" is a 0.71x focal reducer that will effectively turn your full-frame 50mm F1.8 lens into a 35mm F1.2 lens. Note, doing so (as a guide) will increase the aperture of that lens by one stop. Your Sony NEX Super 35 E mount will effectively have near full-frame coverage on a full-frame lens. It also serves "double-duty" as a lens mount adapter, from Canon EF lens (but not EF-S) to Sony NEX, with auto aperture and image stabilization.
Don't worry. When Bloom first tried to understand what the adapter did, "it made no sense to my tiny brain," he wrote.
You have to read his whole paper… Enough material to keep your brain busy for a long time. And better read Metabone's technical white paper as well…
Explains DP Review:
The wide angle converter is made possible by the short flange (i.e. lens mount to sensor) distance of mirrorless cameras, which allows the addition of focal length reducing optics to the space within the adapter between the lens and camera body (in an SLR, the mirror is in the way). It has the effect of shrinking the lens's image circle, which means that it only works with optics designed for larger formats. All full frame lenses should work on APS-C cameras, but lenses designed for APS-C SLRs will likely vignette, although they should work on Micro Four Thirds bodies.
Here's an illustration showing the relationship with full-frame 35mm lenses (FX) and lenses designed for crop sensors (DX):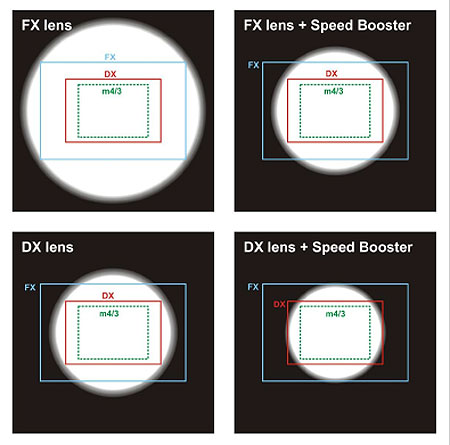 The adapters will be available soon in these fine flavors:
Meanwhile, Metabones confirmed that they'll offer an Olympus OM to MFT Speed Booster adapter as well.
For yet more on these amazing adapters check out EOSHD and Lloyd Chambers.
Last but not least, who's this company Metabones? Says the company about the company:
Metabones designs, manufactures and sells quality camera adapters and related camera accessories. Metabones has its own design team based in Japan and Hong Kong, and also has its own production line in China. As a camera accessories specialist, Metabones is known for its unique designs, workmanship and reliability.

By consulting and collaborating with users of different brands such as Leica, Carl Zeiss, Hasselblad and Nikon, we gain an in-depth understanding of what the user needs. We conduct a lot of experimentation to enhance and perfect our designs. Metabones will never stop its insatiable drive to improve our products and ensure user satisfaction.
* Don't mix up ALPA with Sony Alpha. ALPA refers to an old defunct manual focus system with fabulous Switar glass. ALPA was formerly a Swiss camera design company and manufacturer of 35mm SLR cameras. The current owners bought the company name after bankruptcy of the original company and the ALPA exists today under the same name as a designer and manufacturer of high-end medium format cameras.