Preorder the new Nikon AF-S Nikkor DX 18-300mm F3.5-5.6G ED VR lens from Amazon, Adorama or B&H for $999: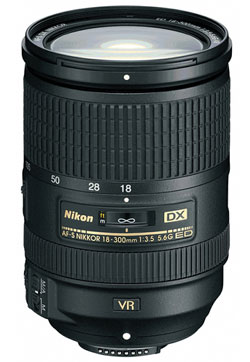 For DX Format DSLRs
Wide-Angle to Telephoto 16.7x Zoom Lens
Three Aspherical Lens Elements
Three Extra-Low Dispersion Lens Elements
Nikon VR II Image Stabilization
Nikon Super Integrated Coating
Silent Wave Motor & Zoom Lock Switch
Focus to 1.48 Feet at 300mm
M/A (Manual/Auto) Focus Mode Switch
Internal Focus & Round 9-Blade Diaphragm
Vibration Reduction
A Nikon in-lens technology that improves image stability by automatically compensating for camera shake. Lenses that offer VR will feature the abbreviation VR on the lens barrel.
Nikon Silent Wave Motor
A significant innovation in AF lens technology, Nikon's Silent Wave Motor uses ultrasonic (inaudible) vibrations—rather than a gear system—to focus the lens, providing incredibly smooth, silent and precise autofocus operation.
M/A Focus Mode Switch
When fine manual focusing is needed, simply rotate the lens focus ring—M/A mode allows you to seamlessly override the AF system with virtually no time lag.
AS
AS stands for Aspherical lens elements. This type of lens utilizes non-spherical surfaces on either one or both sides of the glass in order to eliminate certain types of lens aberration.
Super Integrated Coating
Nikon's Super Integrated Coating enhances light transmission efficiency and offers superior color consistency and reduced lens flare.
ED (Extra-Low Dispersion Glass)
An optical glass developed by Nikon that is used with normal optical glass in telephoto lenses to obtain optimum correction of chromatic aberrations.
IF Lens
A Nikkor lens in which only the internal lens group shifts during focusing. These lenses will be designated with the abbreviation IF on the lens barrel.
Preorder the new Nikon AF-S Nikkor DX 18-300mm F3.5-5.6G ED VR lens from Amazon, Adorama or B&H.