It will still take a while. Official announcement is planned for Photokina this September in Cologne, Germany. But late prototype models of the successors to the Olympus PEN cameras E-PL3 and E-PM1 are about to be shown to trusted sources.
With the updating of the mid- and lower-end PENs Olympus attempts to further differentiate and therefore strengthen its position in the booming mirrorless market. The world's camera leader Canon seems to edge closer to the announcement of a mirrorless compact system camera (CSC). Competition will be even fiercer, life is good for consumers.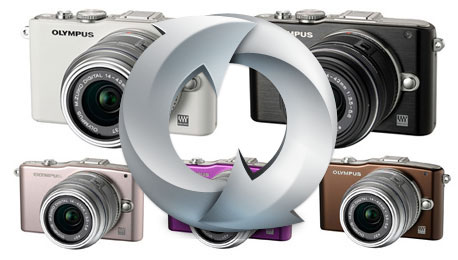 The E-PL3 and E-PM1 will get a major overhaul, according to our sources. They're rebadging the package. Expect sleeker designs, as none-too-subtle hints at Olympus' intended target markets.
It's also not clear if they keep the namesakes (E-PL5, E-PM2? Oly avoids the number 4 in its camera names). What's clear is two new models are in the making. And expect a new strategy.
43rumors had this earlier post, promising a "revolutionized" lineup:
The term "revolution" has been used to say that Olympus will change the PEN strategy… not that the camera itself will have some revolutionary features (at least not that I know of).
But then again, Olympus is known for exuberant marketing. The last super-hyped PEN upgrades were rather old wine in new skins.
It's not yet clear what (if any) top-notch technology that makes the Olympus OM-D E-M5 such a winner will be implemented in the new PENs. Remember, the OM-D E-M5 is specifically targeted at advanced users whereas the E-PL3's intended target audience are new adopters and enthusiasts. The smallest of them all, the colorful E-PM1 a.k.a. PEN Mini, targets women and the fashion crowd.
You'll have to wait for an update of the top-end PEN, the enthusiasts' E-P3 that's aimed at more serious shooters, businessmen and alike.
The E-P3 axed? No, but it will only be continued next year whereas the smaller siblings get the update this year. One could also argue that the OM-D E-M5 and E-P3 compete with each other.
We should have a better picture with clearer specs soon. Will keep you posted.
Easiest is to subscribe to our RSS feed to be up to speed with the latest on THEME.
You can also subscribe to email alerts. We got a light version for hottest topics only and the regular version for daily email alerts.