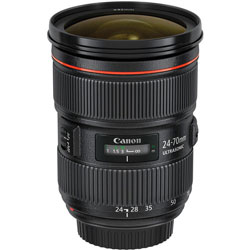 The new Canon 24-70mm F2.8L II lens is now in stock and shipping for $2,299 at Adorama.
Previously placed orders will ship with this batch.
Seems like Adorama got additional quantities to also fulfill new orders.
Meeting the ever-increasing demands on image quality that digital photography brings, the redesigned EF 24-70mm F2.8L II USM is the latest update to the acclaimed L series of EF optics, reestablishing a new standard for superb optics, high-end durable construction and performance in professional zoom lenses.
A standard focal length zoom lens, it features a large aperture throughout its focal length.