Even North Korea seems to realize the new economics of photojournalism: the authoritarian regime allows travelers the use of Instagram, a mobile imaging app that's not really an app but rather a publishing platform. Since mid-January, visitors don't have to hand over their cell phones anymore upon arrival at Sunan airport. They can even use their phones while in the country. Local network provider Koryolink even offers foreigners to tweet, instagram and post images to social media. Instagram in North Korea speaks of the broader rise of the mobile photo and sharing platform: more and more professional photographers count on the help of Instagram as an efficient communication tool.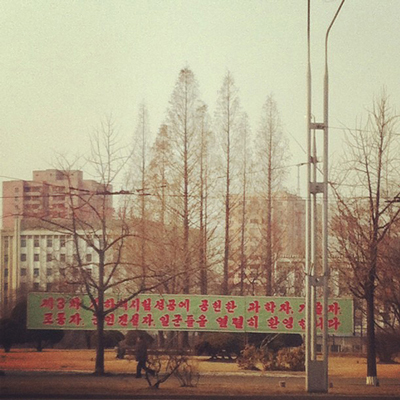 That's mainly a boon for the first foreign news agency in Pyongyang, The Associated Press whose bureau chief Jean Lee with the Instagram handle @newsjean is posting frequently on the photo network. Or follow David Guttenfelder @dguttenfelder, AP chief photographer for Asia.
North Koreans, who for the most part they are not allowed Internet access, are still not allowed to use the mobile data 3G service. Well they're not (yet) allowed to communicate freely — most likely because Instagram first and foremost "is all about communication," says photographer friend John Stanmayer, National Geographic magazine photographer and founding member of the VII Photo Agency.
John's an Instagram convert with the handle @johnstanmayer. As a professional, he doesn't want to get drawn into the discussion on whether to use an iPhone or a 35mm camera. Those are completely mute points, says John. Don't waste your time nor mine on any bit of that dinosaur debate.
Why? Says John:
Because the iPhone 4S, which is nearly always located in my shirt pocket, produces (albeit for now as JPEG only) images in bright sunlight and shade nearly just as well as my first ever digital camera, purchased nearly 11 years ago in 2001 to cover the war in Afghanistan — a Nikon 1Dx. At the time it cost well over $6,000 USD.

If you are into image quality nostalgia, you can purchase a 1Dx today on eBay for less than the cost of an iPhone 4.

It is rudimentary to mention, however, I will for the sake of brushing this key aspect not just out from under the rug, but off the cliff of Mount Useless Discussions — a camera (any camera) is a tool, no different than a paint brush, hammer and nail or cooking pots. It is to be used to do something, to create something. Nothing more, nothing less.

Mark these words deep into your conscious — within the next five to tens years (likely less), most professional photographers will be primarily using a camera which is indeed located within something as portable and ubiquitous in our purses/pockets as an iPhone.

I relish the day when the kit used to document the world around me all fits into the palm of my hand.

More so, the power — and the purpose of photojournalism and photography in general — is not the camera, it is what we do with a camera (any camera) in regards to communication.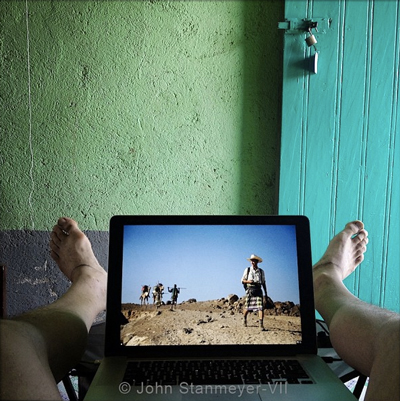 Et voilà Instagram:
Now here is what's key regarding Instagram, Facebook, Twitter and whatnot: some of these images we publish, the text we write on various social media outlets, etc., they can be pieces of a far greater, even deeper, more richly layered project which has a commodity element behind it. These images can, for a lack of a better way of putting it, be glimpses, headlines, instant breaking information of a much larger project waiting to be presented. Like seeds, images can be sent out to one or millions, dropping seeds of information into the consciousness of others, nurturing a project to grow, both in marketing and funding. The final product, brought to the consciousness via meaningful bits and pieces, is the entity to be leveraged both as information to an event, as product or as a printed photo essay, as a commodity. This is, until the next leveraging aspect of social media is attained, the greater purpose and potential.
John told BJP recently:
In the decades to come, the entire discussion of whether to use this thing called social media will be a moot, archaic point of view — no different than it was centuries ago, when previous commonly used means of information distribution where invented and debated: "Should I write on papyrus leaf or this newfangled material called paper, or a typewriter instead of block-type printing presses, etc.?"
John certainly knows what he's talking about. We both happened to be on assignment back in the dangerous days in East Timor where John witnessed The Killing of Joaquim Bernardino Guterres. The pro-Indonesian militias were looking everywhere for him, trying to hunt him down and get the images before they're published.
Well everyone back in those days following the United Nations-sponsored act of the territory's self-determination in 1999 wasn't exactly safe. John was even more at risk. He made it out in one piece, kept on defying the odds and is shooting to this day as a professional. Only recently he discovered Instagram.
Now imagine if he would have had the power of instant publication and communication back then. Instagram and Facebook, Twitter and the likes tell a bigger story, reach larger audiences — and communicate. Instagram is all about communication, and the numbers speak for themselves. Who wants to publish in a magazine or newspaper when with Instagram you reach more than 80 million users.
The goal of Instagram was to make mobile photography fast, simple and beautiful. Then came the filters and sharing options. Never mind the filters, they're overwhelming and manipulate the photograph far further than any responsible photographer feels comfortable with.
Despite the "hip factor," more and more professional photographers add mobile dispatches of Instagram to their workflow for its convenience. The platform offers an immediate and interactive way for followers to be part of the work and also allows to engage with editors and other photographers and receive real-time feedback.
Instagram helps connect with and engage an audience that's invited to participate, and the sharing options are countless, such as creating parallel narratives with larger projects, sharing behind-the-scenes experiences, opening a dialog with the audience, cross-platform geo-tagging, mapping integration, and so forth.
Fact is, since its launch 2010 Instagram has become an integral part of many photographers', newspapers' and magazines' operations, with professional photographers reporting instantly from their travels and photo shoots.
Instagram doesn't pay the bills, but as an additional distribution and communication channel it can certainly help brush up a photographer's profile, effectiveness and therefore popularity.