You might have heard: shares of Nikon, Japan's third-biggest camera-maker, plunged the most since 1985 in Tokyo trading after the company cut its profit forecast because of slowing demand in Europe and falling prices. Numbers reported by Bloomberg don't lie. They give a strong message: get with the program or get left in the dust. What program? In Japan yes, mirrorless is strong, but the rest of the world gives a different picture.
Nikon and its rivals including Canon, world's largest camera maker, are relying more on high-end cameras with interchangeable lenses for growth as more consumers use smartphones for snapshots, undermining demand for compact models. Prices of entry-level single-lens reflex cameras have tumbled since mid-November because of slowing demand and rising competition. Business in China is also "worse than expected" and global shipments of digital cameras keep on falling.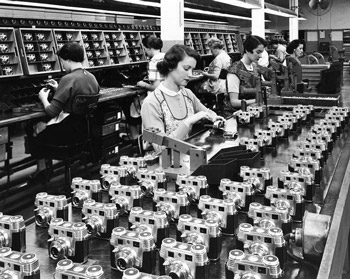 Canon nevertheless sees a profit rise in 2013, helped by rising sales of its more expensive models. So take the time to read Thom Hogan's in-depth analysis. Because it's not such a clear-cut picture after all as you'd expect with Canon and Nikon going south and mirrorless north.
Canon's doing not to bad, whereas Fujifilm for instance reports decreased sales. Right, the maker of the gorgeous X series that caught everyone's attention. Even though X series sales "proceeded smoothly… high-end models… could not cover the impact of the decline in sales of compact digital cameras."
Mirrorless isn't the bright spot in cameras as often suggested. According to an earlier report by Hogan one has also to be careful enough to distinguish between the more tech-savvy Japanese market and the rest of the world. DSLR are still very much dominant outside Japan where sales keep on outperforming mirrorless interchangeable lens cameras (MILC).
Worldwide impact of the camera market's paradigm shift? Bloomberg:
The new types of cameras aren't as popular in Europe and the U.S. because "the big camera makers still haven't entered market" and "the number of products is too small to draw consumers," Ichiro Takagi, president of Sony's imaging & sound business group, told reporters. "A new market is being created."
So mirrors are still lucrative because of mirrorless weaknesses: continuous action and low light focusing, smaller sensors still don't beat a full-frame output, sometimes mass is good when shooting telephoto lenses.
Or think of mirrors vs. mirrorless like the difference between automatic and manual transmission in cars. There is a tug of war going on between traditional camera makers and consumer electronics companies.
Keyword "electronics" companies. You'd assume that as camera specialists, Canon and Nikon need to better show what distinguishes their products. But they'll have a difficult time. Now the two primary DSLR makers must be forecasting a whopping 17.6% drop in DSLR shipments for 2013 according to CIPA. That seems to indicate that the market leaders don't have much in the way of new DSLR models to launch this year. Is the "new market" finally getting their attention?
You don't have to be a rocket scientist to figure out that the Nikon 1 and Canon EOS M are not what they were expected to be when compared to the globally more successful likes of Olympus, Sony, Panasonic et al. Even though the Nikon J1 was Japan's best-selling camera in 2012. But again, that's Japan.
Still, it's too early to write off old brand power just yet. Yes, they're better known brands, that's the main reason why they continue to dominate. Specs may confuse or disinterest many people, so they trust the name. Luckily for us consumers, this strategy becomes less and less effective in the age when even power brand Apple shows signs of lagging behind in the smartphone business because the competition is just more innovative and proactive.
Mirrorless enjoyed its biggest momentum from 2003 to 2007, since then sales are stagnant. Canon still dominates more than half of Japan's interchangeable lens cameras market share, that's DSLRs and mirrorless included, but what's the trend?
Micro Four Thirds, NEX and innovation are preventing the big boys from being as dominant as in the past, let alone class-leading. CaNikon's (or NiCan's?) slow erosion, however, is less the result of aversion to innovation than of greed. They wanted to protect their DSLR market dominance. It becomes tougher and tougher to sell the inconvenience of bulk, weight — and likely obsolescence. You can as well keep on selling vinyls. There's always a market for it, but enthusiasts alone don't keep a business profitable.
One must assume that once Canon and Nikon really feel the heat necessity becomes the mother of invention, so there may or may not be some exciting developments around the corner. Hard to believe that they'd miss the alternation of generations.
Going mainstream with full-frame is a first sign of the times.