Big brother the fun way: think what you want about sharing images, but why fight the future. The future being (possibly): even more CCTV cameras to thwart a rising number of crimes with people wearing "always on" cameras constantly uploading their feeds to online backups. Everything's recorded — right, that's even possible today. The future is here: a wearable live broadcasting camcorder light as a feather that fits on your ear, connects to your iPhone or Android phone, Facebook or computer, and sells for $329.
Let others see live what you see. Live streaming sharp images can even come in handy when on assignment. What this has to do with "photography"? What a "photographer" does is changing fast these days. When on assignment you may even be ask to double as a videographer. Imaging technology and requirements are changing rapidly — and change will only accelerate. The term "paradigm shift" is overworked, but this ain't the photography anymore you started with! How to stay ahead, that's the question.
Make no mistake, it's HD live streaming already and resolution and rates will further improve. Put into the artist's hands, such little devices are game changers. Sharing your life in real-time? Scary in an "Orwellian 1984" kind of way, but at the same time exciting in a "Come on, what's next?" kind of way. Just imagine, capture, stream and share what you see and think matters with the help of tiny little gadget by Looxcie:
Looxcie HD Explore Weather-Resistant Video Cam with Live Video Streaming for $329: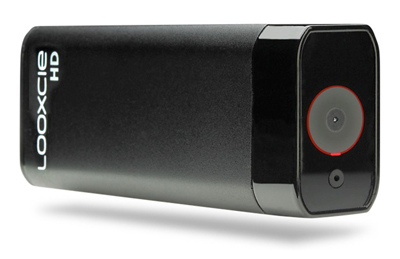 Full HD recording up to 1080p @ 30 fps or 720p @ 60 fps
480p mobile streaming for sharing a live feed anytime, anywhere
Simultaneous streaming & recording
Sleek, hands-free design with a wide range of mounting options
Mobile app for viewfinder and controls
Built-in Wi-Fi connectivity
Weather-resistant enclosure for use in virtually any climate
Low light sensor for use in dim lighting
Unique Instant Clip button for creating "instant replays" of what just happened
Protective lens filter
Rechargeable and replaceable battery
Supports microSDHC card up to 32GB (Class 10 type; Card not included)
Additionally, Looxcie mobile app turns your phone or Looxcie cam into a personal streaming device, a simple and easy way to broadcast events, adventures, discoveries and everyday life as it happens, hands-free. Basically you can stay at in a dark whole and gather your family and friends together in seconds. They are with you, on your mobile screen, riding the roller coaster, watching the sunset, sightseeing, enjoying that party…
Looxcie allows to connect your iPhone or Android phone via a free app (iOS/Android) or to a PC or Mac via Wi-Fi. The possibilities are infinite.
Or use the Looxcie Facebook app to view and share live streams or recorded videos on Facebook from the Looxcie mobile app. Last but not least, LooxcieDesktop (Windows/Mac) to extend the Looxcie experience to your computer.
Main contender? The GoPro Hero 3 for $399 with slightly better recording rates. But no live streaming.
You can order the Looxcie HD Explore from Amazon.