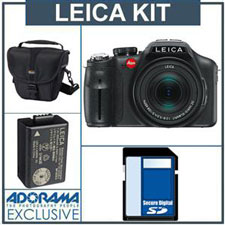 Hot Leica deal with $150 gift cards:
Adorama gives away $150 gift cards with the purchases of either
With its focal length range of 25-600mm and its full HD video recording function, the new Leica V-Lux 3 expands Leica's range of digital compact cameras.
This innovative "all-in-one" camera combines classic photography functions with video quality that is on par with premium camcorders. Its comprehensive range of features combined with its compact designmake the V-Lux 3 one of the most attractive alternatives to an entry-level DSLR camera.
Features of the Leica V-Lux 3
The Leica Vario-Elmarit 4.5-108mm F2.8-5.2 ASPH lens has an impressive focal length range, from 25mm super wide angle to 600mm (35mm equivalent), with 24x super telephoto zoom for photo and video modes, providing the perfect solution for almost any photographic situation. The newly developed 12.1MP CMOS sensor delivers exceptional picture quality and a burst shooting speed of 12 frames per second at full resolution, making it one of the fastest in its class.
Adobe Photoshop Elements Premiere Elements is offered as free downloads, a complete software package for editing photos and videos. Customers can request this by registering in the "Customer Area" of Leica Camera's homepage.
The camera also delivers full HD quality videos with stereo sound and HDMI connectivity. The 3″ tilting display can be rotated in almost every direction, making it easy to take worm's eye view or overhead shots. Compact in design, the camera is easy to transport, making it the ideal companion wherever one goes.
The Leica V-Lux 3 an "all-in-one" choice for photography and video recordings. It combines the features of an entry-level DSLR camera with all the benefits of a digital compact camera and a camcorder, making it an attractive and convenient alternative to a system camera. With 24x optical zoom and focal length of 25mm to 600mm, there is no need to change lens, as the available focal length range covers almost every conceivable photographic situation.
The Leica V-Lux 3 is a very attractive alternative for photography enthusiasts who are looking for a fully equipped all-in-one camera that does not require lens replacement to go alongside their SLR equipment. Thanks to the full HD video function, there is no need to carry an additional camcorder either.
The Leica V-Lux 3 is a complete solution for capturing videos and photos for the entire family. This target group is increasingly interested in technical features and demands a high level of flexibility, mobility and reliability. With its performance, technical specifications and high product availability, there is huge scope for tapping into new potential and building new customer relationships, in addition to the traditional customer base.
The Leica V-Lux 3 can also be used as a specialist camera for nature watching (especially birdwatching). In the high telephoto range, the integrated image stabilization function is a major benefit. It means that the camera can be considered a perfect supplement to high quality binoculars.
Comes with a $150 gift card at Adorama.