So Olympus and Sony tie up and work together: After months of speculation the papers are signed. Sony buys a substantial 50 billion yen ($644 million) stake in Olympus, the rival digital camera maker disgraced by an accounting scandal last year. With the capital tie-up, Sony will effectively become Olympus's biggest shareholder. The two companies plan to set up a joint venture to develop medical devices and to study collaboration in compact digital cameras.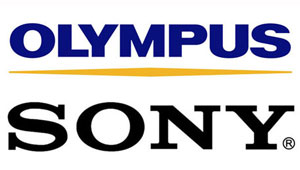 Will that further weaken Olympus? On the contrary. Sony, the currently most aggressive and innovative powerhouse in digital imaging technology, might offer Olympus more favorable terms to use its technologies (sensors, SLT), while Sony is less interested in Olympus imaging than medical business.
Several Japanese technology groups approached Olympus in the following months, including Panasonic and Fujifilm, reports the Financial Times. Their interest, like Sony's, was focused on Olympus's medical-equipment division, a profitable business that has come through the accounting scandal with little apparent damage.
Olympus controls about 70% of the global market for endoscopes, tiny cameras used by doctors to peer inside the human body. Such specialized technology, analysts say, is highly attractive to companies such as Sony that are struggling to make money from consumer products such as televisions.
Sony, which is cutting 10,000 jobs to return to profit, is spending 80 billion yen to boost its production capacity of complementary metal-oxide semiconductors, or CMOS, by one-third for 2013. The sensors, used in smartphones and cameras, also can be used in endoscopes, the crown jewels of Olympus.
But it's only logical to expect Olympus to buy more Sony imaging sensors in the future. Olympus' current flagship mirrorless camera, the OM-D E-M5, has a Sony imaging sensor already.
Sony isn't part of Olympus' Micro Four Thirds standard, and that's not likely to change. The megapixel war is over, the sensor size war is just starting up. And Sony, well, is very nicely positioned, as this report by The Verge shows. Full-frame sensors are coming to the masses. By now Nikon and Canon have a full-frame "lightweight," but the company really bending the laws of physics is Sony, says The Verge, to get even better image quality.
It's simple, really: the bigger the sensor, the better the image. Well I can only confirm that. Am currently test-shooting the D600 with beautiful fast primes… there's no way back!
Talking Sony and the full-frame revolution: Wouldn't be surprised if Olympus as well jumps on the full-frame bandwagon in the not too distant future. Well the market wants it. And… does Minolta ring a bell?