Well I have been partially, maybe wishfully and intentionally wrong about the slightly underwhelming, upcoming, miniaturized Leica M. No full-frame, no M mount, but instead you'll get a CMOS 1.5 crop APS-C sensor with a relatively slow, not really compact Leica Elmar F3.5-6.4 with an 28-70mm equivalence for a rumored price of €2,450 (more than $3,000) — an X type of camera on mild steroids: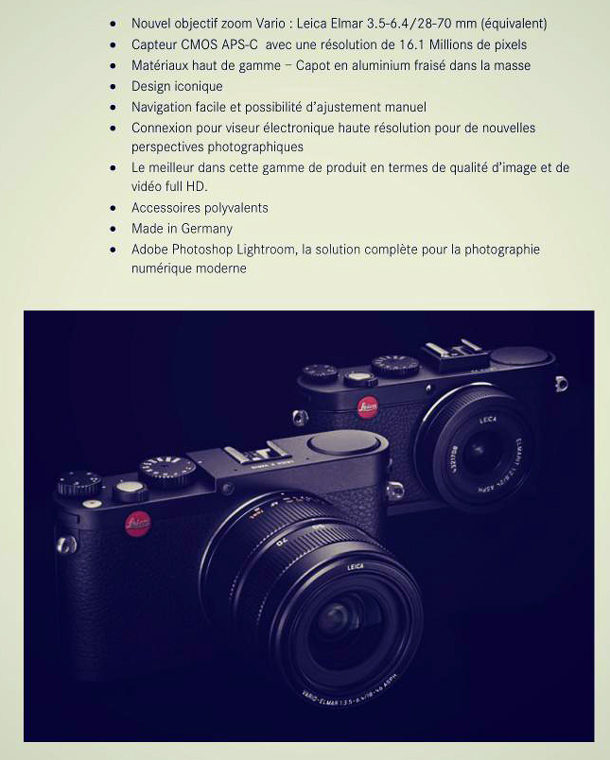 Here's the translation of this leaked French iPad screenshot:
New Vario zoom lens: Leica Elmar F3.5-6.4 28-70mm equivalence
CMOS APS-C sensor with a resolution of 16.1MP
High-end materials: body made from single aluminum block
Iconic design
Easy navigation with full manual controls
External electronic viewfinder EVF can be used for new photographic perspectives (whatever they mean with that last part…)
Best image quality in its class with full HD video
Multipurpose accessories
Made in Germany
Adobe Photoshop Lightroom, the complete solution for modern digital photography
Sorry Leica, but I don't see the market for this. Can't believe it's not EVIL. The competition's too good, more advanced. Add the price. Now a full-frame, compact, interchangeable lens mini M, that would have been a whole different game.
Considering the size and speed of this lens while Fujifilm's X series offers more compact, more powerful solutions… Leica might run on such low production capacities that they don't even want to sell many of 'em.
Where are this product's hidden virtues? Please tell me I'm dreaming. There must be a lens release button somewhere!
If they do release something like this pepped up X, it's a no-brainer to go for the Sony RX-1 instead with its amazing sensor and razor-sharp 35mm F2 lens. With a third more megapixels, who needs a zoom, just crop.