It's pre-Photokina 2012, so any day might bring exciting news. To follow up on our earlier rumor on an X-1, THEME nailed it, there is a new X series lineup. Et voilà, here's the Fujifilm X-E1.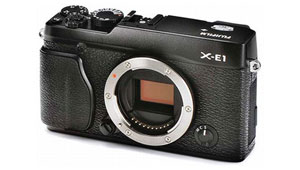 Japanese site digicame-info.com leaks press release type of photos of a Fujifilm X-E1 mirrorless camera not yet announced, along with pictures of a relatively fast Fujifilm 18-55mm F2.8-4 R OIS with optical image stabilization (OIS) that will likely be the kit lens.
Talking equivalence, that's the standard zoom range that seems to please most users and manufacturers alike.
Contrary to other reports, like the X-Pro1 we expect the X-E1 to have a viewfinder. The eye cup on the back of the camera suggests EVF TTL only. Since OVF is omitted the price might decrease. Plus there's a pop-up flash. The layout of the buttons and dials on the upper surface is almost the same as X-Pro1. But according to our sources the real news is in the X-E1's insides. Autofocus speed will convince any X series doubter. Expect C-AF and tracking to be useful.
That's right, it's almost an X-Pro1. On steroids. There will be some forums uproar of early adopters. Fujifilm has a "cheap" X-Pro1 that's most likely to technically surpass its pricier sibling.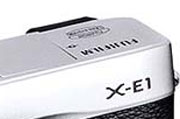 It's safe to say that rumored AF speed only works with newly designed lenses. So you'll be able to mount your Fujinon XF and all sorts of other adapters and lenses. But expect more lens news to come along with the announcement of the Fujifilm X-E1.
A word on the viewfinder: I was never a friend of the hybrid solution, just to mention the two different framings EVF and OVF render. My guess is Fujifilm has sorted out EVF lag and more, so no need no more for an optical offering. Take the Olympus OM-D E-M5, no one asks for an OVF.
Build quality looks solid, with the X-E1 Fujifilm follows up on the proven design of current X series models. It's a downright new classic, not as bold and also not as compact as the Oly OM-D, but the magic's probably under the hood.
Will be interesting to see how the sizes of the X-Pro1 and X-E1 compare. The X-Pro1's rather on the large side. Make that X-E1 smaller and Fujifilm has an even more promising winner.
It's still not clear what other new X series model is announced for Photokina. Most likely an X200. +++ Update: Or is it this S100, LX7, RX100 and X2 killer, the Fujifilm XF1?
+++ Update: Here are the rumored X-E1 specs as per Photo Rumors:
Same 16MP sensor as in the X-Pro1 (with max ISO of 25,600)
6 fps
Light magnesium body
Improved AF speed
Price bellow $1000
To be released before Christmas
Same video recording capabilities as the X-Pro1
Mic input
EVF only (not hybrid as the X-Pro1)
Two colors, black and silver
Pull 25 ISO to simulate Velvia in JPEG mode
BTW, don't forget to follow us on Twitter, Facebook or via RSS for the latest.