Photography is, in many ways, like a sport. Many photographers feel themselves judged by their gear. Photographers are not generally known as the most socially engaged people who are also concerned about environmental issues. They're rather busy with themselves, and if one witnesses an accident or crisis, one is rather not there to help, but to capture the events and report. It goes without saying that crises reporting first and foremost promotes awareness. But a photographer's general thinking is, "How the hell could I change the world!" Now Swedish high-end camera maker Hasselblad does something out of the ordinary. Hasselblad initiates and sponsors Rhino Conservation Awards in the fight against rhino poaching in Africa.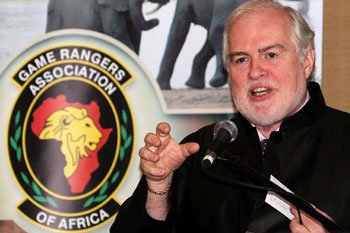 Social and environmental awareness is not a common train of thought found often in photography circles. Social and environmental engagement by camera maker is a camera maker's first, isn't it? I'm not aware of any Canon or Nikon or whatever environmental campaign. Saving the world though is something Hasselblad CEO and chairman Dr. Larry Hansen likes to do. Formerly the CEO of Carl Zeiss Asia Pacific, Hansen also founded the still ongoing Carl Zeiss Tiger Conservation Award in India 14 years ago. In principle such campaigns are not a bad thing. But:
I'm not trying to moralize. It's just a fact that for many photographers the world is a simple means to the end of photography. We're all after the great shots, and many would have to think (let's be honest) twice whether they'd help a vicim in an accident immediately — or grab the camera first and then help.
We all should live responsibly. But when a camera maker starts reminding us on this missing moral and ethical high ground, well then this is either a desperate marketing attempt because a camera maker should rather be busy with making good cameras. Or we've become so selfish that even a camera maker thinks it's high time to remind us on the importance of thinking about others. But where to start?
Hasselblad would have many reasons to be desperate. Their pimped up Sony NEX-7 a.k.a. Lunar has all the ingredients to turn out as a gigantic flop. So, marketing-wise, why not show a more human face. It's good corporate etiquette to demonstrate social and environmental concerns.
Maybe the connection between a high-end camera maker and this planet's endangered rhinos is a little bit far-fetched. Still, as we photographers are generally a complacent bunch of gear heads who are used to work alone for ourselves and can do without the rest of the world, in view of us loners a little bit of finger pointing is in order.
I like the rhino campaign more than the Lunar. A step in the right direction, Hasselblad. After going Gucci you now embark on an environmental campaign. What about making good old cameras?
From the Hasselbad rhino presser:
The annual Rhino Conservation Award has been initiated in 2012 by the Swedish camera manufacturer Hasselblad via its Chairman and CEO, Dr. Larry Hansen and Ms Xiaoyang Yu, founding partner of China New Enterprise Investment, a China focused growth capital fund, with the intention to raise awareness of what is being done in the fight against rhino poaching in South Africa and to recognize role players, who make a significant contribution (…)

The award ceremony was attended by a cross section of stakeholders with conservation, media and judicial backgrounds and acknowledged awardees in the following five categories: Best Conservation Practitioner; Best Judicial System & Policing; Best Media and Journalism; Best NGO and Best Technology Invention/Application (…)

South Africa protects around 80% of the world's total rhino population, and rhino horn is currently exported at a rate that puts the survival of both the black and white rhino in jeopardy.