The future moves closer to reality: Google recently unleashed its inner Evel Knievel in a stunt-filled demonstration of its secretive futuristic computerized glasses. Google co-founder Sergey Brin ran onstage in San Francisco sporting a prototype of the Orwellian device, asking, "Who wants to see a demo of Glass?"
The crowd roared, "Yes!"
Google Glass — or simply "Glass" — is the fusion of the self and really new, passionate technology. And it has a lot to do with how we might approach photography and taking pictures in the future.
Glass is completely effortless. That's what makes it so magic: Glass is like an extension of yourself.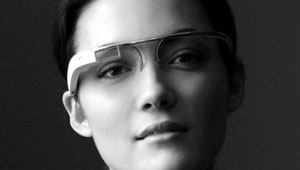 The Google Glass puts computer-processing power, a camera, microphone, wireless communications and a tiny screen into a pair of super-cool-looking, lightweight glasses.
That's right. It's a camera on the nose. Able to transmit images in real-time. What you see the world can see.
The world tagged along for any ride.
Vaporware?
THEME doesn't think so.
Google's got some of its very best people working on the project, a superstar team of scientists who specialize in wearable, and they also have the needed data elements, including Google Maps."
For now, the "smart" glasses can display images and video and have a button that can be used for taking pictures. Ultimately, the company hopes the glasses will be able to access information in real-time, including the ability to identify locations and provide additional information about your whereabouts.
The Google Glass gives a whole new dimension to photography. There won't be a moment in time you'll say, "Gosh, if I just would have had my camera!"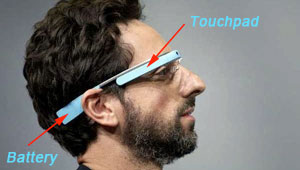 Google says the specs weigh less than many sunglasses on the nose and are intended to deliver information without having to scramble for a smartphone. The company envisions a day that information is delivered so quickly, people feel as if they know the answers to things right away.
Or driving a car? Eating lunch? Having a conversation? And you want visuals? Not only isn't your attention diverted anymore. While you do the talking you record voice and stills… Your attention won't be diverted anymore.
Augmented reality, the technology underlying Google Glass, is already widely available. Augmented reality overlays data on top of images seen through a smartphone camera, and could become a critical tool to provide product information at just the right moment.
The advantage of glasses that at the same time are a camera is that a photographer would be able to shoot what he sees without having to look for his gear. This could make a tremendous difference in certain situations.
How often did you enjoy a completely "honest," pure, pristine scene, but the moment you get you lift your camera the natural look on faces disappears, people avoid eye contact.
A completely inconspicuous camera opens up a whole new world, provided there's no breach of privacy.
The future's obviously not a long way off. The glasses are ready for consumers sometime in 2014, with early prototypes in the hands, or better on the noses of enviable developers and beta testers by early 2013.
Google needs software developers to help unlock the digital promise of the processing power on the tip of your nose.
Here's what Google Glass is also about, watch the whole thing:
So, what are these Terminator glasses really able to do?
Well for a starter, the device could change our lives.
How much will the glasses cost?
Registered developers pay $1,500 for an "Explorer Edition." The consumer version will cost "significantly less" according to unconfirmed sources. Expect a price tag of around $1,000 or less.
What to do with the glasses?
Basically, Google Glass will offer all the features that we value today in the smartphone. Short messages, emails and reminders can be displayed on the micro display.
Thanks to augmented reality the glasses will be ideal for navigation. In addition — and that's what we're especially after –, it can shoot photos and video. The recordings are stored locally on the device, but can also be automatically uploaded to the Internet (cloud).
How to control this "eyeglass computer"?
There are several possibilities: The most convenient is by voice control. Thanks to a built-in microphone and voice recognition software, the user can easily give oral instructions. The device can also be operated manually. Finally, you can connect them wirelessly to your phone.
Is Google Glass also a phone?
A direct connection to a mobile network via built-in 3G or 4G module is allegedly not provided. You'll need your phone and a wireless connection. If you want to surf the Internet with the glasses, all you have to do is tethering.
What kind of camera will it be? Good stuff?
Sensor and lens technology is progressing rapidly. Expect decent performance. Add post-processing power and you'll most likely end up with quite usable images and video.
How long does the battery last?
Battery life of the prototype is about six hours. The goal is a full day.
I'm wearing glasses. Can I use Google Glass?
Supposedly so. A combination with prescription glasses and conventional corrective eyewear is no problem, says Google.
What technical components do the glasses have?
The device includes a processor, a flash memory (of unknown size) for user data, a touch pad for control, a button to take pictures, microphones, a camera, a speaker and a variety of sensors, including an acceleration meter, a gyroscope and a compass. Operating system? Google's Android.